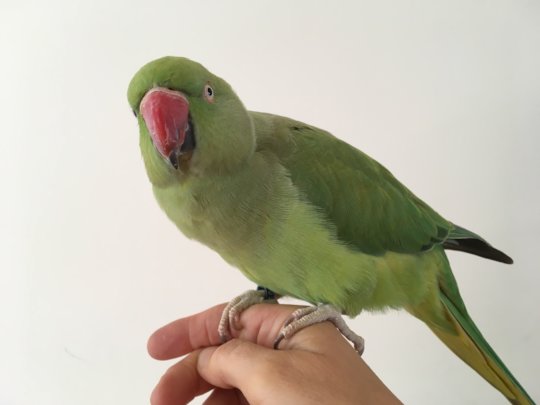 Mickaboo is hosting its last adoption fair for 2019 soon - and you're invited! Attending any of these fairs is a great way to meet some of the many adoptable birds in our rescue flock, talk to volunteers about pet birds in general or with regard to a particular species, and start becoming qualified to adopt from us.

When: Saturday, Nov 17, 11 am - 4 pm Pacific
Where: For Other Living Things, 1261 South Mary Blvd, Sunnyvale, CA
More information at this link.

One of the birds who we plan on having at the fair is Taz (pictured). Taz is a gorgeous female 5-years-young Indian Ringneck. She is an amazingly gentle and affectionate bird who enjoys watching the world from her playgym or your shoulder. She came to Mickaboo from a family who had to move and could not take her with them.

Perhaps you will meet a friend at our adoption fair - maybe it will be Taz! If so, not only will you have a new member of your household, but you will be creating the capacity for Mickaboo to save another life.

We hope to see you soon!
Links: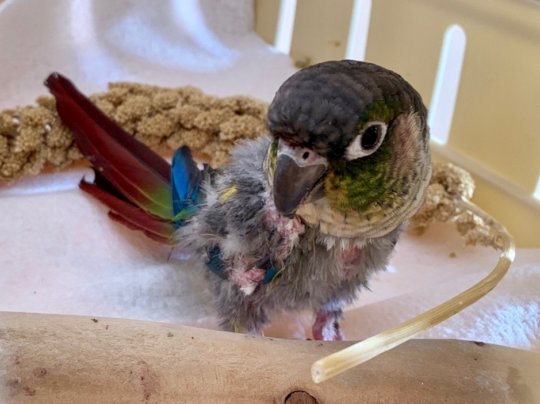 This is a reminder of the matching gift event in progress now (ending Friday at 9 pm PT), with a 50% match on the first $50 given by each donor while matching funds last. This giving event, as well as our August 24 adoption fair, honor the memory of Scott Shipley. Scott led our macaw team and was one of our most respected volunteers; he unexpectedly left this world all too early in July 2019.
Though he specialized in macaws, Scott appreciated all birds. Today we would like to tell you about PJ, a greencheek conure about 10 years old. Who doesn't love the charm of a greencheck conure? PJ was at a humane society some years ago when a well-meaning lady took him into her care. She loved him, but had little information about avian care and hormonal issues. When PJ began "hiding" under towels, she assumed he enjoyed doing so and encouraged it. PJ was actually nesting, and he spent eight very hormonal and frustrated years plucking out his feathers in response to his raging hormones triggered by his environment. PJ was not seen by an avian vet during these eight years. In February 2019 his owner surrendered him to Mickaboo due to changes in her circumstances.
Mickaboo immediately brought PJ to an avian vet. Healthwise, his only problem was the extreme and prolonged episode of unaddressed hormonal issues. He was given two Lupron shots two weeks apart. While it is unlikely all his feathers will grow back, his previously-bare shoulder patches are now covered, and now and then a colorful feather will emerge on his belly.
PJ is a sweet bird. Now that his hormones are more balanced, we look forward to helping him regain trust with humans.
~ ~ ~
Your financial support is critical in allowing us to help birds like PJ. If you have not already done so, please consider giving now - and while matching funds last, your gift will have an even larger impact.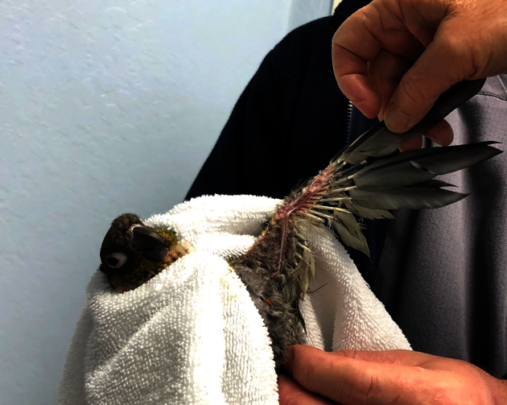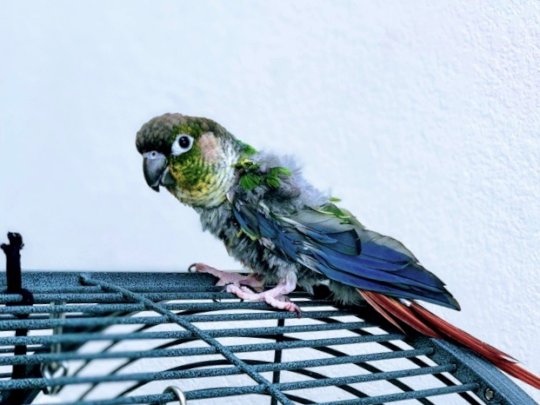 Links:
You're invited! To participate in GlobalGiving's online matching gift event today (in progress now, ends at 9 pm PT) AND to join Mickaboo's in-person Spring Fling party and fundraiser.
Today's online fundraising event helps you help Mickaboo's rescued birds - your gift of up to $500 will be matched at 30% while matching funds last. Our rescue flock now has over 400 birds; your generosity provides for their veterinary needs until they are re-homed.
One of these birds is Coco, a beautiful female blue crown conure about 10 years old. A conure's life expectancy is around 30 years, so Coco is in her prime. Coco was surrendered to Mickaboo with a condition called "Angel Wing"; the last joint of the wing is twisted with the wing feathers pointing out laterally instead of lying against the body. The vet has been working to correct the condition - and it is working! We are so pleased to be able to improve the quality of this sweet bird's life. Coco is available for adoption.
Please enable us to continue to help birds like Coco by giving now, before matching funds run out!
~~
Mickaboo's Spring Fling is a potluck lunch and fundraiser for our volunteers and supporters. Our organization operates virtually, meaning we have no offices, and all of the work is done by volunteers from their homes. This event is one of the few times when we come together to connect in person. The event is June 2, in Fremont. See this page to learn more and RSVP. We hope to see you soon!
~~
All of our birds and volunteers Thank You for your generosity and support! We can't do what we do without YOU.
Links:
WARNING: Javascript is currently disabled or is not available in your browser. GlobalGiving makes extensive use of Javascript and will not function properly with Javascript disabled.
Please enable Javascript
and refresh this page.