It might take a while before they can learn to give us their trust. They are surrendered by owners and shelters. Sometimes they come to us as strays. Some just need a warm, welcoming home and open heart. Others need veterinary care. And many need the lifeline that Mickaboo can provide.
Mickaboo strives to educate people about companion birds to ensure the birds have a safe, loving environment for life. It stands ready to provide assistance and refuge to those in need.
So far this year, 391 birds were surrendered to us; we found permanent homes for 358 members of our foster flock.
We delight in seeing birds come out of their shells, socialize, grow back broken and plucked plumage, or finally decide that eating those fruit and veggie things isn't so bad after all. And in the end, uniting these birds with a loving owner and forever home…we know it's worth it. That happiness and gratitude manifests itself in many ways. A whistled greeting. A gentle nibble. A bowed head seeking a skritch or two.
Happy endings would not be possible without the time and energy put in by our outstanding volunteers who teach bird care classes, make phone calls and conduct home visits, construct bird toys, and transport birds and supplies all over Northern California. These birds would not be able to overcome bad diets, diseases or behavioral issues without the dedication put in by our foster parents. And above all, the veterinary care that we are able to provide these birds would not be feasible without the generosity of our donors.
As you pause to reflect on your giving this season, please consider making a one-time or recurring donation to Mickaboo. Your support makes a world of difference for our feathered friends. Don't forget to spread the word about the joy of companion birds – don't breed, don't buy, ADOPT!
Wishing you a season of joy and a New Year full of prosperity.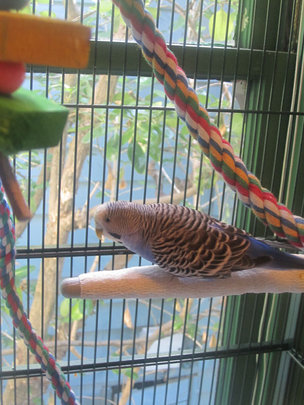 Links: