Newsflash!
GlobalGiving is hosting a #GivingTuesday Bonus Day TODAY, offering matching funds (at 50%) on the first ONE MILLION dollars in donations. The matching event has already begun - and it ends at 9 pm Pacific today or when matching funds run out, whichever comes first. Please consider using this opportunity to support our birds and have your gift go further!
Your financial support helps birds like Cammy. Cammy came into Mickaboo's care after falling headfirst into a hot cup of tea, resulting in second and third degree burns. He spent four days in intensive care and now, at 7 months old, has made a nearly full recovery.
Would you help us help birds like Cammy?
***
If you are in the area, consider coming to our Annual Holiday Party and Funraiser (Alameda, December 3) as we celebrate the year's accomplishments. The event will feature:
The company of Mickaboo's Board and volunteers and other bird lovers
Holiday shopping - silent auction and raffle items collected SO FAR include gift certificates from several of our avian vets, tickets to local attractions (private guided tour to the Monterey Bay Aquarium, passes to the California Academy of Sciences, zoos, etc.), and vintage jewelry.
Volunteer recognition!
A yummy buffet!
See more details and RSVP here. I hope to see you at our celebration.
Links: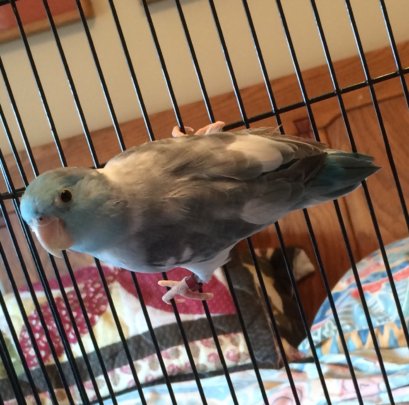 Mickaboo and its birds are grateful to the many people (like YOU!) and organizations (like GlobalGiving!) who help us help our rescued flock. At 450 birds and growing, and still run entirely by volunteers, Mickaboo is a miracle that keeps happening.
GlobalGiving has just released their second (and last) $30K in matching funds today. If you have already donated today - THANK YOU! If you have not given, now would be a great time to do so, at this website.
Many of our birds come from shelters who are geared toward dogs and cats, and who therefore call upon us when they receive a bird. Such was the case with a parrotlet and budgie pair recently. The parrotlet has since been adopted by a couple who has adopted birds from us before; repeat adopters are an important part of Mickaboo's ongoing success.
When people adopt from Mickaboo, they can rely on Mickaboo for help with their bird's care. Here are a few snippets of information from our online library and newsletters:
Are you considering adopting a bird? We would love to help you! Here is a link to Mickaboo's adoption process.
* * *
Watch our blog and Facebook page for how well we are doing with today's fundraising challenge.
THANK YOU again for YOUR support of Mickaboo's mission.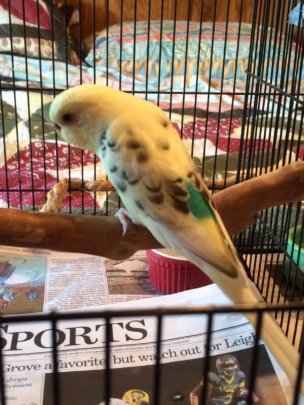 Links: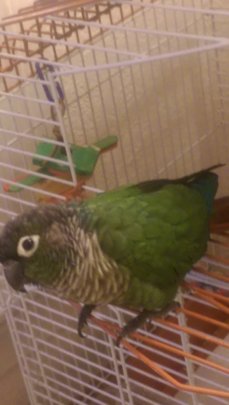 We at Mickaboo wanted to tell you about some of our recent activities - and to ask for your help with today's GlobalGiving Bonus Day fundraising.
GlobalGiving is releasing $30,000 in matching funds TWICE today - at 3am PT/6am ET, and 9am PT/noon ET. That's two opportunities for you to make YOUR donations go further! Our veterinary costs are now running at $40-$50K/month, so your help at this time will be very appreciated! Consider donating now - it only takes a couple minutes to make a lifetime of difference for our birds.
We invite you to join us as we watch the flow of matching funds at our blog and Facebook page, where we will also post snippets of birdie info along the way.
Your generosity helps birds such as these:
Snookie, a greencheek conure who landed at an animal shelter due to an eviction. He is a sweet bird and while vocal, isn't loud. After a few days with his foster parent, he started stepping up without biting first. He likes to be with people, and loves shoulder-surfing.
Pierce, a former member of the iconic Wild Flock of Telegraph Hill, came to us due to a disability he suffered while in the wild.
Max, a cockatiel, was surrendered to Mickaboo along with an Amazon and 3 zebra finches from an individual facing housing challenges. He was described as 20 years old, friendly but not hand-tame. We were almost immediately able to place him with a couple looking to adopt a friend for their existing older cockatiel.
Please help us continue our mission of helping birds like these with their medical challenges so they can find permanent homes. Over 95% of your gifts are spent on our veterinary expenses; we cannot do what we do without generous supporters like you.
Thank you for your kindness!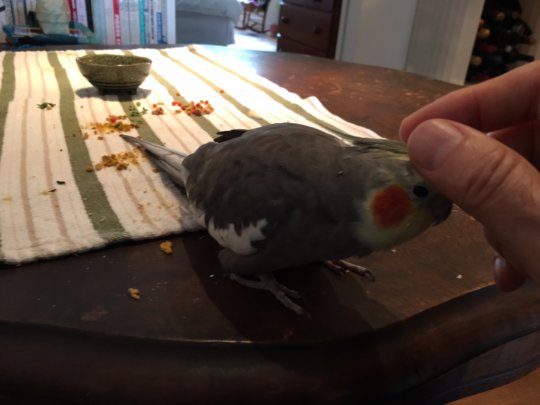 Links:
WARNING: Javascript is currently disabled or is not available in your browser. GlobalGiving makes extensive use of Javascript and will not function properly with Javascript disabled.
Please enable Javascript
and refresh this page.