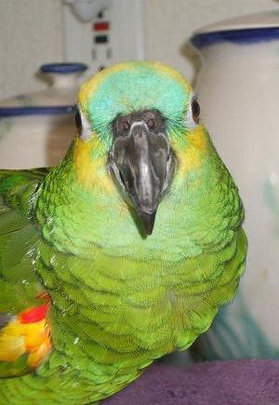 Because of you who have voted for Mickaboo's GlobalGiving Photo Contest entry so far, we're in second place! That said, we need to be in FIRST place (to win $1000), and that's where YOU can help.
If you have NOT voted yet - please vote at this page.
If you HAVE voted - please ask a fellow bird-lover to vote with us!
If we all work together, Mickaboo's birds WILL win this contest!
The contest prize will help birds like Tad (pictured), a blue fronted Amazon with papilloma, a contagious disease that is hard (and expensive) to treat. He came to us after flying into a backyard; the property owners gave Tad to their local shelter when they realized Tad had a health problem. The shelter then called Mickaboo (not atypical, as shelters are generally unequipped to cope with sick parrots).
Please take advantage of this opportunity to help pay the vet bills for Tad and many other birds like him and vote for us!
Mickaboo's birds and volunteers will appreciate your help.
Links: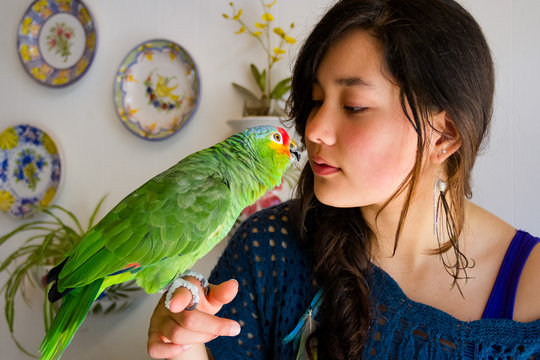 Many thanks to those of you who recently donated to Mickaboo! Because of your and others' generosity, Mickaboo collected enough funds to lift our recent moratorium - we are taking in new birds again!

And because the vet bills keep coming, we are asking you to help Mickaboo win $1000 in a GlobalGiving Photo Contest. It's easy, costs nothing, and takes just a few seconds:

If we win (we did last year!), Mickaboo will get $1000 and much-needed publicity about the existence of bird rescue and Mickaboo. (Did you know Mickaboo has over 300 birds in foster care?)

See our July newsletter for useful bird care news, and articles about our rescue work. Birds like Posey, a sweet young budgie with a badly fractured leg, surrendered to us by a shelter need our help and yours. Posey had to have her leg amputated (racking up $1000+ in vet bills) and is adjusting well.

Thank you again for your generosity, and enabling Mickaboo to continue its mission for our feathered friends!
Links:
Mickaboo has imposed a temporary moratorium on incoming birds due to an unexpected and significant increase in our veterinary expenses. YOUR action now can help us lift the moratorium so we can help other birds needing our assistance.
Mickaboo promises to provide a safe home and adequate veterinary medical care to all the birds for whom we are responsible. These birds include recent refugees like Bancroft (pictured resting in an incubator after we took him in), rescued from under a car in San Francisco where he was being attacked by other birds. His medical care, and that for four other members of the Wild Flock of Telegraph Hill, totalled almost $10,000 in May! To continue meeting our commitment to our current foster flock, we suspended acceptance of new birds as of midnight on May 25.
Help us lift the moratorium! We have a rare matching gift opportunity to help you do just that. On June 12, from 6 am - 9 pm Pacific Time, GlobalGiving will match your online donations at 50%, up to $1,000 per donor per project, until GlobalGiving has given away $90,000 of matching funds for all of its projects. Go to Mickaboo's GlobalGiving page to take advantage of this opportunity.
P.S. Your gift may *also* be eligible for matching by your employer! Send any matching gift forms to GlobalGiving for processing.
Links:
WARNING: Javascript is currently disabled or is not available in your browser. GlobalGiving makes extensive use of Javascript and will not function properly with Javascript disabled.
Please enable Javascript
and refresh this page.