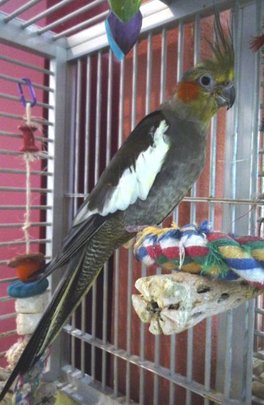 Dear Mickaboo Friends,

The Fall edition of Mickaboo's newsletter has news about some of the birds and activities you help support. Read stories about our rescue work and MORE!
The last matching gift opportunity for 2014 is happening NOW! From Oct 15, 6 am to 9 pm Pacific Time, GlobalGiving will match your online donations at 30%, up to $1,000 per donor per project, until GlobalGiving has given away $75,000 of matching funds for all of its projects. Go to Mickaboo's GlobalGiving page to take advantage of this opportunity before funds run out!
Your donations help birds like Nora and Chacco. Nora is a sweet female cockatiel who has been treated for cancer - and the cancer is in remission! Chacco is a rose-breasted cockatoo who recently had a wing amputation to resolve an injury, and is also recovering from a chest wound.
Would you consider taking advantage of this matching gift opportunity to help us heal Nora, Chacco, and the ~400 other other birds in our care?
P.S. Your gift may *also* be eligible for matching by your employer! Send any matching gift forms to GlobalGiving for processing.
Links:
Dear Mickaboo Friends,
We now have the results of the recent GlobalGiving Photo Contest in which many of you voted for Mickaboo.
Because of YOUR efforts, Mickaboo placed first in its category and fourth overall in the contest. While we did not win a cash prize, we made many new friends and were awarded GlobalGiving's professional help with our social media efforts.
During the contest, you heard about two of our foster birds: Cappi, a middle-aged yellow-naped amazon who received an innovative stent to address his airsaculitis, and Fletcher, a nanday conure who is recovering from what may have been a stroke. We now introduce you to Chacco, a rosebreasted cockatoo who came to us with an injured wing and a raw chest wound. Chacco's former owner could not afford his medical care – and that is where Mickaboo stepped in.
The picture below is of Chacco in his hospital tank, just a handful of days after Mickaboo received him. He is resting in a sling so as to aggravate his chest wound as little as possible; the purple visible to the right is a bandage around his hurt wing.
The picture at the top of this report was taken after Chacco's wing surgery. His foster parent says he is recovering well, with the promise of a better quality of life. Chacco's condition continues to be monitored by our veterinary partner.
Would you consider helping Chacco heal? We have started a special fund for Chacco's veterinary expenses; you may contribute to it here.
Thank you for your consideration.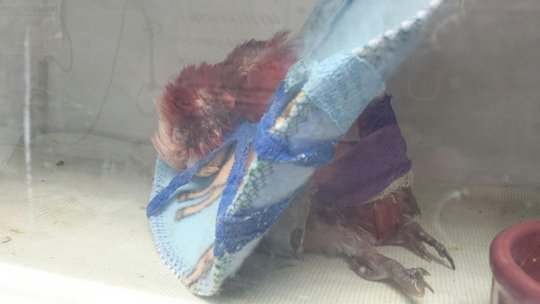 Links:
We asked you earlier to help Mickaboo win $1000 in GlobalGiving's online photo contest. This is an update - and a plea.
After holding first place for much of last week, we fell to fourth place on Monday, Aug 25. Not good! We need YOUR help to get back to first and stay there!
If you have not already voted - help us? Voting is free and fast here
If you HAVE already voted - THANK YOU - and please ask a friend who might appreciate what Mickaboo does to vote with you
The prize money would help birds like Fletcher. Fletcher is a Nanday Conure who was recently hospitalized for what may have been a seizure. Here is a video of him while hospitalized; Fletcher has trouble holding his head in its normal position and is abnormally quiet.
In contrast, here is Fletcher's video after he recovered and returned to his foster home. We see a more normal body position, and he's talking up a storm! Midway through the video, his foster parent translates his chatter, thanking all those voting on his behalf in this GlobalGiving Photo Contest.
Thank you for helping by voting - and for spreading the word to your fellow bird-loving friends!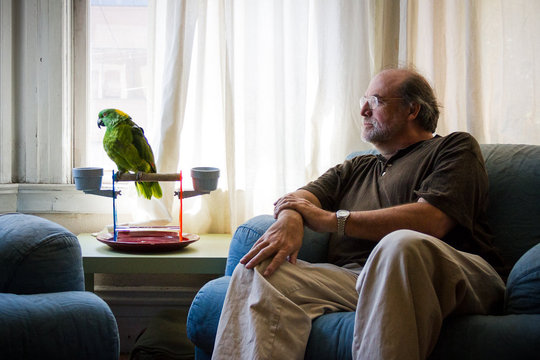 Links:
WARNING: Javascript is currently disabled or is not available in your browser. GlobalGiving makes extensive use of Javascript and will not function properly with Javascript disabled.
Please enable Javascript
and refresh this page.