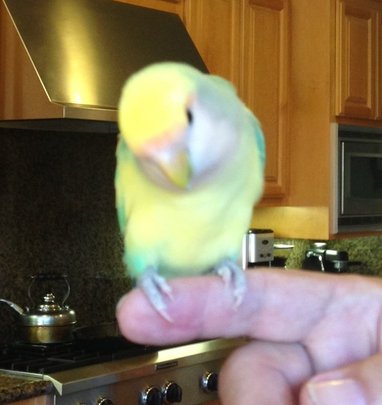 We often hear people say that rescue birds must have something "wrong" about them - so in their quest for a new feathered companion, they are biased toward buying a bird from a pet store or breeder.
Nothing could be further from the truth!
Yes, surrenders happen because guardians cannot afford their pet(s)' medical care. Just as often, surrenders occur because of the guardian's own financial or medical difficulties.
Meet Watermelon, a recently-surrendered lovebird. Watermelon's former owner gave her up because of the owner's allergies. Watermelon is a healthy, well-socialized and spectacularly-colored lovebird who will make someone a wonderful pet - and she's getting a great chance at finding a wonderful new home because of Mickaboo. Contact coordinator-lovebird@mickaboo.org to learn more about Watermelon or to inquire about adopting her.
While Watermelon doesn't need medical attention right now, many of the 450+ birds in Mickaboo's rescue flock DO. If you have not already voted in GlobalGiving's Photo Contest for Mickaboo, would you take a moment to do so now? Mickaboo Companion Bird Rescue could win $1000 toward its birds' monthly vet bills of $25,000 (and more)!
If you can help:
VOTE at this link (one vote per person allowed)
CONFIRM* your vote via the email you'll receive – otherwise your vote won't count!
SHARE this voting request via email / Facebook / Twitter / your other social networks, and ask your contacts to vote and share too!
Your help will be appreciated by the hundreds of birds cared for by Mickaboo's many dedicated volunteers.
* Did you vote and have not yet received your vote confirmation email? Request a new vote confirmation email at this page.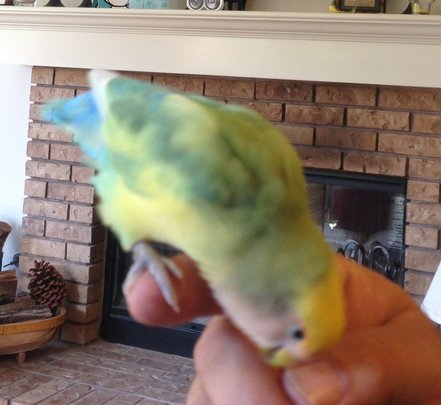 Links: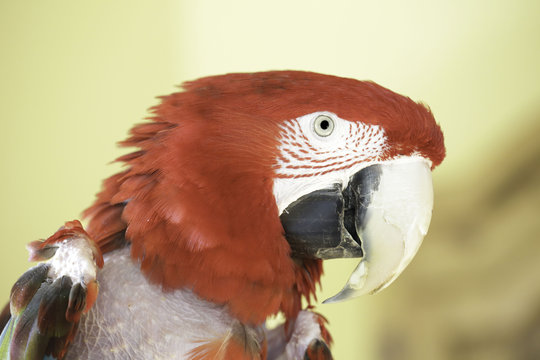 Many thanks to those of you who recently donated to Mickaboo through GlobalGiving! Because of your and others' generosity, AND the matching gift funds, Mickaboo collected enough for about 3/4 of one month's veterinary bills!

That said, the vet bills keep coming (and coming and coming...), so we are asking you to help Mickaboo win $1000 in GlobalGiving's Photo Contest. It's easy, costs nothing, and takes just a few seconds:
VOTE for Mickaboo at this link (one vote per person for the entire contest)
CONFIRM your vote via the email you'll receive – otherwise your vote won't count!
SHARE this voting request via email / Facebook / Twitter / your other social networks, and ask your friends to vote and to share too! Email pr@mickaboo.org if you would like suggested wording.

If we win, Mickaboo will get $1000 and much-needed publicity for bird rescue and Mickaboo. (Did you know Mickaboo has over 450 birds in foster care?)

This year's photo features Baby, a 23-ish year old Greenwing Macaw. Baby was surrendered by an elderly owner who could no longer care for her pets because of her own medical challenges. Baby sings, talks, and dances if you click your fingers. She likes almonds, oranges, and (like most birds) a little bit of whatever you are eating.

Baby and the many birds in Mickaboo's foster flock will appreciate your taking a few seconds to vote to help Mickaboo win $1000 - and for your past generosity.
Links: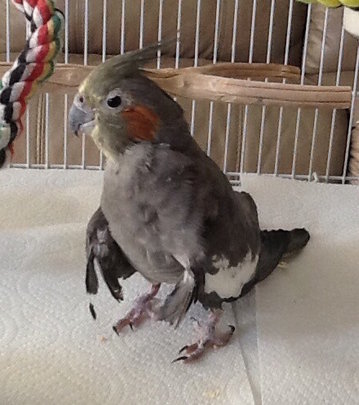 Dear Mickaboo Friends,

Our Summer edition of Mickaboo's newsletter, featuring news about the birds and events you support, is now available. Read about our rescue activities and MORE!
Even as dedicated as they are, Mickaboo's volunteers could not do what we do without your financial support. A special matching gift opportunity is in progress now - from July 15, 6 am - 9 pm PT, GlobalGiving will match your online donations at 50%, up to $1,000 per donor per project, until Global Giving has given away $115,000 of matching funds for all of its projects. Go to Mickaboo's GlobalGiving page to take advantage of this opportunity.
Your donations help birds in our care like Henrietta. Nearly 20 years old, Henrietta came to us with arthritis in her feet and wings. She became sick with a virus that swept through her home's flock and was hospitalized for nearly two weeks. The virus caused one of her stomachs to enlarge and stop working properly. Despite continuing to eat, she nearly starved to death as her weight dropped from 82 grams down to 66 grams. She recovered from the virus and then had surgery to remove a large pre-existing mass inside her crop to prevent future health issues.
Henrietta is now out of the hospital and enjoying time with her cockatiel friends. Her vet bills so far have totaled almost $5,000.
Would you consider taking advantage of this matching gift opportunity and help pay the bills for Henrietta and our 400+ other birds like her, so they can become adoptable to forever homes?
P.S. Your gift may *also* be eligible for matching by your employer! Send any matching gift forms to GlobalGiving for processing.
Links:
WARNING: Javascript is currently disabled or is not available in your browser. GlobalGiving makes extensive use of Javascript and will not function properly with Javascript disabled.
Please enable Javascript
and refresh this page.