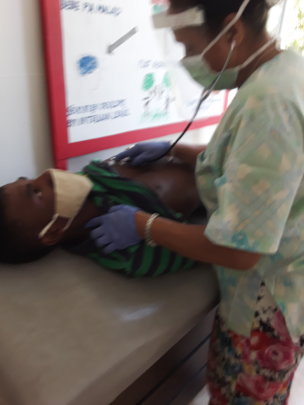 September 23, 2020.
Dear friends of the Asosyasyon Peyizan Fondwa (APF):
Thank you for your support of the APF Clinic in the mountains of rural Haiti. As I'm sure you can imagine, due to COVID and political unrest, life at the APF Clinic remains challenging and unusual this year. Yet, we persevere.
While the government of Haiti (GOH) officially lifted the COVID security measures throughout the country, at the APF clinic, Dr. Elizabeth maintains the restrictions of mask-wearing, social distancing, and hand-washing.
This conflict in proposed practices juxtaposed to the reality on the ground, might sound familiar to you in the United States.The same dichotomy exists in our community, and in our country. While Dr. Elizabeth Brea, the clinic Director continues to maintain COVID prevention standards, the population (and even some of the staff) want to think the pandemic is over and that the community is free of disease. There is a need for continuous education about this on her part, and she sticks with it!
As you can see on the day of vaccination August 20th, no one is wearing masks (PHOTO).
On August 19, 2020, the Ministry of Health installed a special vaccine refrigerator (PHOTO) (TCW 40 SDD) that uses solar panels, no battery, and no inverter. The GOH has GPS on the solar panels to prevent theft, and also a GPS that warns the Ministry of Health how many times the refrigerator is opened. The clinic was instructed the refrigerator could only be opened once a day, and in exceptional cases, twice. The clinic received training on the use and maintenance of the refrigerator, and it should have a ten-year life.
In August, 106 patients were seen.
New patients: 58
Successive: 48
Under 1-year-old: 46
From 1 to 5 years old: 14
Adults over 24 years old: 34
Pregnant women: 2
4 injured patients were attended who required surgery: 2 patients with motorcycle accidents, 1 injury by machete caused at work. One for an injury caused by an accident at home
Acute respiratory infection 6 cases, with 4 suspected cases of COVID that were referred. (It is interesting to note that since respiratory infections are the most frequent reason for consultation, almost no cases were seen. The suspected cases of COVID-19 were referred but there is no feedback from those patients. Prejudices against this disease persists, while at the same time, community members do not take any type of precaution. They believe God will protect them and that they do not need any kind of precautions)
High blood pressure: 12
Diabetes: 5
In August 40 children, 2 pregnant women and 3 adults came to get vaccinated.
In the month of September, to date on the 23rd, 61 patients have been seen. Sadly, one was an 11-year-old girl who was raped. She was treated, referred to a larger hospital and to psychiatry. Another was a 23-month-old boy with an encephalocele. He was also referred to a larger facility.
We know there is much happening in everyone's communities, and many vulnerable people in need. We pray you will continue to support our much-needed work in our little corner of this beautiful, troubled, world.