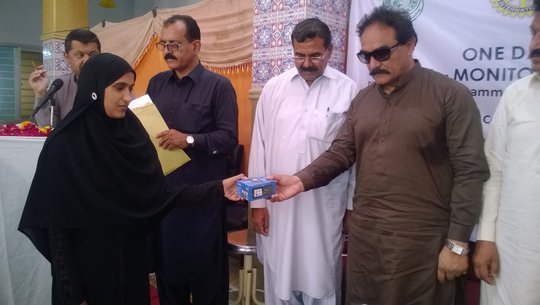 Rotarians in Pakistan are working tirelessly to intensify interventions for polio eradication in the country and specifically focus in on areas with high-risks of polio transmission. In these identified high-risk areas, Rotary is working on developing and facilitating a monitoring system through cell phones that will allow them to reach more children. This innovative step to reach children under five years of age will be executed through an implementing partner, the Mother & Neonatal Child Health, a Bill & Melinda Gates Foundation program, the government of Sindh and Telenor Pakistan, cellular network company.
This intervention will benefit the Mother & Neonatal Child Health program by directly connecting community based workers with health service centers. They will receive 552 cell phones and with teamwork, they can cover many children missed by polio vaccination campaigns and expand routine immunizations.
The first step of the cell phone project was to procure 552 cell phones. The funds for this matching grant came from The Rotary Foundation and we are thankful to Rotary Club Baroda Metro, India and Rotary Club Karachi Kolachi, Pakistan for sponsoring this grant.
Rotary's National PolioPlus Chair In Pakistan, Aziz Memon, gave details on a polio outbreak in the country and how Rotary has worked toward a polio-free future for Pakistan. He highlighted the significance of the cell phone project's ability to help eradicate polio by covering a wide range of children. He said the project will initially cover five districts in Sindh with the collaboration of Maternal Neonatal and Child Health Project and the government of Sindh. Upon successful results, it may be replicated in other polio high risk districts around the country.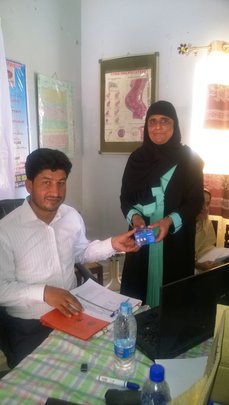 Links: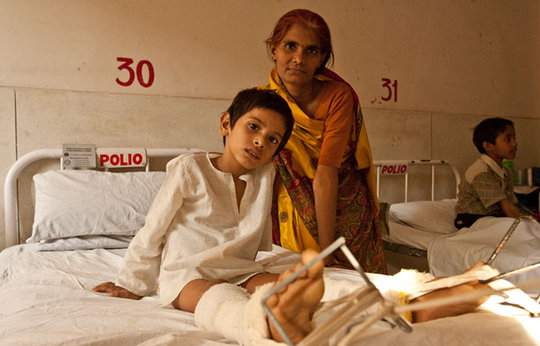 India marks three years since its last case of wild polio on 13 January 2014, a landmark achievement for global public health and the worldwide effort to eradicate polio. Experts once considered India the most technically difficult place to end polio. As recently as 2009, India was home to nearly half the world's polio cases. High population density, migrant populations and poor sanitation presented exceptional challenges to eliminating this crippling disease.
With commitment from Rotary, the Indian government, the Global Polio Eradication Initiative, other donor governments, and the global community, India launched a comprehensive polio eradication effort and built a robust health infrastructure to eliminate the disease. An army of 2.3 million vaccinators worked to reach 175 million children with the polio vaccine during national immunization days.
Rotary's polio chair in India, Deepak Kapur, shares a little of his experience participating in the immunization effort over many years. He says, "early 2000, I visited a high-risk area during a polio immunization week. A mother refused vaccination by the health worker for her child. I tried to convince the mother that it was important to immunize her infant. She continually refused the polio vaccination for her child. I was stunned to see that a little boy, her older child, crawled in from the back entrance obviously crippled with polio. This lady, despite already having a child afflicted with polio was still hesitant to immunize her other infant. That day I realized how big a challenge it would be for us in India to make parents like her come around to save their children from polio. Along the way, we did it. To feel that no child's life in India now will be wasted because of being affected by polio is a tremendous feeling of joy and fulfillment.
Click on our link below to see photos of the people and resources that were necessary for India to end polio.Share this gallery through your social networks to encourage others to help make the world polio-free.
Links: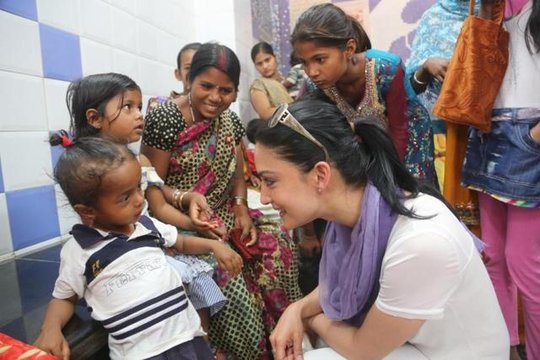 Rotary helped put polio eradication on center stage on the day best known for rallying support to finish the job – World Polio Day, 24 October.
A special Livestream presentation – World Polio Day: Making History – showcased the progress of the Global Polio Eradication Initiative. Co-hosted by Rotary and the Northwestern University Center for Global Health, the 60-minute program took place before a live audience at the John Hughes Auditorium on Northwestern's Chicago campus and streamed online to viewers worldwide.
The event featured an overview of the progress of the Global Polio Eradication Initiative. Actress Archie Panjabi from The Good Wife, a Rotary Polio Ambassador, joined a panel that includes the world's leading expert on polio eradication, Dr. Bruce Aylward, assistant director-general for Polio, Emergencies and Country Collaboration at the World Health Organization; Dennis Ogbe, polio survivor, Paralympian, and ambassador for the United Nations Foundation's Shot@Life campaign to promote child immunization; and Dr. Robert Murphy, professor of medicine-infectious diseases at Northwestern's Feinberg School of Medicine.
Links:
WARNING: Javascript is currently disabled or is not available in your browser. GlobalGiving makes extensive use of Javascript and will not function properly with Javascript disabled.
Please enable Javascript
and refresh this page.