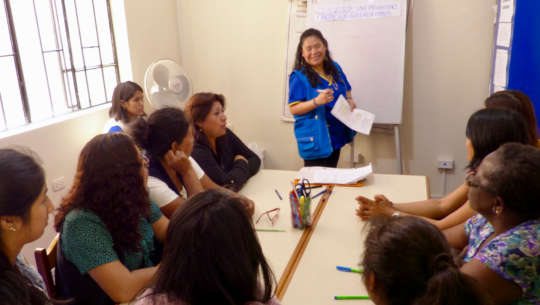 Dear supporters,
This month, our institutional venue, "La Casa de Panchita", has obtained the operating license as an employment agency in domestic service from the municipality of Lince. Now we are applying for a permission to place a sign on our building, which will motivate more domestic workers to visit us.
Meanwhile, our workshops with women in domestic work are taking place as usual and we are collecting very interesting testimonies that we would like to share with you:
In the session with Sofia, on how to improve self-esteem, one of the participants told us: "I am ashamed to say that when I serve food in my house, I always serve my husband first...most times I do not eat meat, because there is none left. And as you say, if my daughter sees what I do, when she has her husband she'll do the same. That is what my mother did with my dad. I do not want to make the same mistake, so I will try to change for her. " (Anonymous).
In the session with Agatha, on how to negotiate with potential employers, Esmeralda told us: "I learned that I can smile and say that if I do not know how to do something, I can learn! And I must not accept to work without a written contract".
In the session with Rosario on the importance of Social Security: "I asked my employer to insure me; I insisted and insisted, and she finally accepted. I understood what you explained us and from now on I will always pay my fee". (Lupe)
In the session with Lizbeth, for special questions: "I felt very good talking to you. I learned that it is important to finish my studies, and also to prepare myself professionally for my work in a house. " (Rosa)
These and other important changes are possible thanks to your solidarity and support. Thank you!
Best regards,
Blanca Figueroa