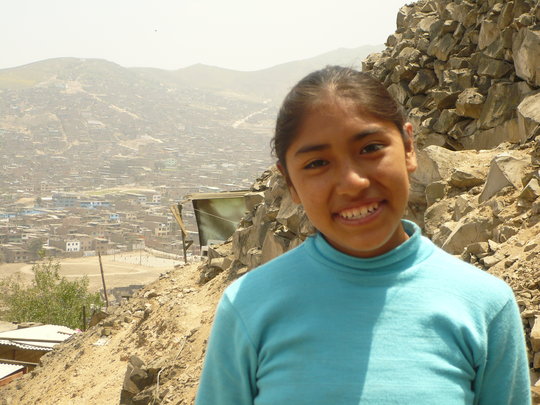 "I love going to La Casa de Panchita because everybody cares about me and I learn new things"
Elena, 14 years old, was born in a little town in Apurimac, one of the poorest areas in the Peruvian Andes. By the time she was 10, her mother sent her to Lima, to a relative's house. There, she did cleaning, cooking and took care of the little children. Everybody treated her as "the help", not as family. She could barely sleep some hours at night and she did not have enough time to do her homework. One thing she also remembers is how much her employer yelled to her and how little she wanted to talk or express her feelings with people.
In 2010, after four years, Elena moved to her aunt's house where she feels well treated. Also that year she started coming to La Casa de Panchita.
Elena looks shinny every time we see her at La Casa de Panchita. She is no more the girl who did not want to talk about her family and that was embarrassed about not reading well. With us, she shares stories of her childhood in Apurimac and she is eager to learn about the meal we serve at lunch, the handicraft we make with all the girls or the new games we play on Sundays.
Elena´s native language is quechua. At La Casa de Panchita she works hard to improve her reading and writing skills in Spanish, and currently she has improved her grades at school.
Like Elena, many more girls find in La Casa de Panchita a place in which they are happy and can learn and play.
Thank very much dear GlobalGiving friends for supporting our work with girls and women in domestic service. We appreciate all your contributions.
Kind regards,
Blanca Figueroa
Links: