Dear Supporters,
We have very good news for you. We finally started attending children at the new Ludoteca, on March 15. It was a very pleasant and very exciting celebration attended by mothers, children, teenagers, volunteers, friends, family members of the team of promoters and our sponsors, who trusted and supported our team. We presented our team and the great and wonderful efforts that were made in making this beautiful space. We received a donation of books and toys from a Swiss school in Peru, that will help us a lot in our daily activities.
As you know, the construction of the house was not easy, but seeing it now fills us with much happiness and motivates for the future. The children really enjoy being at the new Ludoteca. On Mondays and Wednesdays, they do their homework, while on Fridays, we open the game cupboards so that they can enjoy themselves. We know that little by little the new community will be involved in the activities that we will develop.
We are also very proud of two of our promoters, Luzdy and Wanderly, who completed their studies in technical institutes. Luzdy studied technical nursing, always very active and responsible in her studies and commitment to the Ludoteca. Wanderly used to be a beneficiary of our program and is now part of our team. He completed gastronomy studies and is now carrying out an internship. They have achieved their goals with perseverance, dedication and a lot of love from their family. The team of promoters is very committed to the work that has been developing and we appreciate the support we receive from each of you. Thank you!
Best regards,
Eveli Leyva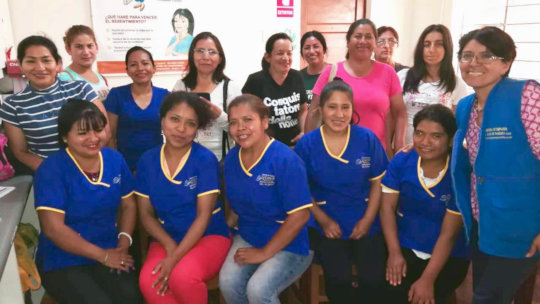 Dear Friends,
As the new year began, we looked back at 2018 and we would like to thank you for your continued support, which allowed us to help a great deal of domestic workers improve their living conditions. We would like to share with you some of last year's results:
- 2,284 domestic workers received information on the Peruvian law regulating domestic work and were motivated to take part in AGTR's empowering workshops;
- 750 domestic workers took part in our workshops, improving their self-esteem, their knowledge of their labor rights and learning how to manage and improve the relationship with their employers;
- 274 domestic workers were placed in jobs with a fair salary and dignified working conditions;
- 87 domestic workers received counseling and were able to preserve and/or improve their jobs.
We are grateful for this results and we are determined to keep helping women employed as domestic workers improve their livelihoods, as they are usually internal migrants from poor Andean regions, now living in low income peripheral areas of Lima, with children. Thank you!
Best regards,
Blanca Figueroa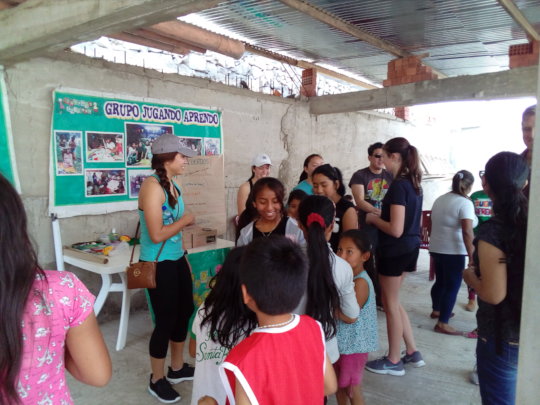 During the Christmas holidays, the children had a little celebration and there were games, surprises, chocolate and a present for each one of them. They were very happy for this nice gesture of great friends who made this beautiful surprise possible for them. Our team of promoters also had a year-end meeting in which we reflected on the achievements and challenges of 2018. We are very happy for the progress in the construction of the new Ludoteca and for the support of the adolescents and mothers of community in building it. Likewise, we are very grateful for the support of our donors.
The new year began in a very positive way, as we finally launched the new venue! The space is very wide and very fresh (here in Peru is summer now and in our area it is very hot). It is not completely finished yet, but at least we can already use it. Seeing the smiles of our children and enjoying the activities we carried out was very rewarding. A group of students from the United States shared the moment with us: they chose Jugando Aprendo and our Ludoteca to exchange experiences, practice their Spanish and teach the children some English. It was a very positive and productive day.
We hope you had a great time during the Christmas holidays and that 2019 will be a wonderful year for each one of you! Thank you!
Best regards,
Eveli Leyva
WARNING: Javascript is currently disabled or is not available in your browser. GlobalGiving makes extensive use of Javascript and will not function properly with Javascript disabled.
Please enable Javascript
and refresh this page.