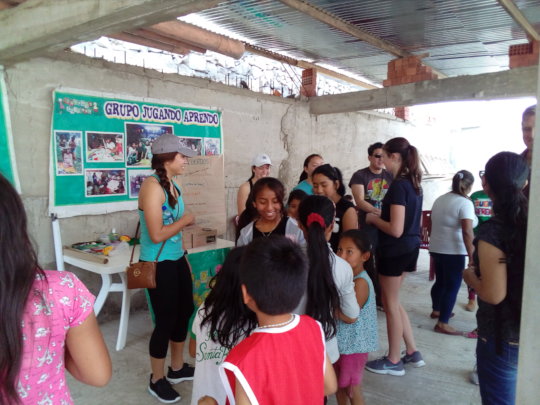 During the Christmas holidays, the children had a little celebration and there were games, surprises, chocolate and a present for each one of them. They were very happy for this nice gesture of great friends who made this beautiful surprise possible for them. Our team of promoters also had a year-end meeting in which we reflected on the achievements and challenges of 2018. We are very happy for the progress in the construction of the new Ludoteca and for the support of the adolescents and mothers of community in building it. Likewise, we are very grateful for the support of our donors.
The new year began in a very positive way, as we finally launched the new venue! The space is very wide and very fresh (here in Peru is summer now and in our area it is very hot). It is not completely finished yet, but at least we can already use it. Seeing the smiles of our children and enjoying the activities we carried out was very rewarding. A group of students from the United States shared the moment with us: they chose Jugando Aprendo and our Ludoteca to exchange experiences, practice their Spanish and teach the children some English. It was a very positive and productive day.
We hope you had a great time during the Christmas holidays and that 2019 will be a wonderful year for each one of you! Thank you!
Best regards,
Eveli Leyva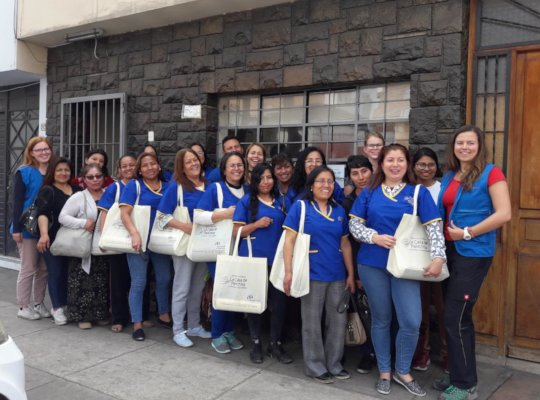 Dear Friends
The end of the year is always a good time to think about what we have accomplished: During the last six months of 2018, more than 600 women visited our institutional venue, La Casa de Panchita. A total of 134 obtained employment in domestic service, with a fair salary and dignified working conditions. Some of them participated in workshops such as English courses, computer training, self-esteem improvement and others organized by our volunteers. Likewise, a group of 15 girls in child domestic labor took part in recreational and educational Sunday sessions, all year long. All this was possible thanks to your support! We are planning on continuing our commitment to the girls and women we serve, while always working to improve our work.
We wish you a happy new year and we hope we will keep supporting girls and women together!
Best regards,
Blanca Figueroa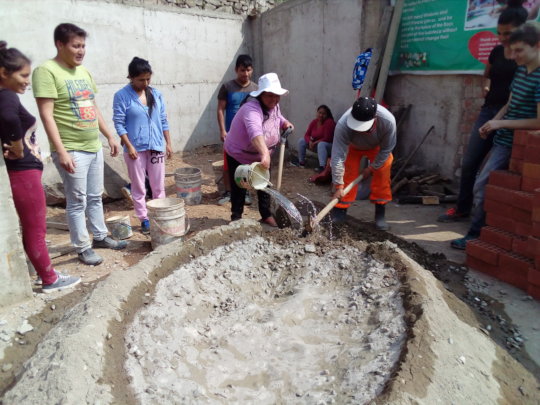 Dear friends,
At the Ludoteca we are attending children twice per week, to give them school reinforcement. They are always very enthusiastic and happy to improve their grades. We received a copy of their mid-term evaluations and all of our kids got very good grades. Seven of them are among the top students of their schools and their moms are very happy about it.
The construction of the new Ludoteca goes on. With the support of mothers, volunteers and promoters, we have carried out several tasks on Saturdays, to move forward with this beautiful project. The hardest task was bringing building materials to the new site, as area is very rugged and we are half way up the mountain. However, this has not prevented us from carrying on. We know that to succeed we have to work as a team and that this effort will always be our greatest achievement.
We have received good news from the mothers who participated in our workshops last year. Several of them have obtained positions as leaders in their communities and have supported us in the the construction of the new Ludoteca. We greatly appreciate the effort and commitment of these great women for the good of their community.
This October we will celebrate our ninth anniversary and we will organize a gathering for the family of Jugando Aprendo. We have planted a tree and a small garden to start making the new space welcoming.
Thank you for your support!
Best regards,
Eveli Leyva
WARNING: Javascript is currently disabled or is not available in your browser. GlobalGiving makes extensive use of Javascript and will not function properly with Javascript disabled.
Please enable Javascript
and refresh this page.