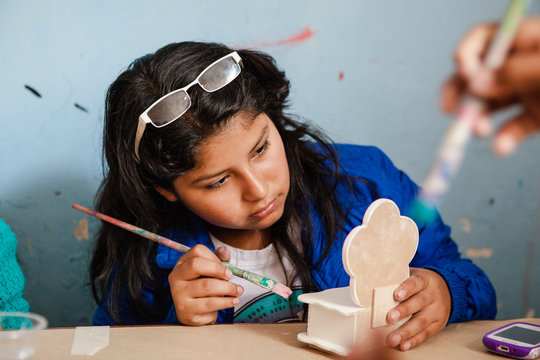 Dear GlobalGiving Supporters:
This time we would like to share the story of Elizabeth. She is currently 17 years old and was born in an Andean community in Peru.
When Elizabeth was 12, her older brother took her to live in Lima. Living in the city was hard for Elizabeth; she missed her family, cried constantly and was afraid of everything. Very soon after her arrival, Elizabeth´s brother got her a job in a hostel. She was there responsible of the cleaning and washing duties. Just a month passed and she decided to quit after being falsely accused of stealing money. Her employer did not pay her at all.
Elizabeth´s aunt got her a new job as a nanny. She started taking care of a 4-year old boy. However, she soon decided to also quit that job because her employers would not allow her to go to school. Her older sister, a domestic worker, recommended Elizabeth to a family so that she can be her domestic worker. Although she was able to go to school in the evenings, she decided to quit after a year because the school was too far away and the neighborhood was dangerous.
Sometime after that happened, she got a job with a middle class family. They also allowed her to go to school, but would never pay her on time or the salary they agreed on. She quit after two years. She then got a job is in another house in the same neighborhood. Everything seemed to be going well except for the way she is treated by her employer, she is very harsh. Elizabeth did not want to say anything about it because she did not want to lose her job. She would cry hidden in her room.
In 2012, Elizabeth learned about La Casa de Panchita through her sister. She started coming very regularly and participated in several activities we offered like field trips, drama classes, etc. Elizabeth learned how to communicate effectively with her employer and so the next time she was exposed to a bad treatment from her part, she calmly talked to her employer and told her she does not like being treated in that way and that if she did not change her attitude, she will quit. Her employer improved the way she treats Elizabeth.
Elizabeth has not stopped coming to La Casa de Panchita in all this time. She is now a very happy and communicative girl. Her deepest wish is to be able to pursue further education after she graduates high school and to get a job in which all her rights are respected.
Thank you to your continuous support we are able to keep providing Elizabeth and other girls services they need in order to improve their lives.
Blanca Figueroa
Asociación Grupo de Trabajo Redes.