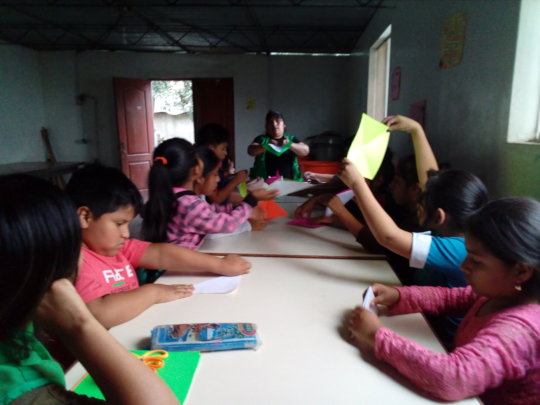 Dear Donors!
Our center, Jugando Aprendo, celebrated its 9th anniversary in October 2017. We were grateful to share this important and proud moment with mothers, children, volunteers, and psychologists. We played games and danced. Children and mothers spoke words of gratitude and thanks. It was an exciting and heartfelt moment. The words spoken were sincere and gratifying. We are certain we are changing lives.
As I wrote in a previous report, our center has relocated. For now, we are carrying out our program from a community kitchen, in order to ensure the children receive attention, while we construct our very own institutional home.
The construction of the new "ludoteca" is going well. With much love and affection, we have designed a wonderful new space for the children, teenagers, and their families. This space will be beautiful like our previous space. We only must wait a few more weeks before we are able to open it. Surely, in my next report, I will send photos of the inauguration. Our dream has come true, thanks to volunteers and friends who trust in our work and love for children.
In the month of December 2017, volunteers from Brazil, Guatemala, Argentina, Colombia, and Perú visited Jugando Aprendo. These volunteers visited us from an NGO called AIESEC, which is associated with la Universidad del Pacifico. These volunteers enact a program called "Raise Your Voice" which develops psychosocial abilities, reinforcing self-awareness, self-esteem, career planning, vocational training, and professional vision in children.
The program offers tools that strengthen children's abilities, while creating spaces that seek to achieve teamwork through group integration and cooperation. They will be with us for a total of 4 weeks, and we have two weeks left before they return to their countries. The children are very happy to learn and participate.
While we wish you all the best in the new year, we thank you for the support you give us. With your help, we are able to continue changing the lives of child domestic workers, and children en riesgo (at risk). Your confidence and generosity fills us with happiness and true joy. We thank you.
Muchas gracias amigos donadores.
Kind Regards,
Eveli Leyva