Dear supporters,
We would like to share with you a post by a volunteer at AGTR-La Casa de Panchita, Theresa Zimmer, about one of the girls you are helping us support:
"Imagine an eight year old girl. She is thin, with long dark hair, beautifully shy eyes and is barely as tall as my hips. When she looks at me it seems like she is asking for something without saying a word. Today I had the pleasure of meeting her. Her name is Sheyla. She goes to school in San Juan de Miraflores, one of the many districts in the massive city of Lima, Peru. San Juan de Miraflores is an area where people live in small, simple, houses made of brick. [...] Every morning Sheyla wakes up in one of these houses. Together with her older sister, she takes the bus to school joining the wild traffic and the hustle and bustle of city life. After school, a few days a week, she helps her cousin who lives next to her. For Shayla, helping means, going to the market to buy fruits and vegetables or taking care of one of her baby cousins while the older ones cook. Sheyla is used to following the instructions of her family. She doesn't have any idea of what it means to be responsible, but she is. She doesn't think about the other things she could be doing, playing and living the life of a normal girl, she just does what is needed from her. Her shy, prying eyes seem to ask, "what do you want me to do? How should I behave?".
You can read the full post here.
AGTR - La Casa de Panchita is taking part in GlobalGiving's Year-End Campaign. There is $10,000 in total prize money, which will be awarded throughout the campaign as well at the end of the campaign. Your donation can help us be one of the awarded organizations! Thank you for your continued support!
Sincerely,
Blanca Figueroa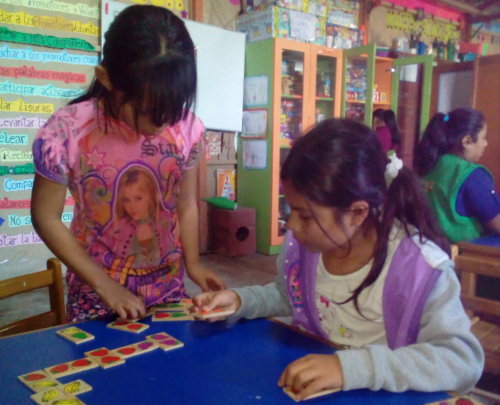 Dear Supporters,
Children who regularly participate in our school support activities have not had classes for several weeks due to a teachers' strike. Our Ludoteca remained open for children, taking advantage of the extra time to improve their grades, make use of board games and organize activities among friends. Despite having humid winters, during the past three months, children attended regularly and invited their peers so that they could also take part in educational and recreational activities.
We are pleased to announce that Jugando Aprendo will have its own venue! The one we have had so far was lent by the local community. Thanks to our friends Oona Arnez, former volunteer at AGTR-La Casa de Panchita, Philippe Arnez, and all of you, our dream will come true! We are already designing our new home and we are working with members of the new community to which we're moving.
In October, Jugando Aprendo celebrates its 8th anniversary and on the 28 we will inaugurate the new Ludoteca, with all of our friends, children, adolescents, volunteers of AGTR-La Casa de Panchita and the team of promoters. We feel very happy and grateful.
We will keep on changing the lives of children and adolescents in child domestic labor and improving their development, with values, education and teachings we know will positively mark their adult life.
As soon as the construction of the new premises is over, we will send photos! You are very important to us.
Thank you!
Sincerely,
Eveli Leyva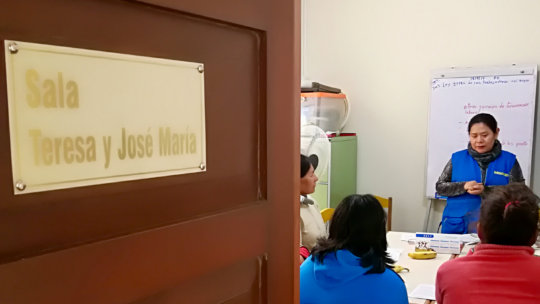 Dear Supporters:
A few weeks ago, we received an email from Maite, a Spanish volunteer who was with us for more than a year, supporting our activities with girls and women in domestic work, teaching English to domestic workers and some Peruvian volunteers and many others.
Maite wrote us in her mail that she would make a donation for this project in memory of her parents. She feels that they would have liked the idea of supporting our work, because their life was an example of solidarity with people in situation of vulnerability.
Last Sunday, Maite arrived from Spain, on a surprise visit to La Casa de Panchita, rejoicing us all. She also found a little surprise for her: a commemorative plaque next to our training room saying: "Sala Teresa and José María", her parent's names.
We really value the fact that since we met Maite, she encouraged us to continue working hard to support girls and adults in domestic work and she keeps helping us find ways to improve. We like that the memory of her loved ones is now part of this new venue. We would like to thank Maite and all of you for your support. Together, little by little, we can keep improving the situation of girls and women working in domestic service and end their exploitation and discrimination.
Thank you!
Best regards,
Blanca Figueroa
WARNING: Javascript is currently disabled or is not available in your browser. GlobalGiving makes extensive use of Javascript and will not function properly with Javascript disabled.
Please enable Javascript
and refresh this page.