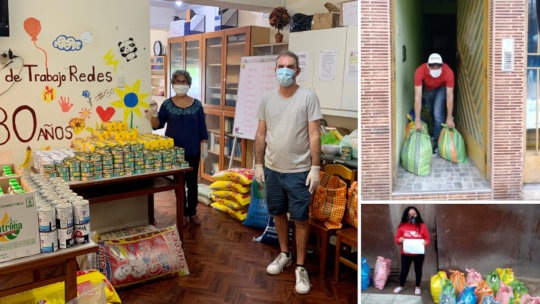 Peru is in mandatory isolation (with an additional curfew from 9pm to 4am) since March 16. All non-essential activities have been suspended and, up until June 3, people's movement have been limited to the procurement of food and medicine. Venezuelan migrants are particularly affected by this situation, as most of them make a living selling food in the street or as day laborers. In fact, shortly after the beginning of the quarantine, we started receiving dozens of help requests from vulnerable individuals who were unable to provide food for their children and families.
To respond to this emergency, AGTR has been delivering emergency food baskets to the most vulnerable households. The average basket contained approximately 12 kg of non-perishable food, such as rice, beans, oats or canned tuna. We also included the special flour used to cook arepas, a traditional Venezuelan dish, to try to give migrants and refugees a taste from home.
With the help of local allies, we were able to provide aid to over 150 households. We are now working to secure additional funding to help many others who are still in need of assistance. Unfortunately, migrants and refugees were not included in Government aid programmes and have nowhere to turn to. With a little help, together we can keep this initiative going!
Thank you for helping us making all of this possible!
Sincerely,
Andrea Gandolfi
Dear Supporters,
We started a new initiative to face a stereotype that for a long time has been one of the main issues for domestic workers. The notion of servitude and a marked class structure, which continue to characterize Peruvian society since colonial times, combined with a segmented rights system, have prevented domestic service from being included in the labor and social conquests of the last two decades. Work in domestic service is not considered "real work" or qualified work. As a result, domestic workers do not receive the same labor rights and benefits as other workers.
AGTR and its in-house employment agency have created a program aimed at the professionalization and certification of domestic workers. We now offer four specialization workshops:
Early stimulation workshop, for the development of the brain functions of babies, through games and exercises;

Child psychology workshops, on behavior management techniques that promote the child's self-esteem and self-control;

Workshop for the care of the elderly, to attend their basic needs and promote dignified aging;

First aid workshops, on how to take care of victims of accidents or sudden illness (until specialized personnel arrive).
Through the professionalization of domestic workers, we plan to change the stereotyped image of the women in this sector, reducing the discrimination they continue to suffer. We would like to thank you for your continued support, which has enabled us to embark in this new project. Thank you!
Sincerely,
Andrea Gandolfi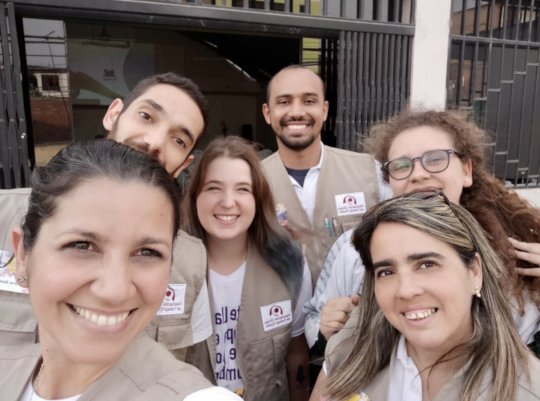 Dear Supporters,
We are proud to introduce our project team, especially the new members who joined us to empower Venezuelan migrants and refugees through personal brand and entrepreneurship workshops, administrative assistance and support for migration status regularization. Since the beginning we knew that it was necessary to combine AGTR's experience with the knowledge and skills of experts in migration processes.
Three Venezuelan professionals, who migrated themselves to Peru because of the social and economic crisis in their country, are now part of our team: Andreína is a lawyer specialized in labor rights, Martha is an expert in migration regulation and administrative processes in Peru and Loredana is a psychologist specialized in helping children and adolescents overcome traumas due to migration. We can also count on a team of Venezuelan volunteers, whose commitment allows carrying out all the activities and programs included in this great initiative.
This month we launched the subsidies program to help extremely vulnerable migrants and refugees face the administrative expenses for the regularization of their migratory status in Peru (a long and expensive process). We soon realized this program is even more necessary than we anticipated, as it is the first step towards formal and decent employment. We will soon share with you stories and results from the field!
As always, none of this would be possible without your support. Your donations make it possible to increase the impact of the project and improve people's lives. Thank you!
Sincerely,
Andrea Gandolfi
WARNING: Javascript is currently disabled or is not available in your browser. GlobalGiving makes extensive use of Javascript and will not function properly with Javascript disabled.
Please enable Javascript
and refresh this page.