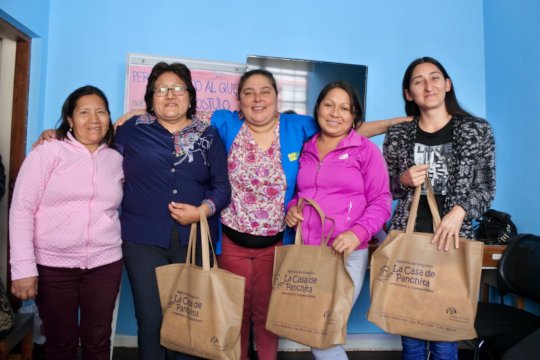 Dear Supporter,
We are close to the end of the year and we are about to complete this year's cycle of Sunday sessions with child domestic workers. We are going to start again next year, after the Christmas holidays.
Girls from low income households are likely to become child laborers, working as babysitters for neighbors or relatives, because of the need to improve the family financial situation or so that they "learn a profession" as early as possible. Improving labor rights, working contitions and livelihoods of adult domestic workers is part of our holistic approach for the eradication of child labor. If the livelihoods of mother improves, their daughters have more chances to stay in school, break the spiral of poverty and have access to formal and dignified imployment.
At AGTR we empower adult domestic workers so that they learn about their civil rights, are better prepared to negotiate decent working conditions with employers and learn to value their work and experience. We would like to share with you some testimonies from women taking part in AGTR's workshops:
Verónica: "After taking part in AGTR's and La Casa de Panchita's workshops, I feel more comfortable with myself. I have met other women working in domestic service in Lima and that has given me more confidence. I felt understood here, because other domestic workers also went through the same difficulties I had to face. I have learned to value my work experience and the knowledge I have acquired in recent years, to organize myself better in my work and to know how to adapt to the customs of my new employers".
Karina: "I came from Venezuela almost two years ago, due to the economic crisis. At La Casa de Panchita I felt included, like I belong and I felt comfortable here. In my situation, as a migrant still trying to rebuild my life in a new country, this was very important for me. This place and the people here are very warm, and one can feel it from the very moment they open the door. Gloria, at the reception, is very empathic".
We would like to thank you for making this project possible and for enabling us to keep serving girls in child domestic labor and adult domestic workers.
Sincerely,
Blanca Figueroa