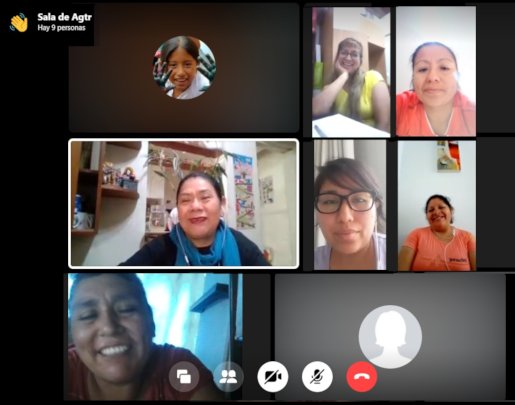 Dear Supporters,
As you may know, in Peru we are now in a second lockdown, since January 31, that will last at least until the end of February. Given the circumstances, we are now providing training, legal orientation, and job placement services online. We knew most of our beneficiaries have smartphones and could, in theory, join online training sessions. However, we were afraid many of them would not have sufficient data plans that would allow them to attend all the required sessions, since they use prepaid lines and often do not have the means for top-ups nor a wifi connection at home. Thankfully we are now able to start a data subsidy program, through which we will identify those domestic workers who wish to take part in AGTR's workshop, but cannot pay for a data plan and we will pay for a one-month data package for their mobile line. This will help us make sure that women willing to improve their livelihood and job conditions still have the chance to do so and are not further marginalized due to the pandemic, social distancing, and the new online social distanced society we are living in.
This new initiative, together with the new scholarship program we told you about in a previous report, is aimed at supporting women employed in domestic service during these complicated times and at keeping the momentum we had gained before the pandemic. Over the last two years, AGTR took part in congressional workgroups that led to the ratification of the International Labor Organization Convention on Domestic Workers by the Peruvian Government and the approval of a new law regulating their sector. So, now more than ever is time to keep pushing forward!
Please, consider renewing your much-appreciated support to our project and let's make a difference together! Thank you!
Warm regards,
Andrea Gandolfi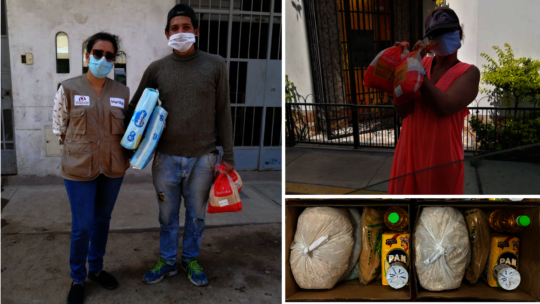 Dear friend,
This month we are going to expand our current visa support program and start a subsidies scheme to help migrants and refugees have their undergraduate and graduate degrees formally recognized by Peruvian authorities. This will allow them to apply to qualified job opportunities and improve their livelihoods. In turn, through their qualified work and skills, they will benefit the local society of which they are now part.
Moreover, at AGTR we have been working to keep supporting Venezuelan migrants during the ongoing pandemic. As you know, although most restrictions have been lifted, the situation is far from being back to normal. The pandemic came when migrants and refugees had just left their country of origin and were trying to start over in Peru. Most of them lost their jobs, were unable to make a living during the quarantine and are still struggling to recover. They were not included in any of the economic relief funds implemented by the Peruvian government and have very limited access to healthcare.
During the past few months, we were able to provide over 300 Venezuelan migrants and refugees (and their families) with food baskets and essential goods. We are now almost ready to start a new round of deliveries, this time including sanitary material, such as face masks and hydroalcoholic gel, in the baskets.
Together, we can reach more and more vulnerable migrants and refugees who need our help to get through this rough times. Thank you for your support!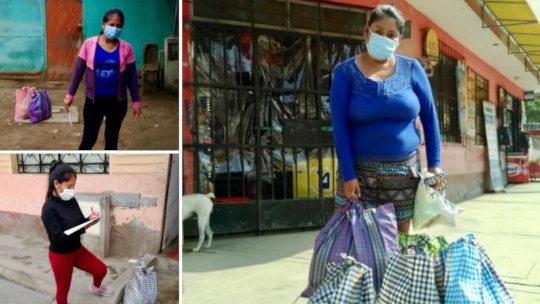 Dear friend,
We would like to thank all of you for enabling us to keep supporting domestic workers during the long quarantine in Peru and the ongoing pandemic. Domestic workers are one of the most vulnerable groups in Peru, as they are women from low-income backgrounds, often internal migrants who moved to the city from Andean regions or the Amazon and working in a sector that has historically been marginalized for its ties to slavery and servitude. During the 108-days-long quarantine, most of them lost their job and their livelihood, while not being included in any of the subsidies the Government created for other vulnerable citizens.
At AGTR we were able to raise funds (also thanks to the GlobalGiving Relief Fund) to provide approximately 150 domestic workers and their families with food baskets. The average basket contained approximately 12 kg of non-perishable food, such as rice, beans, oats or canned tuna. We are now working to secure additional funding to help many others who are still in need of assistance and to include sanitary material, such as face masks and hydroalcoholic gel, in the baskets. Some domestic workers are back to work and they need this kind of equipment to protect themselves and others around them.
Toghether we can make a difference. Thank you!
Sincerely,
Andrea Gandolfi
WARNING: Javascript is currently disabled or is not available in your browser. GlobalGiving makes extensive use of Javascript and will not function properly with Javascript disabled.
Please enable Javascript
and refresh this page.