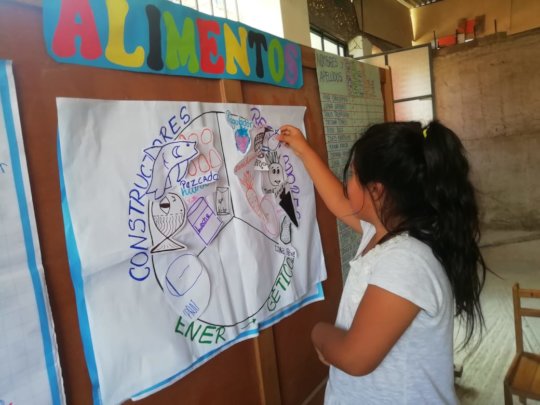 Dear supporters,
Our activity at Ludoteca has been suspended since March 16, when the Peruvian government ordered a very strict lockdown to prevent the spread of COVID-19. During this time, we were able to keep providing the group of girls taking part in our workshops with nutritious food packs. This initiative is very important right now, since many households have reduced income or no income at all at this time. We hope to be able to resume some of our activities soon, with all the needed precautions and safety protocols.
However, un until mid March, we carried out some interesting activities. During our latest sessions, we addressed nutrition and health topics, so that girls learn the functions of different foods (energy, builders and regulators) and know how important it is to eat well to grow healthy and strong. The girls had previously touched on the subject in their schools, but the information they received was not sufficient, so the workshops were important to complement it. They were very dynamic and interactive sessions, which were complemented with crafts and games.
Girls learned what foods they should consume so that they can grow according to their age:
Rocío, 11 years old, told us that "there is a bean that looks like it has a black belly that I did not eat before. My mom usually prepares it with tuna salad or fried fish. Now I do eat it, because I know it's good for me".
Naomi, 10 years old, told us that she asked her mother "to prepare quinoa with chicken and lettuce, because it has everything I need: quinoa is energy-efficient, chicken is a builder and lettuce is regulating".
We hope you and your loved ones are safe. Thank you for your support!
Sincerely,
Evely Leyva