Dear friends,
The last few months have been a time of unfolding. The new residents at Arinj are unfolding their hearts and days into the loving hands of their caregivers. We are hearing stories and learning slowly about the texture and patterns of their lives. We are making inroads to their places of joy and are memorizing their places of pain.
The residents at both homes are unfolding into new friendships with one another, celebrating birthdays together, going on excursions together around Armenia, and participating in camps. Some of them attended an art camp in Moscow and another group of residents were invited to the Young Life camp in Armenia. Summer was full and bursting with life and travel and volunteers and celebrations.
Summer also entailed leaning into one new resident's pain as he struggles gravely with his fears. Please keep him in your heart as we try to trace his pain and learn how to help him hold it. It is hard work—to hold the pain of others. It is also an honor.
Seven of our new residents just started attending the three-year vocational program at the local college (pictured above). Their days are full and inspiring. We are grateful for the ways that our new residents have been welcomed into the structures and scaffolding that was already in place from years of hard work. We can't exactly sit back and relax, but it does feel like there is a tray of shining fruit for us to enjoy together.
Sincerely Yours,
Natalie Bryant-Rizzieri
Links:
Attachments: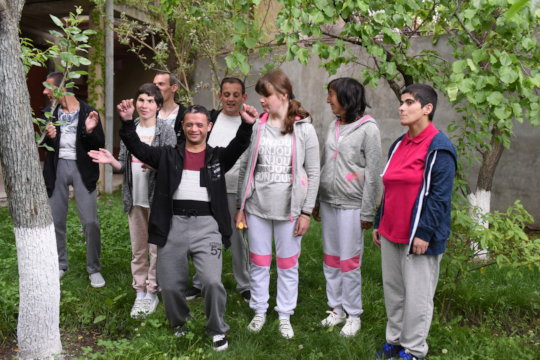 Dear friends,
Just in time for summer, eight new residents got settled into their forever home in the village of Arinj. Bags are unpacked. The furniture is finally all put together. The fruit trees in the garden are bearing fruit. Our new staff members are trained and building a life with our residents. The residents from both houses are forging new friendships.
And in the midst of it all, we have welcomed so many of you into our second home in the last few months, either in the flesh or in spirit. It has been a joy to share this unfolding dream in a tangible way with many of you. And you, in turn have left an imprint upon our work. This unfolding and ongoing reciprocity between our residents and our friends is an incredible thing to witness. Some of you have provided furniture or potted plants. Some of you have facilitated staff trainings and staff support. Some of you blessed us with your presence on our opening celebration day. And some of you have helped behind the scenes as we navigate this shift and create new policies and structure. Thank you. Though I do not have the space to list all of your names, they are part of the fabric of our work.
Love is once again a place, in Armenia, for Arame, Christine, Natasha, Hrach,, Armen, Jhanna, Gohar and Artur. e.e. cummings wrote: "Love is a place & through this place of love move (with brightness of peace) all places." Through this place of love, you move. And we will share your names and stories with our residents so that they can learn that there is a whole community of people supporting them, providing for them, and loving them.
Look at them (picture attached) on the opening day. I see in their eyes the "the brightness of peace." This is the gift you have given them.

If you are interested in viewing our full summer newsletter, please follow the attached link. Thank you so much for your time and help.
Sincerely Yours,
Natalie Bryant-Rizzieri
Founder & Executive Director
Links:
Dear friends,
As you know, we recently opened our second forever home in the village of Arinj. Eight orphans with diverse abilities moved to their new home in May and are settling in and creating a new life together. We invited local government officials, neighbors, representatives from local nonprofits and international aid organizations. But mostly we simply celebrate the new residents. We paid tribute to their beauty and to the beauty of Armenians for initiating this home. We danced and sang and planted a tree.

Here is a short little video of our opening ceremony and their homecoming. Oh, the smiles of these beautiful people will open wide your heart, I imagine, as they do mine.

Thanks to each of you for your beautiful part in making this happen. We are all so grateful.

-Natalie
Links:
WARNING: Javascript is currently disabled or is not available in your browser. GlobalGiving makes extensive use of Javascript and will not function properly with Javascript disabled.
Please enable Javascript
and refresh this page.