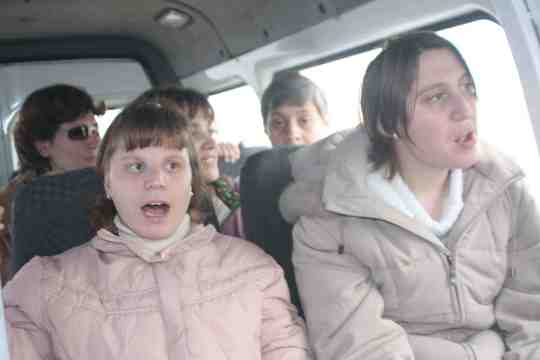 Dear friends,
What a full week this has turned out to be. As we speak, it seems another tree or flower blossoms. Yesterday I was walking with a friend and we came upon wild lilacs. It is a beautiful time to be here, to see snow in some parts of the country, rain in others...to experience such a distinct shift in the seasons.
Today we had an excursion to the town of Spitak to visit Mother Teresa's orphanage there. I had never been and neither had the residents. We both wanted to meet the residents there and to give something to them... All of the residents (from our home and theirs) became friends quickly. It was a joy to watch friendships begin, to see another place that reaches out to the same people in this country, and to draw strength from shared joys and struggles. We face many of the same difficulties and so I found solace in that. Mother Teresa's orphanage opened right after the earthquake and the children who were handicapped by the earthquake have grown up and will stay in this place for their entire lives. They do not take new residents (I tried before opening Warm Hearth!) but perhaps as a result, it feels like a family there as well.
On our way over and through the snow-covered mountains, I again wished that you could have been there. Our residents were singing, befriending the driver, making jokes and pointing out gorges, lakes, mountains and villages to one another. I leaned my head back as they sang and drank in a few deep breaths of mountain air and told myself: Remember this. Never forget it. Remember this joy, their joy, your joy.
We have come so far. I couldn't help but think of our first long journey together from Kapan over snowy roads when we opened the home. I couldn't help but look back, knowing that we have been blessed to have made it thus far. I also couldn't help but look forward and wonder where we will still go together.
I hope that the way forward will bring a solution and healing for Anna and Sassoon. They remain in the clinic. It has been so long now. And while on some days, I know that they are there for good reasons, I also know that it is not *good* that they are there. And in this way, we are at an impasse with them. There is a chance that our training next week (a specialist from the Seattle area joins us tomorrow) will provide help for our staff to the extent that we can try to bring one of them home. But there is also a chance that we will not be able to.
When I visited them a few days ago, Sassoon asked me over and over to take him home. I told him I could not, over and over. He then went through a list of everyone he could think of who might be able to take him home and for each question, I had to say, "he/she cannot take you home." Finally, exhausted (as was I), he looked down and let out a huge sigh and said, "God will take me home." Oh.
I carry them in my heart, though, and ask that you carry them as well. It is too heavy to carry alone. And at each juncture, I hope that this will be the one that allows for some large change for them, that allows for them to be at home again...even if it is in a different home.
May it be so. Miracles have happened before.
Sincerely and with Gratitude, Natalie