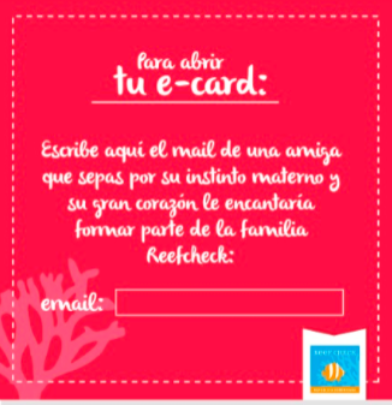 During this period (May to July 2016), a total of US$2,399.74 (via the GlobalGiving website from 24 donations, six of them recurring many thanks for the continued support). All your donations and giving this coral species a chance.
A follow-up of the adopt-a-coral campaign for mother's day 2016 was implemented, updating via social media all adopting mothers, see pictures for these posts.
Local support was provided to Dr. Mithail M. from the University of Texas to conduct genetic work on corals from our existing coral nurseries and from natural reefs in La Caleta, Palmar de Ocoa, Juancho and Pedernales. A summary of his work is provided below:
Integrating paleontology and genomics to characterize long-term responses of Caribbean coral reefs to climate change.
Mikhail V. Matz, Integrative Biology, College of Natural Sciences
Rowan C. Martindale, Jackson School of Geosciences
The ability to fill in the gaps of specific reef ecologies that cannot be assessed with the paleontological or genomic record alone is the major strength of combining our expertise in this project. To explore these possibilities, we will perform a joint characterization of one specific location in the Caribbean, the island of Hispaniola. This location provides a paleontological window into the past at 5-10 thousand years1, which is a period of dramatic climate changes following the last glacial maximum. This island maintains abundant living corals that can be sampled for genomic analysis. This location is also easy to reach and does not present logistical and permitting challenges either for paleontology or live coral sampling.
Genomic analysis will utilize two species, both prominent reef builders throughout the Caribbean reef history but substantially different in their ecology: the shallow-water fast-growing staghorn coral Acropora cervicornis and the deep-water slow-growing great star coral Montastrea cavernosa. We will initially seek to validate the putative two-century-long collapse of Hispaniola reefs around 8,000 years ago, using both species. We will sample 100 individual corals of each species for whole-genome genotyping using 2bRAD method developed in Matz lab 2, and analyze the frequency distribution of detected variants using dadi ("diffusion approximation for demographic inference" 3) to detect past bottlenecks. For A. cervicornis, for which a draft genome sequence is available, we will also perform full genome re-sequencing of three unrelated individuals and analyze the data using multiple sequential Markovian coalescent (MSMC), the method developed very recently to reconstruct demographic history of human populations 4. This approach relies on a different kind of data and algorithms than dadi and thus would provide an independent line of evidence about past population sizes.
Paleontological analyses willbe employed to provide an assessment coral reef health and composition in deep time; essentially to "ground truth" the genomic data and add both community and paleoenvironmental data. The fossil reef exposed on Hispaniola is exquisitely preserved. We will focus on three key areas for this project that reflect the condition of ancient reefs:
a) Coral richness, abundance, and diversity through time – Previous research has established ages of fossil coral communities in Hispaniola (via. radio carbon dating [1]); we can utilize and expand on these ages to establish when gaps in reef growth occurred (e.g. Fig. 1). Furthermore, a more detailed analysis of communities (e.g. diversity and coral abundance) will provide comprehensive information on the abundance corals, the diversity of the reef, and the relative importance of certain coral types.
b) Growth rates of coral and crustose coralline algae – Corals and crustose coralline algae, or CCA, are the key reef builders in the modern ocean. These two organisms build a carbonate skeleton, which records yearly growth like rings on a tree. We will examine the variation in the growth rates of corals 5 and CCA6 over the reef history by comparing the thickness of annual growth bands in fossils of different ages. These growth rates provide an indirect measure of coral, encruster, and reef health.
c) Paleo-environmental proxies –Both fossil corals and CCA trap a record of past oceanic conditions in their skeletons. Corals are widely known as recorders of ancient ocean temperatures, and recent work with CCA also suggests their utility as paleo-temperature and acidity proxies 7. These analyses, in combination with the paleo-community analyses, will provide an interdisciplinary assessment of the conditions experienced by ancient reef systems.