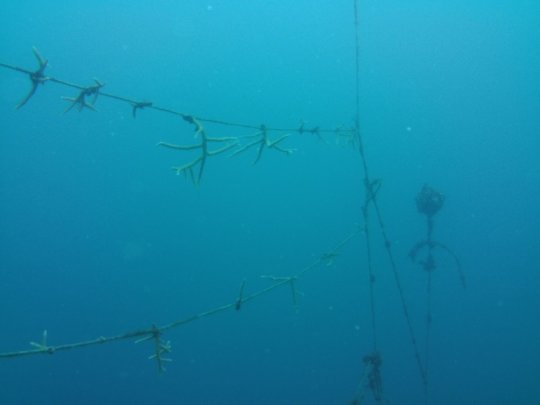 Coral Restoration February to April 2018 Report
During this period (February to April 2018), a total of US$1,086, 21 (via the Global Giving website from 2 donations, six of them recurring, many thanks for the continued support). All your donations and giving this coral species a chance. Activities conducted during this period include:
Nursery Location: Bayahibe
Last Monitoring Visit: April 22nd
Next Planned Visit: July 1st
Status: 3 midwater rope nurseries were installed in March after the previous ones were damaged with the winter storms. Most of the fragments could be recovered from the previous nurseries and were attached to the new ropes. This nursery benefits from a close monitoring from the Coral Point Dive Center, who works closely with Reef Check DR.
Nursery Location: Palmar de Ocoa
Last Monitoring Visit: April 8th
Next Planned Visit: June 17th
Status: Fragments on the three original rope nurseries and the two new midwater nurseries are growing healthy. Siltation is an issue but not detrimental to the fragments due to close monitoring. Fragments were donated to Grupo Puntacana from this nursery to their own in March.
Nursery Location: Las Galeras
Last Monitoring Visit: May 6th
Next Planned Visit: ASAP for reconstruction
Status: After unusually strong storms during the winter and spring, all 7 frame nurseries at Las Galeras were almost destroyed. Prohibition from the Coast Guard to all small boats from going out at sea for most of spring difficulted earlier reports of the damage. Funding is required for rebuilding this important nursery.
Nursery Location: Luperón
Last Monitoring Visit: March 11th, May 20th
Next Planned Visit: ASAP
Status: The nurseries installed last year are still present. Monitoring this nursery has proven challenging due to both the remoteness of the site and the usually less-than-ideal water conditions. Our partner on site couldn't locate the nursery on the most recent visit. A follow-up and possible relocation is required.
Nursery Location: Pedernales
Last Monitoring Visit: March 18th
Next Planned Visit: ASAP
Status: The two frame nurseries installed last October are still present and show adequate survival of fragments. Siltation is a problem on this site. The local partner visits the nursery regular swimming from shore, but he lacks scuba gear for a more proper maintenance. A follow-up maintenance visit is required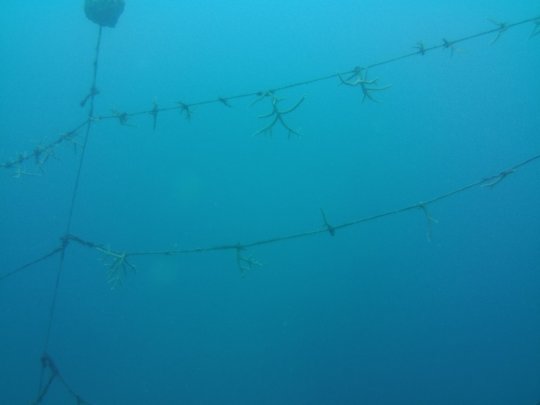 Links: