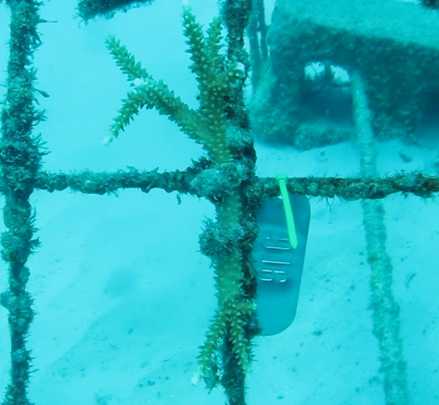 Report #1 (July 9-September 30, 2012)
Coral Reefs Restoration in the Dominican Republic
After the initial funding received, Reef Check DR was able to build and install four metal frame nurseries in La Caleta Marine Park, specifically at the following coordinates ( 18°26'18.96"N, 69°41'6.18"W) at approximately 30 feet of depth in sandy bottom. These frames were populated with coral fragments of Acropora cervicornis brought from an existing coral nursery in Punta Cana (operated by Punta Cana Ecological Foundation), and of Acropora palmatta, fragments brought from Playa Frontón in Samana, from a natural reef, but only collecting fragments that have been naturally broken colonies due to waves and storm.
Coral fragments were measured, tagged and placed in the coral frames (see attached picture). Visitors to the global giving website were able to learn about the coral nursery technique to enhance the already documented restoration of reefs by reducing local impacts like fishing, and anchoring, as part of a community-based management of La Caleta Marine Protected Area in the Dominican Republic.
To the date of this report this project has received 22 donations, 13 for adopting a coral fragments, and others supporting the regular maintenance of this coral nursery.
During the summer season, a few tropical storms threatened the coral nursery, and one (Isaac) was actually able to produce some damage, but thanks to the quick response by Reef Check staff, more damages were avoided.
To adopt a coral or contribute to the well being of these corals before being transplanted to the reefs, visit the link:
or for more information, please contact:
Ruben E. Torres, Ph.D.
Reef Check Dominican Republic
Prol. Fantino Falco #5, Piantini
Santo Domingo, R.D.
ph/fax 809-227-4409
cel. 809-902-6565