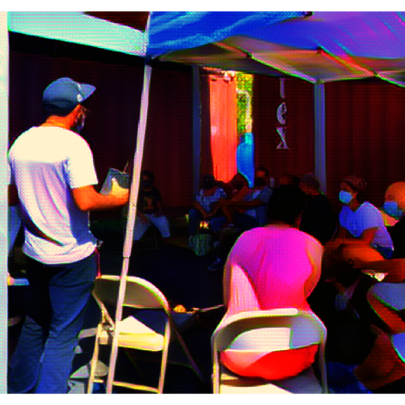 Legal empowerment is not a race but a process. It requires a lot of conversations, discussions on principles and methodologies, connections, and needs assessments. This initial stage of interviewing community groups and leaders that will be part of the Legal Empowerment Curriculum has been powerful and rich. We are gathering the resources during this first stage, working with groups to select the community that will host this project, and start designing a collaborative curriculum.
We have learned a lot of things. First of all, is the fact that many of the impoverished communities in Puerto Rico live at the intersection of displacements and climate crisis. Speculation over the land, the lack of assistance to repair roofs after hurricane María affected more than 472,000 houses in 2017, and the 2020 earthquakes destroyed nearly 800 residential structures, outmigration because of poverty, and the high cost of rents and mortgages are common. Similarly, coastal communities live with the threat of sea-level rise, hurricanes, storm surges, and floods. During our interviews, systemic inequalities were highlighted. Racism, discrimination against female households, and elders' vulnerability are part of displacement and climate crisis violence that must be addressed as part of the curriculum. We are willing to do so. Community paralegals will be a significant contribution to these spaces.
We are happy to say that we finally met the group that will be the facilitator and community host of this project. It is El Ancón in Loíza. To learn more about this place's history, group, and advocacy asks, please visit this website. https://www.elancondeloiza.com
Our next steps include a community legal needs assessment and the curriculum's start, where storytelling and legal strategies will be combined. We, who are accustomed to moving quickly, acknowledge that this project has a different speed, one grounded on intention strategy and exchange of knowledge.
Please stay tuned. We want to have you here for the rest of the run.