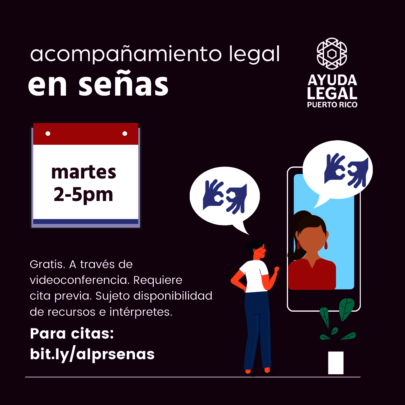 Accessible legal education designed for and with the deaf community is urgent to break cycles of violence and poverty that impact this population. With your support, Ayuda Legal Puerto Rico works hard to co-create a legal education library in sign language, where deaf individuals can find answers to legal issues regarding a wide array of topics. With your support, we have created more 6 educational and 52 glossary videos in sign language in a short time. The selected topics have been chosen in focus groups with members of the community and allies, who have named barriers within administrative and judicial forums and discrimination as root causes of their vulnerability. Videos on custody and access to medical services are among the most popular. We expect to add educational content on pressing issues such as disaster preparedness and domestic violence in the following weeks. These materials are currently under the review of deaf individuals who verify the accessibility of the information. We are learning to be inclusive and acknowledge that only the people who need this accompaniment can lead us forward.To do more we need more support. We invite you to share this project widely. We need to amplify the needs and wants of this wonderful community. Lets do it together.
As for our Legal Clinic for the Deaf Community, it's open! Follow the link in this report. Would you please share this information on your networks? Thank you for your solidarity
Links:
As we enter the peak of the hurricane season, we strengthen our efforts to accompany survivors and highlight their unmet needs. The progress of housing recovery is devastatingly slow. Today, less than 130 houses have been rebuilt and 1200 hundred repaired with CDBG-DR funds. In a universe of 27,000 applicants - 20,100 active as per the local housing agencies- the small scale of governmental response regarding the major hurricanes of 2017 is shocking. At the same time, the well-being of families affected by several disasters receives less attention as days, months, and years pass. They are at risk of being forgotten.
At Ayuda Legal Puerto Rico we continue promoting legal empowerment as a response to invisibility. Accompanying survivors permits us to understand that although their precarity rises - by the loss of safe housing, unemployment, increased poverty, and inequality, the impact of other disasters- their needs remain constant. Asks for housing and alternatives to displacement are their main asks.
Legal empowerment goes beyond traditional aid and asks how to change a system that promotes such inequality. The experience of these families informs our advocacy roadmap, one that acknowledges and sees them, while demanding the government to ensure equitable and agile access to recovery funds, zero forced displacements, and real participation. This is a guide forward.
Throughout this project, we aim to continue this accompaniment and to achieve transformation. We know we can win together. Today, we want to invite you to stay tuned to our website - ayudalegalpuertorico.org/publicaciones - and read the latest report, Towards a Just Recovery (Third Report), to be published this Thursday 26, 2021. Learn more about the work you are supporting. Continue accompanying us.
En solidaridad,
Links:
Tu casa, tu derecho. This slogan will frame our efforts throughout the end of the year, as we encourage legal empowerment to fight foreclosures. As Puerto Rico - and the world- get impacted by a more lethal COVID-19 wave, families are facing the risk of losing their homes. Examining court records, we found out that more than 720 new foreclosure procedures have been presented between January and the end of July 2021. As we approach the peak of the hurricane season, housing insecurity threatens the possibility of dignified living on the Island. Derecho a tu casa has been working non-stop to promote narrative shifts, create innovative legal support/advocacy tools, and provide accompaniment to people at risk of foreclosures.
During this semester we
Promoted and nurtured our risk detector tool known as "Conoce tu riesgo" which permits people to self-assess their risk level regarding foreclosure and learn more about available resources and services.

Created media campaigns to promote the network of organizations that provide free legal support to people in need

We are creating a database of the people we accompany to integrate them in self-defense and advocacy efforts designed to help and support families at risk of foreclosures.

We are launching - SOON, see picture for a sneak peek- a media campaign that will help us shift the narrative and address how the impact of foreclosure disparately impacts the elderly and women in Puerto Rico.
Stay tuned. We need you on our side. Please continue supporting Ayuda Legal Puerto Rico. You can learn more about our efforts against foreclosures at derechoatucasa.org
WARNING: Javascript is currently disabled or is not available in your browser. GlobalGiving makes extensive use of Javascript and will not function properly with Javascript disabled.
Please enable Javascript
and refresh this page.