The elephant population in the Makgadikgadi Pans National Park is unique with more than 95% of the population being males. As males have no young to defend, they are usually less skittish than the breeding herds. Thus, most males stay fairly calm when approached by our research car. However, there are certain factors that can have an impact on the strength of their response when we approach them, which range from completely ignoring our presence to them running away.
One aspect that clearly affects an elephant's behaviour is the distance to the car – the closer you approach an elephant the more likely it is to get nervous and move away. You should therefore never approach an elephant too closely when on safari. This is for your own safety, but you will also have much more fun observing the animal carrying out its normal behaviours in its natural environment when you respect its personal space.
The second aspect is the elephants age. An old elephant bull has hardly any enemies in the African bush and they are past the age where they need to test their strength sparring with other males. Thus, they rarely respond to our presence and often completely ignore us, which can be slightly irritating if we are trying to get back home and they are standing on the road in the way!
Group size and group composition are also likely to play a role in an elephant's behaviour. Larger groups may provide a sense of security, even more so when they contain older bulls. The young ones could therefore react less strong towards the presence of our car. On the flip side, this sense of security can encourage them to test how far they can go – leading to a mock charge, ears out trumpeting, rather than a retreat.
We still need to extend our dataset to fully understand how much an elephant's behaviour is influenced by these different factors. The degree of their importance is important to understand, so we can feed this information into our later analysis to see whether any behavioural changes are really due to hunting or due to shifts in age structure, e.g. due to an influx of younger males. We look forward to keeping you informed of our findings and the progress of the project.
Best wishes and stay safe.
The EfA Team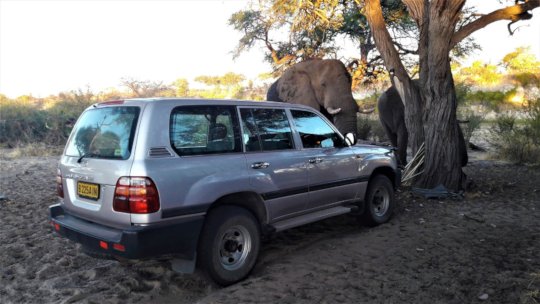 Shumba, our 33-year old community vehicle, has been with us since 2015 and she and our Community Officer Mankind Molosiwa have done a great job providing the farmers in the Boteti region with mitigation materials to prevent elephant crop-raiding during the farming seasons. However, she developed numerous problems over the last few months which made it too costly to maintain her in the long run. We therefore had to make the decision to replace her.
Our new team member is Wendy, named in honour of the main funders mother. We wanted to show her off in her new role, out in the field with the elephants. Unfortunately, this has not been possible due to the Covid-19 restrictions we have been facing over the last months. Thankfully a couple of the elephants which frequently pass through camp took an interest in her, so we could get some great pictures.
We are grateful to all those that donated; we now have a good reliable vehicle to keep our staff as safe as possible when out in the field. We look forward to many new adventures as we unravel the mysteries of male elephant ecology and integrate this knowledge into our Community Coexistence Program to support the communities living alongside the elephants of the Makgadikgadi Pans National Park. We will, of course, keep you updated on our achievements along the way.
Best wishes,
The EfA team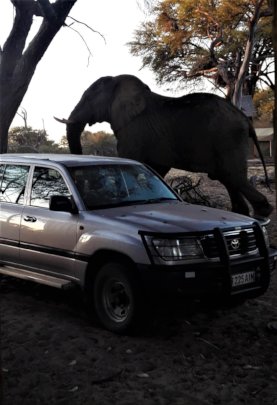 As you can imagine many changes and challenges have taken place since our last project report 3 months ago.
At the beginning of April Botswana declared a nationwide shutdown in response to the emerging Coronavirus crisis. This was in the middle of the farming season and meant we were not able to assist our partnering farmers on a daily basis as is our protocol. To make sure the farmers would have all mitigation materials they needed for the duration of the lockdown, to protect their harvest from crop-raiding elephants, the team worked tirelessly to drive hundreds of kilometres in a matter of days, supplying chilli and advice where needed. Luckily, the two old ladies of the team, Leya and Shumba (the vehicles), were on their best behaviour and so we were able to visit and assist all 36 farmers that ploughed this season.
Officially the lockdown lasted until the end of May however there are many restrictions still in place, but we are able to slowly start running our outreach and education programme again and have returned to the National Park for our research work. This may leave you wondering what we have done for the duration of the lockdown, well we have certainly been busy; team members working from home and from the camp have used the time to develop the lesson plans and 2-year curriculum for our new partnering school, the Junior Secondary School in Motopi. Through this new partnership, we are extending our program into the fourth community and we look forward to building on this. We developed new ideas for workshops and improved old ones, and we invested a considerable amount of time writing funding applications to make sure the new ideas can become a reality and we fill funding gaps that unfortunately have emerged due to this crisis. Much of our work is funded by the tourism industry and zoological societies, both of which have been hard hit by this crisis and thus have had to withdraw funding for the time being. They have all expressed their desire to continue supporting our work as and when they can, and we, of course, wish them well during this difficult time. We are thinking of all our wonderful funders and supporters throughout the world and hope that you and your loved ones are safe and well.
Hopefully, in the next newsletter, we will be able to update you on some of the progress we made with of our new ideas.
Best wishes and stay safe.
The EfA Team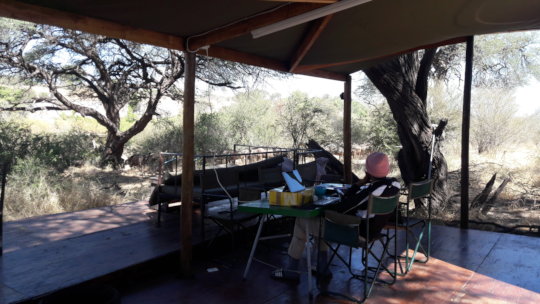 Links:
WARNING: Javascript is currently disabled or is not available in your browser. GlobalGiving makes extensive use of Javascript and will not function properly with Javascript disabled.
Please enable Javascript
and refresh this page.