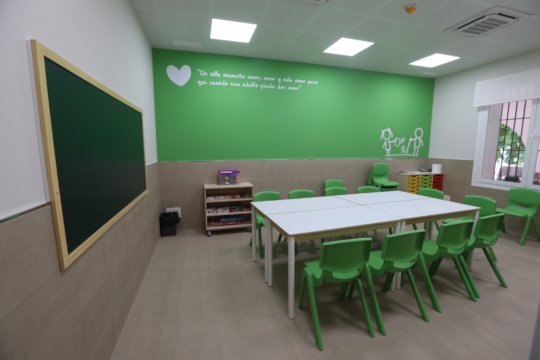 Daycare Center for children and youngsters at risk
This project consists in support and assist children and youngsters at risk to improve their personal development and autonomy through prevention (circumstances and behavioral risks), caring (looking for the fulfillment of their necessities such as, education, nutritional follow ups) and strengthening their family ties and social network.
Additionally, since 2012 we had to run social kitchens for long-term unemployed families at our Daycare Centers across all Spain.
For SOS Children Villages, improving their social skills, their family relationships and their school performance means:
- An increased number of kids finishing their school years and reducing school failure.
- An introduction to formal schooling contents for kids and youngsters expelled from school or outside formal education.
- Healthier and adequate interaction with their peers, colleagues, parents and society in general.
- Access to activities and skills restricted by economical, parental or personal circumstances, to prevent social exclusion and age-related risks such as exposure to drugs, sexual transmitted diseases or premature pregnancies.
- Family strengthening processes, improving the minor´s life circumstances and preventing child abuse or violence, abandonment and age - related risks.
- Kids are going without any meal to school; we provide them with proper meals for them and even for their families if necessary, even further, we´re giving school´s food sponsorship for those kids whom aren´t able to go to our daycare center or those whom we value that needed an extra effort to normalize their lives due economical struggles. We try to satisfy those needs which are hindering their development and limit any obstacle.
Activities
Personal development activities:
- School support workshops.
- "We help you to study" workshops. It is meant to provide hosting, monitoring and support to a small group of students who interrupted their schooling , in a limited and temporary basis, as result of a disciplinary sanction - "corrective action" - pursuant to Royal Decree of rights and duties of pupils or the Internal Regulations of the Educational Center.
- Kitchen Workshops (skills for life & work) workshops, and Social Kitchens
- Social skills development (through individual or group workshops and activities). We guide and help that relationships, both within the group and outside it, are developed in a satisfactory way.
- Reading club (encouraging kids and youngsters to read) workshops.
- Drug usage prevention workshops.
- Sexual – affective (education and counseling) workshops. It´s meant to counsel and inform youngsters about the importance of having a healthy approach to other´s affections, to prevent STD´s, unwanted pregnancies and finally to prevent inappropriate or harming behaviors.
- Artistic expression workshops. It's a workshop intended to develop creativity, improve psychomotor skills, providing an alternative entertainment.
- Corporal expression workshops. The contents look playfully to the art of movement to enhance human qualities of sensitivity, joy, communication ... related to emotional and physical health.
Leisure time:
- Computer classes. New technologies, internet and school support contents.
- Special program (adjusts to the necessities of each promotion, i.e. visits to museums, countryside visits, photography lessons, etc.).
Family support:
- Family strengthening program.
- Street education.
In 2017, this program benefited around 1.290 kids and youngsters and more than 670 families in Spain.
Links: