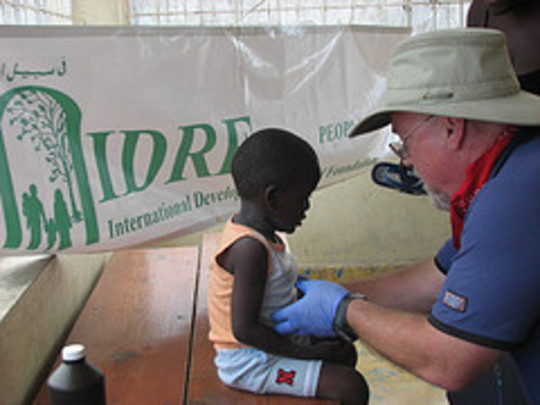 Dear Supporters,
Due to the continuing need on the ground and in the absence of municipal healthcare workers and funding, the SHINE/CDRS mission in Haiti will be extended for four to six weeks.
With your support, we have collected in excess of $180,000. With the extension in mind, our aim is to reach fundraising goal of $250,000 which will enable us to run the services for the additional time period and handover at that point to local non profits.
We need medical volunteers to staff the main facility and outreach camps and mobile health units. Ground teams see between 300 to 800 patients daily, and are working closely with AEMIR Haiti to facilitate the distribution of much-needed food and water.
SHINE/CDRS is also assisting in the establishment of a new tent village for families with small children. We hope to put in place a medical camp that will attend to the needs of mothers-to-be and children.
Please visit us on our new website, www.shinehumanity.org. And now, Words of Appreciation for Todd Shea (Executive Director, CDRS):
1. "The success of IMANA mission is due to sincerity, quick action and most of all networking and collaboration. First credit goes to our relief chairman Ismail Mehr and Tod Shea of CDRS who acted fast and decided to make a team of IMANA, CDRS/SHINE and AIMER Haiti which brought further cooperation of other organizations like USAID to Zakat Foundation."   Dr. Parvaiz Malik   President Federation of Islamic Medical Associations [FIMA]                                                       and Member IMANA Relief
2. "Todd I was really impressed with your dedication and hard work. I guess the word NO has no place in your dictionary. I was pleasantly surprised to come across people who knew of you once they saw you photos."                M Azhar Ali  MD                 Feb 18, 2010
3. " It was an honor  to serve with you Todd. " Ronald A. Tomo MPA, CCP, CNA VP & Chief Information Officer Nassau University Medical Center
 February 9, 2010
                                  4.  "I want to thank you again for all you did for me from finding me a place to stay in DC, getting me fantastic transportation from Santo Domingo to Haiti, the city tour of P-a-P, the midnight egg sandwiches, and so much more. I consider the week I spent in Haiti the most important significant thing I have done professionally and again wish to thank-you for your part in making it happen." Janet Jasper  Glen Ellyn, IL  60137                                         February 8, 2010
5. "Todd has really proved that even in very difficult circumstances, when there is a will there is a way and by creating a set up and  a platform , where we could all work was a great achievement. Rest of the components of the team starting from communication, logistics, nursing and doctors really blended very well and I can say with utmost confidence that this was the best combination. This model should be a good one for IMANA relief to expand on and refine." Saeed Akhter MD, MPH, FACS Chairman and Professor of Surgery Shifa International Hospital, Islamabad, Pakistan February 14, 2010
6. "Todd,  I always knew you are doing a wonderful work with remarkable consistency and dedication but after visiting you in Haiti I am convinced.  Thank you for making our team's  stay so positive. Please keep up the good work."                                     Asim Ashary  CFO SHINE                                                     February 20, 2010
8. "We are all extremely proud of you Todd, it is not easy to do what you are doing. Thank you once again for taking such good care of all of us and keeping the atmosphere so positive."                                                                                         Farzana Naqvi MD.   Board Member, SHINE                                                                           Feb 20, 2010
"I was deeply touched after reading all the attributes dedicated to your relentless efforts from these people who witnessed your commitment and hard work up close and first hand."                         Adeela Ahsan MD. Board Member, SHINE February 21, 2010