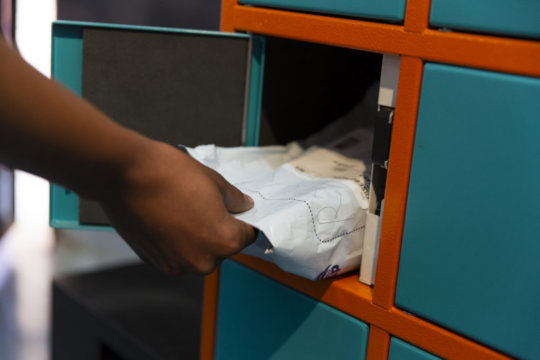 The CHAPS and Peleboxes Initiative has raised $2 240 since the project inception in September 2019. We have had a slow but steady start and we are continuing to request for donations via our networks.
Peleboxes are a unique ATM style initiative which enable a pharmacist, healthcare worker, peer counsellor or professional nurse (with the correct authorisation) to pack medicine for chronic clients and allow them to collect their medication from the locker on a particular day. The system has a built-in notification mechanism that alerts clients that their medicine is due for collection. It then issues a One Time Pin (OTP) via SMS, that, together with the client cell phone and ID number, can be used to open the relevant box which has their medication inside.
Peleboxes reduce queue waiting time, allowing a client to collect their medication within a record 36 seconds. The average queue time in a clinic is about 3 hours. This creates adherence barriers, placing strain on patients financially and physically.
The impact Peleboxes can have for clients collecting their antiretroviral therapy medication is significant. South Africa's ART programme is the largest in the world and there is a strain on the public healthcare systems in terms of medication initiation and collection.
Additional benefits of the system:
Patients can collect medicine in their preferred location with extended operating hours beyond the normal pharmacy or clinic times.
The locker is temperature controlled to meet standards prescribed by the South African Pharmacy Council. The solution monitors collections throughout the day and would reconcile this information at the end. It also has capability to check number of non-collections and remind a patient of a collection window.
Peleboxes Smart Lockers can be placed inside a clinic as a speed services for collection or at a community centre (e.g. Library) which is closer to the patient. The base unit can facilitate 72 transactions per day before reloading. That's just under over 1200 transactions per month using one locker unit. This is based on 24 days per month, with 70% utilisation calculation. A larger unit with 99 doors, translates to 1600 patients per month. It's also modular which means that we can increase capacity in stages of 27 all the way up to 234 patients per day depending on demand.
The founder of the Pelebox, Neo, is the first South African to win the Royal Academy of Engineering's Prize for the Pelebox initiative.
Neo says "The machine makes it easier because some patients would say coming to the clinic is stress already for them – and then waiting again for medication, it's another stress."
Paulina, a domestic worker who suffers from bronchiti, has been using Peleboxes to collect medication.
She says "Pelebox is ok, it's not stressful. For instance, when I get a message on my phone I can go fetch it the day after, even if I have work to do, I can go get my medication. I don't need to queue for hours at the clinic anymore, so I just come in, get my medication and leave. I'm happy about that."
Our target is 46610$ (R670340.36). We will continue to push for donations. We remain positive and hopeful that our community will see the benefit of the initiative and donate in kind.