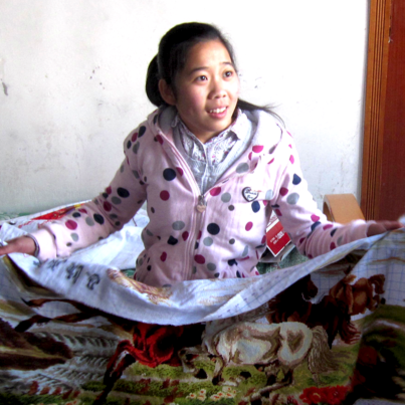 Recently our Training Team visited one of Care for Children's oldest and most established foster care projects in China. As it was my first visit, I was eagerly anticipating what I would find. We spent one day checking in with some of the project's foster families.
One of the families we visited had fostered two children, a girl and a boy. I really enjoyed talking to the teenage girl, Dan Dan. She was quite shy but gradually opened up to us as we asked her about what she was doing. Her hands were busy stitching and we found out that Dan Dan had a keen eye for cross-stitch and design. She clearly had a skill and her foster mom recognized this and how much joy it brought her.
Her foster mom was really proud of her. She explained she had encouraged Dan Dan's talent by investing in some cross-stitch design kits with various patterns. This had really fuelled her interest. She really enjoyed sitting with her foster mom and talking about her designs, and her foster mom painstakinly unpicked any wrong stitches or mistakes. Her patience and love for her foster daughter was so evident, and she proudly displayed Dan Dan's work around the room for everyone to see. Maybe one day her unique talent and potential will take her further than she could imagine, who knows?
The foster family had become a place where Dan Dan could meaningfully contirbute to her home, put her own special mark on it and be reminded every day that she belongs.
That's what I love about foster families: the attention to detail and the sensitivity to care that can be offered. That's why I love visiting the families we work with and seeing the small things that make a huge difference to a child's life. And that's why your support, no matter how large or small makes a real difference.
Your support creates changes that last a lifetime. Thank you.
Links:
What an incredible start to 2014 for Care for Children!
Our team has just returned from a successful trip to Hanoi, Vietnam, led by our Royal Patron, His Royal Highness Prince Michael of Kent, to explore opportunities of expanding our work into Vietnam.
Care for Children went to host a Family Placement Conference in Vietnam, sharing best practice on how to make the transition from institutional care to family-based care. There are around 22,000 children growing up in institutions in Vietnam, and the government has asked for Care for Children's help in giving them the opportunity to grow up in a family of their own.
The conference was co-hosted by Care for Children and Vietnam's Ministry of Labour, Invalids & Social Affairs (MOLISA). Over 200 delegates attended from across Vietnam, including Orphanage Directors, social workers and government leaders. The Care for Children team also had the opportunity to partner with the British Child Exploitation & Online Protection Centre (CEOP) while in Hanoi.
All the hard work paid off, and the conference was a great success. Furthermore, the Vietnamese government has asked Care for Children to start a pilot family placement project in Vietnam in partnership with MOLISA and UNICEF in 2015. The team is very excited about this new partnership and the opportunity to help thousands of children in Vietnam flourish as they grow up in families of their own.
With your generous support we are going to be able to see more orphans from across Asia placed into good, local families who can love and nurture them to reach their full potential as we have the opportunity to work with the government in Vietnam.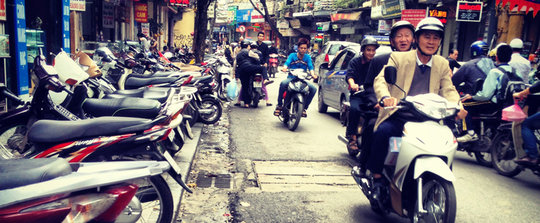 Links: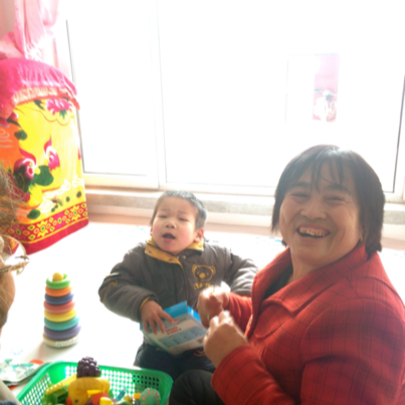 "I can't wait to hear him call me Mom for the first time!" said foster mom, Shan Shan, to our team at a recent site visit in China's Shanxi province. Her new son has had some trouble with his speech, but since living with Shan Shan it has been improving quickly. One of the important aspects of placing children into families is to provide them with the opportunity to develop a sense of security, safety and trust. "When children can trust in their secure base, they are free to explore, learn and develop." says Care for Children's Group Training Manager, Mary Beek. The children being placed into families often have been diagnosed with a learning disability, cerebral palsy or show signs of developmental delay, and we have heard countless stories from our project partners of the vast improvements in a child's development after being placed with a family. This is how your donation makes a difference. From now through December 31st, all new monthly donations are being MATCHED by an anonymous donor on Global Giving. This will be a one-time 100% match! To qualify for the match, supporters must give at least four consecutive months. Isn't that fantastic? Make your year-end gift go even further by signing up for recurring doonations to Care for Children on Global Giving this holiday season. Let's keep working together to change the lives of these children. Thank you for your support!
Links:
WARNING: Javascript is currently disabled or is not available in your browser. GlobalGiving makes extensive use of Javascript and will not function properly with Javascript disabled.
Please enable Javascript
and refresh this page.