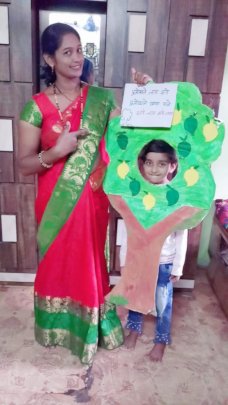 Dear Donors,
Warm greetings from IDEA Foundation.
As you know ,the work of NGOs has never been an easy one.
With the unexpected breakout of Corona virus it has become even more difficult. In most parts of the world, the community work has completely stopped or the channels and the availability of human, financial and logistic resources to assist the community have been severely affected.
Although we are not able to run our study centres and women empowerment programs on the ground, we have been working on various strategies to connect with the communities and our beneficiaries. Most of programs are running online now. Our social workers are constantly in touch with our beneficiaries through phone calls.
Online competitions keep children cheerful and it help them to develop healthy spirit and team work. So competitions like patriotic Dancing, essay writing, drawing, and Art and Craft were held. The objectives of these events were creating more awareness about Covid and to increase the attendance of students in virtual sessions.
Rakshabandahan is one of the most celebrated festival in India, we organized Rakhi making competition for students where children got engaged with study center and got a platform to show their creative skills.
Drawings are best medium where we can express our emotions without any words, so we organised Drawing Competition on two occasions one on Dahi Handi Festival and the other on Independence Day. Children participated with enthusiasm and sent photographs of their drawings.
We have organised parents sessions also to make them aware of the changes in education methods and encouraged them to support their children in their online learning. Teacher training sessions were conducted for our study centre teachers to equip them with the new technologies and platforms used in the current remote education methods.
We have also partnered with different platforms like Call and Connect for mentoring support of our children enlisted under our programs.Nevertheless we have enrolled more children in our study centres and we will continue to do our best with your support.
Thanking each one of you and our dedicated social workers for the support. Please continue to support us.