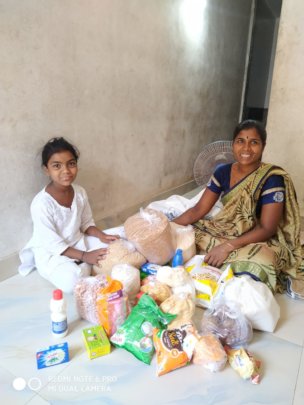 Dear supporters,
Warm Greetings from IDEA Foundation!
In the midst of Covid-19 crisis, our much awaited 10th and 12th board examination results were declared. Once again our children made us proud. It was really an exciting moment for all of us and the children's outstanding performance motivated us to continue our work with more passion and dedication even in these adverse conditions.
43 children appeared for 10th board exam and all of them cleared the exam, 8 children scored above 80 percent marks. The highest was 92.6 percent. 41 children appeared for 12th board exam and 40 children cleared all the papers. The highest was 82.15 percent. These children would not even able to complete schooling without your generous support and IDEA's timely intervention.
At an individual level, each of us are affected by this pandemic. Although the technological advancement has made it possible for most of us to continue with our day to day life, the effect on the poorest has however been the hardest.
This year education sector is highly impacted, so government has decided to reduce study portions to assimilate the students with limited access to online resources. However, education alternatives have been even more limited for the urban poor and rural students who have clearly missed an entire half-year of schooling and any form of substitute education.
IDEA Foundation is continuing to support education of children under our sponsorship using different strategies to connect with these children. Our social workers are getting trained in different strategies to use to keep the interest of the children in studies as well as to cope up with the difficult scenario. We are proud to say that we have a bunch of dedicated social workers and stakeholders who continue to be our strength in this time.
We have distributed groceries to their familes as their parents are daily wagers who are not able to earn in this pandemic.
IDEA recognised that the children under their tutelage must balance academic merits with soft skills and emotional intelligence so that they build communication and creative skills.We are conducting online sessions to keep our children motivated and to stay focussed. Fortunately, we are able to get the best counsellors and motivational speakers for our children. We have conducted sessions on time management , Anger management, Art Therapy, Health and Nutrition, SWOT analysis ..etc for our sponsored children. We are also arranging mentors for our sponsored children to keep them on track, and also to see if they need any professional help.
The counsellors strove to widen and enrich the children's capability to undertake critical thinking and constructive collaboration. About 10 students attended an online Google Meeting hosted by an IDEA counsellor wherein Edward De Bono's Six Thinking Hats methods were taught and demonstrated. The children asked many questions about the right ways to implement this method and wholeheartedly participated in the using the techniques of role play and correlating the various life scenarios where the Six Thinking Hats recommended techniques for effective decision making can be applied.
Thank you for your support! Please continue to support us, so that we will face the unexpected challenges with courage and continue to run our program for the benefit of the society, even when other alternatives fail.