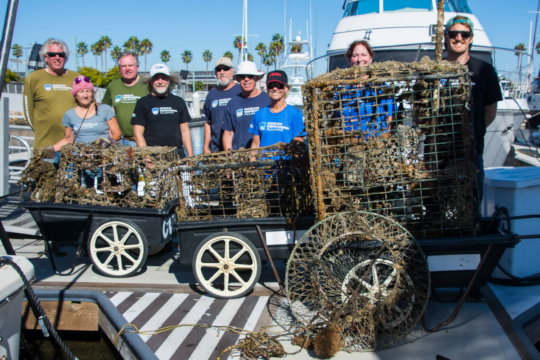 We're happy to report that with YOUR help, we have already exceeded our goal of removing 2,000 pounds of ocean debris before the end of the year!
To be exact -- 2,035 pounds, over a ton -- that's a huge accomplishment!
That debris we collected includes abandoned lobster traps, trap remnants, fishing nets, lead fishing weights, plastics, and many other types of human pollution.
We're very close to our goal of pulling 4,000+ feet of trap/fishing line from the ocean. We expect to exceed that goal on the next debris-removal outing by your dedicated Oahu volunteer crew.
You'll be happy to know that since the start of this project (September 9, 2019), ODA's teams of volunteers have participated in 10 clean-up outings (7 at sea, 3 inland). Several more outings are scheduled in December, however, bad weather in Southern California is already interrupting our plans. We may likely shift from an at-sea outing, to a shoreline cleanup to recover large amounts of plastics that make their way from inland to the coast during heavy rains.
New Ghost Gear Cleanups
We're excited to share that on October 1st, ODA-Hawai'i kicked off a new cleanup site in Oahu: Hanauma Bay Nature Preserve, a Marine Protected Area! With your support, we look forward to protecting this area for years to come.
Also, recently we've been asked by Biologist Mike Couffer of Grey Owl Biological Consulting to help defend the Giant Black Sea Bass population. In November, we performed our first of many clean-ups in our effort to help this species survive.
During the last few months, our dedicated volunteers organized and participated in 2 clean-ups of our "adopted" flood control channel, a mile-long stretch of a water channel in Fullerton, California. It's important to stop that debris before it makes its way to the ocean!
We end this report with a sincere thank you: YOU make these ocean cleanups happen. From all our divers & boat crew and other volunteers helping on shorelines and behind the scenes—and on behalf of the various salty forms of marine flora and fauna we work to protect—please accept our gratitude!
Please take a moment to enjoy more photos and stories from our recent clean-up missions, here on our website:
https://www.oceandefenders.org/news-and-media/oda-articles/