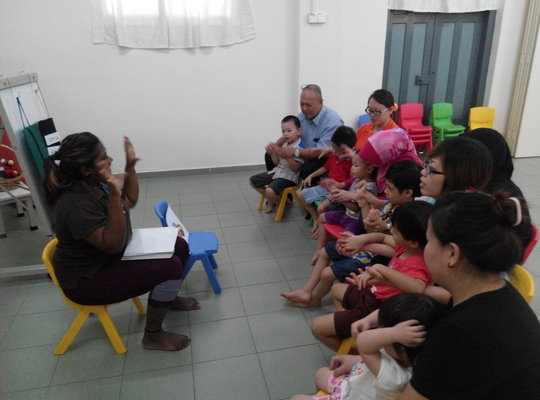 It has been an exciting past 3 months in Wings Melaka with activities including:
Luncheon in YAP on 18th August 2014
Staff from OCBC (Melaka Branch) visited our centre and had a scrumptious lunch of nasi lemak prepared by our trainees. It was a fun time together of understanding more about our work in Wings Melaka as well as having the opportunity to interact more with our trainees.
Parents Support Group on 23rd August 2014
Our guest speaker for the occasion is Ms. Lois Fu, a teacher with Bridges EIP, PJ. She shared about early communication skills: what we can do to help develop and enhance a child's communication skills, and subsequently to encourage them to communicate with others.
It was an insightful session as parents and service providers are able to be more equipped with the skills and to share experiences and tips with each other on the topic.
Visitation from Board Members of Cheras Baptist Church on 11th September 2014
2 board members from Cheras Baptist Church visited our centre and observed our EIP and YAP programmes. YAP trainees also prepared lunch for our visitors.
Centre Outing to Melaka Wonderland Theme Park & Resort on 18th September 2014
This outing was held during school term break and it was opened to all programmes ie EIP, SAP & YAP. A total of 35 parents/relatives and 26 children joined the outing and had tremendous amount of play and fun for the day!
Coffee Session on 26th September 2014
This session was held in McDonalds, Limbongan and was the last session scheduled for the year. A total of 25 parents and 17 children attended the event. It was a casual time for parents to fellowship and to get to know one another while their children played with their friends in the playroom under the supervision of the teachers.
As to-date, our staff force of 6 teachers in EIP & SAP, 5 trainers in YAP and 1 centre manager are supporting 29 students in EIP, 4 students in SAP and 8 trainees in YAP.
We are grateful for your continuous support throughout the years that allows us to cater better to more children and young adults with developmental needs.
Thank you!