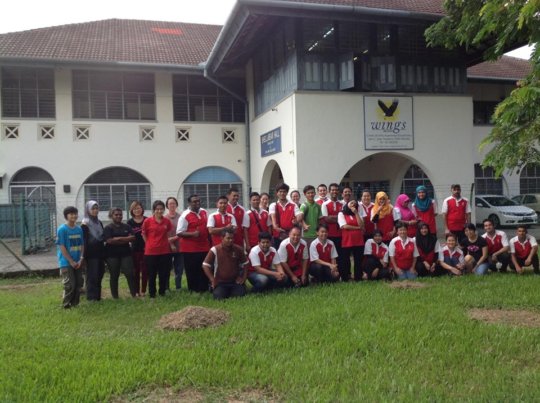 We ushered in a new year's 2016 with activities including:
CSR by Philea Resort, Melaka on 04/01/16
A team of staff from Philea Resort, Melaka had conducted their CSR by helping us clean our centre before the start of a new school term. We are grateful for their help as it ensures that the students and trainees have a conducive and clean environment when they come back from their holidays.
Chinese New Year with YAP on 05/02/16
We celebrated Chinese New Year with our trainees from Young Adults Programme with a toss of yee sang for blessings and prosperity to usher in the year of the monkey. There were cheers of "Huat ah, huat ah" as we tossed the yee sang and enjoyed our meal together.
Pre-SAP outing to Dataran 1Malaysia, Melaka on 23/02/16
Our students and their parents enjoyed a day out to Dataran 1Malaysia, Melaka to the beach and to water play activities available at the vicinity. It was a fun day as they enjoyed the picnic with the company of their friends and family.
Dentist visit on 07/03/16 and 08/03/16
A team comprising of a dentist and nurses from Klinik Pergigian Klebang, Melaka visited our centre to give dental checkups and dental health care talks to our students, parents and trainees. They also have hands-on sessions for our students on how to brush their teeth properly.
Centre outing to Zoo Melaka on 15/03/16
Students and trainees from all programmes ie EIP, SAP and YAP went to the zoo during the school term break. It was an enjoyable day together with tram rides, walk along the mini safari as well as watching the bird show and elephant feeding session.
Parents Support Group on 19/03/16
Our invited speaker was Madam Teo Lee Fun, an occupational therapist from Teo Therapeutic Centre, Petaling Jaya. She shared on the topic "Enhancing Postural Control for Daily Performance" which includes sharing on how postural stability and core strength can affect our daily living performances as well as the importance of taking care of our backs and the how to-s. The participants were shown the types of activites and exercises they can do for their child and for themselves to help improve their postures and core strength.
Student volunteers from Melaka Girls Secondary School (MGSS) on 22/03/16 and 24/03/16
A group of students from MGSS volunteered in the centre in conjunction to one of their subject topics in civic studies. They decorated our centre's notice and bulletin boards with their creative crafts as well as helped clean our centre.
On-going activities by YAP include operation of their cafe for lunch, car wash, cleaning and agriculture activities. We currently have 21 students in EIP, 6 students in Pre-SAP, 11 students in SAP and 9 trainees in YAP, supported by a team of 6 teachers in EIP/Pre-SAP/SAP, 3 trainers in YAP, 1 administrator and 1 centre manager.
Thank you for your support!