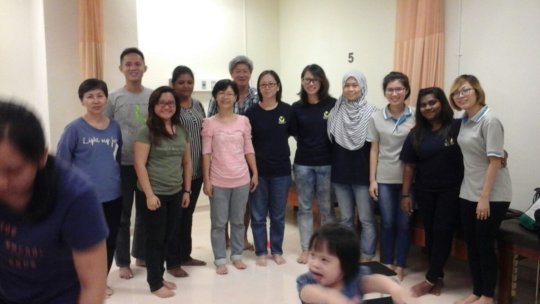 We summed up our year 2016 with the following events:
Invitation to OT/Sensory Integration Talk on 23/09/16
Our staff and EIP parents were invited by Mahkota Medical Centre's (MMC) Rehabilitation team for a talk about their Occupational Therapy (OT) services and importance of Sensory Integration activities to cater to our students' needs. They also demonstrated some Occupational Therapy techniques that parents and teachers could use to help a child.
Outing to The Oceanarium @ The Shore on 24/10/16
Chubb Insurance Malaysia Berhad organized an outing for our EIP Group 2 and SAP Sun Group to The Oceanarium @ The Shore for one of their CSR events. Our students enjoyed themselves as they toured around the aquariums.
NECIC from 24/11/16 to 26/11/16
Our staff attended the National Early Childhood Intervention Conference (NECIC) in KL with the theme "Embrace Diversity, Empower Families". The conference is a platform for participants to gain and share information about services, methodologies/strategies, issues raised referring to early intervention. Our vice-chairman, Mr Lee Chee Gaip and our advisor, Mrs Yammy Ang also shared in the family café session during the conference.
Graduation & Christmas Party on 30/11/16
Our event was sponsored by Hatten Hotel Melaka. This year, we had a total of 15 graduates: 14 from EIP and 1 from SAP. The graduation ceremony is to acknowledge our graduates' participation in their respective programmes.
Our students and trainees, their families, staff and board members of Wings bonded over dinner. It was a delight to see our students and trainees performed singing, dancing and a sketch that evening. Our students and trainees also exchanged Christmas presents with one another.
EIP & SAP Fun Day on 01/12/16 & 02/12/16
EIP and SAP wrapped up the year's activities with a Fun Day for students. They had stationed games, group music & movement activities and a pot bless for both days' respective EIP and SAP groups.
Christmas Gift Giving Event on 14/12/16
Staff and clients from Chee Siah Le Kee & Partners (CSilk) presented to our students, trainees and staff with Christmas gifts to celebrate the joyous occasion.
To-date, we have 27 students in EIP, 4 students in Pre-SAP, 14 students in SAP and 9 trainees in YAP – supported by a staff of 7 EIP/SAP teachers, 5 trainers, 1 head coach and 1 administrator.
We would like to thank you for your continuous support to our work here in Wings throughout the years and we are looking forward to usher in the new year 2017!