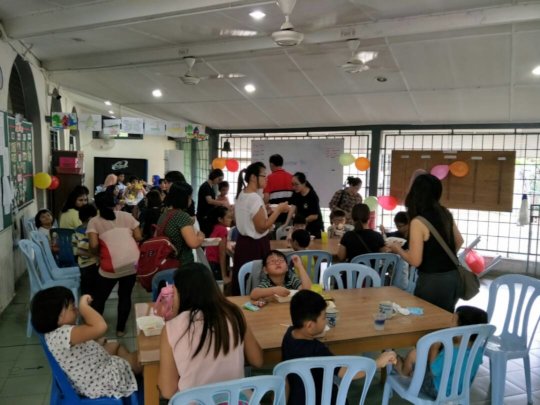 We had an exciting last quarter of the year with activities that include:
Parents Support Group on 21/10/17
Parents shared about their walk and journey with their children with different abilities as well as issues they faced and how they managed it. The session was led by 3 parents, Mrs Yammy Ang, Mrs Pua & Mrs Lim.
Outing to the Malaysian Flying Academy (MFA), Melaka on 26/10/17
The event was sponsored by Chubb Insurance Malaysia Bhd and was attended by students from EIP Group 2, SAP Group 1 and YAP. They had an interactive time at the academy where they learnt about the aeroplanes, meet the pilots and they get a chance to experience sitting at the pilot's cockpit too!
Giving is Living Charity Run on 12/11/17
The run is organized by Chee Siah Le Kee & Partners and Affin Hwang Asset Management Bhd. We were given a booth during the event where we sold items made by our YAP trainees namely dried prawns sambal, jellies and beaded bracelets. Besides managing the booth, some of our staff attended the run while others volunteered to help out during the run (ie water stations, checkpoints). Our students, trainees and their families were also supportive of the event where they too joined in the fun charity run.
EIP/SAP Fun Day on 27/11/17 and 28/11/17
We wrapped up our school term for the year with two Fun Days for our EIP & SAP students and their families. Our students and their siblings played different stationed games such as water balloons & bubbles play, golf, ball darts etc. Each family also brought different types of snacks/meals to share with each other at the YAP kitchen. Our YAP trainees also operated their café with nasi lemak, jellies, toasts and soya bean milk.
Graduation & Christmas Party on 30/11/17
The event was sponsored by Hatten Hotel, Melaka and was attended by our students, trainees and their families. We had 7 students who graduated from EIP this year. We were graced by special performances by our students and trainees such as EIP's fashion show & ribbon dance, SAP's modern dance & sketch presentation and YAP's food presentations: making salad, toasts and soya bean milk. Our students and trainees also exchanged Christmas gifts with one another, and their families had an opportunity to bond and get to know each other over dinner.
Inventory from 01/12/17 to 05/12/17
EIP/SAP teachers did a stock take/inventory of our Toys and Resource Library. They took the inventory listing, cleaned and repacked the toys and teaching materials to gear up for next year.
We are running 3 programmes: Early Intervention Programme (EIP), School Age Programme (SAP) and Young Adults Programme (YAP). To-date, we have 34 students in EIP, 13 students in SAP and 6 trainees in YAP – supported by a staff of 5 EIP/SAP teachers, 3 trainers, 1 living skills consultant, 1 head coach and 1 administrator.
Thank you for your continuous support to Wings Melaka!