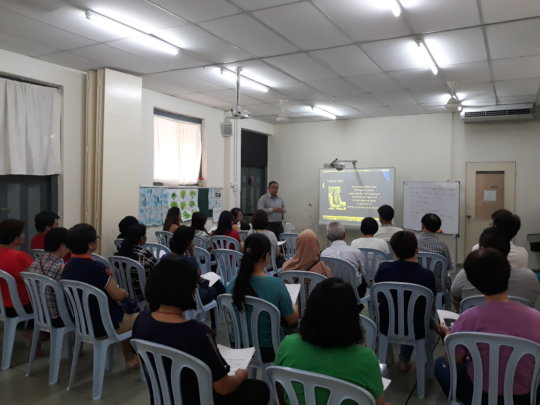 Centre activities for the past 3 months include:
Coffee Session on 16/03/18
Parents gathered together and had a great time fellowshipping over dinner. After that, there were a few sharing sessions by:
1) Our Heach Coach, Ms Lois Fu also shared about methods/ways that parents can use to help develop their children's communication skills.
2) Our Executive Director, Ms Chan Saw Si shared about the importance of having support groups amongst parents.
3) One of our trainees' parent, Mdm Yong shared about her journey with her son and encouraged parents to never give up in their own walk with their children.
Outing to Melaka Bird Park on 21/03/18
Our students and trainees had a wonderful time at the Melaka Bird Park. They got the chance to walk around the park with many variety of birds as well as feeding them!
Parents Support Group (PSG) on 07/04/18
We are blessed to have our Treasurer, Mr Philip Lim to share about the SATIR model in our first PSG for the year. It was an enlightening time as those who attended the sharing are able to understand more about their own self especially in knowing and using self-knowledge to cope with possible elements of stress.
Dentist Visits on 07/05/18 & 08/05/18
It is the time of the year again when we welcomed a team of dentists and nurses from Klinik Pergigian Klebang to our centre for their annual visit. They did a presentation on how to clean and take care of our teeth as well as dental checkups on our students and trainees.
Parents Support Group on 12/05/18
Our guest speaker for the session was Mr Wan Huey Boon, a Speech and Language Therapist (SLT) who shared on the topic "Treatments that are available for speech, language and oromotor issues". He not only shared about the treatment methods, he shared about the importance of knowing and understanding a child as well as explaining more in depth about the definition of 'speech', 'language' and 'communication' and how we can encourage a child to develop these skills.
Our young adults trainees also started their swimming lessons during the month and they most certainly enjoyed themselves there!
To-date, we have 31 students in EIP, 14 students in SAP and 7 trainees in YAP – supported by a staff of 5 EIP/SAP teachers, 3 trainers, 1 head coach, 1 administrator and 1 executive director.
We are grateful and thankful for your support!