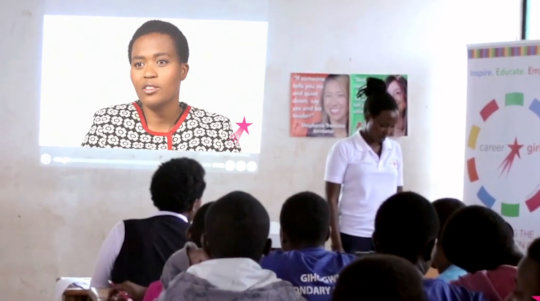 Career Girls and our local implementing partner, Starlight Africa, are excited to announce a new program with Girl Guides of Rwanda. Beginning in July 2020, girls between 13-25 years old, coming from all districts of Rwanda, will attend Summer Camp. Starlight Africa team members will educate 500 girls, over a three day period, about subjects such as STEAM, career guidance, arts, financial literacy, and entrepreneurship, using Career Girls Role Model videos and related curricula.
The collaboration with Girl Guides of Rwanda will mark a fivefold increase in the number of girls directly engaged with Career Girls role model video and curricula. The opportunity to partner with Girls Guides of Rwanda is a direct result of last year's pilot project in which 100 girls participated in a month-long program where they learned about STEM subjects and careers.
During our Career Girls partnership with Starlight Rwanda, the girls were drawn to the story and career of Marie Claire Murekatete. She's a Software Manager, and just like these girls, from Rwanda. In her videos, Marie Claire advises other Rwandan girls on how she built her career as a coder in Rwanda – attending the University of Rwanda, receiving a government scholarship, taking part in local and regional ICT competitions – all possibilities that are within reach for many of the Rwandan girls we met.
Opening these girls' eyes to the local opportunities available to them in Rwanda and learning about the career path of a successful Rwandan woman is an invaluable resource in their lives. In fact, one of our girls from Rwanda, Phiona, said:
"What I learned from today's session is that there [are] many career opportunities like in STEM...my role model in Career Girls is Marie Claire, she deals with coding."
We agree, Phiona. We think Marie Claire is a great role model too. We cannot wait for Rwanda Girl Guides to see Marie Claire and all the fantastic role models on Career Girls.
Our project in Rwanda would not be possible without donors like you. Thank you for being a Career Girls donor and friend! Your support is essential and allows us to reach more girls every day who are unsure about their futures.
If you love hearing about our work, subscribe to our newsletter and follow us on Facebook, Instagram, and Twitter.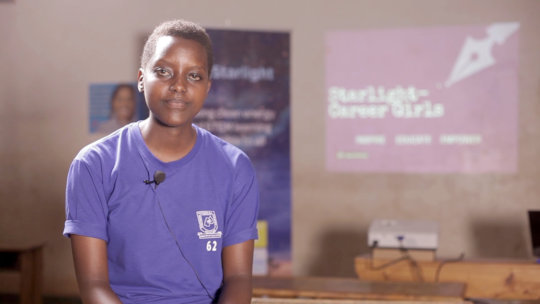 Links: