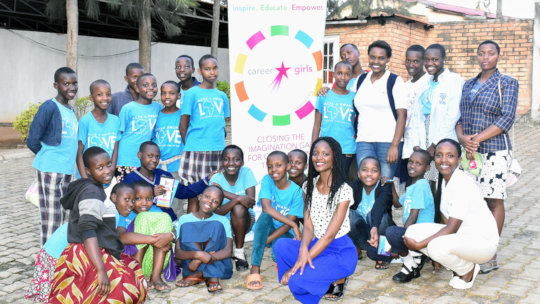 Over the past few months, we took a deep dive into the impact that Career Girls had on 100 girls in Rwanda last year. We inspired these girls to think hard about their futures and opened their eyes to new STEM opportunities and other fields.
But even more importantly, we trained them to think of themselves as Global Citizens. One 10th grader from White Dove Girls School in Rwanda said this: "There are girls who are out there who do not know what they want to be. And they're important, because it's the world and they need to be global citizens."
Many of the girls in Rwanda face significant challenges at home, school, and their communities. The life skills of resilience, hard work, and confidence are universal, worldwide skills essential for girls and women as they begin their careers and make their mark in the world as global citizens.
As one of our Rwandan Career Girls, Jane, said: "What I have learned is to be confident. I am unique."
Thank you to all the NGO partners who participated in our Rwanda program - we appreciate all of your hard work! And finally, a message to our global citizenry of Career Girls everywhere: you are unique.
Our project in Rwanda would not be possible without donors like you. Thank you for being a Career Girls donor and friend! Your support is essential and allows us to reach more girls who are unsure about their futures every day.
If you love hearing about our work, subscribe to our newsletter and follow us on Facebook, Instagram, and Twitter.
Thank you!
The Career Girls Team
Links: