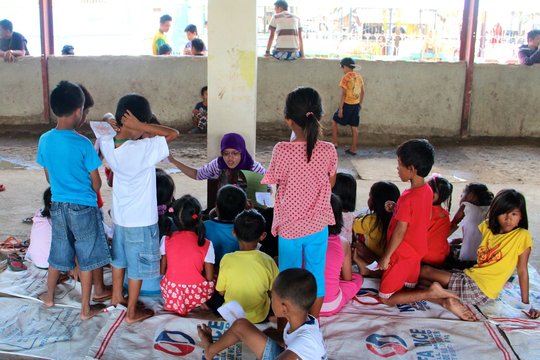 In the few months since our last update, we've been sending out thousands of books to various islands of the Philippines that had recently been visited by horrific calamities, both natural (Typhoon Haiyan/Yolanda in the Visayas) and caused by man (armed conflict in Zamboanga in Mindanao).
But for this update, we thought we'd highlight the activities by one of our partners – the Project Banig Zamboanga, a volunteer story-telling group who worked to provide child survivors and refugees of the armed conflict with psychosocial therapy and healing sessions.
The following is a report we received from them, with minor edits only for brevity and clarity. As you read through it, know that your support and belief in this project, and power of books and art to heal and change lives for the better is making a real difference in the lives of many children. For most, the respite may be fleeting. But we like to think of the books as ripples caused by a small stone thrown in a pond - you never know how wide a path they will travel.
From the bottom of our hearts, thank you!!!
=======================================
Last November 18, 2013, the second wave of Project Paghilom: Basic Psychosocial Intervention for Displaced Children in Zamboanga City commenced.
Together with the Ateneo de Zamboanga University Guidance and Counselling Office and Save the Children, 28 facilitators were trained to conduct the 3-week psychosocial intervention for children displaced by the conflict.
A total of 1,853 children would be served by these facilitators. These children would range from ages 2 years old to 17 years old. Most of them came from indigenous tribes (Tausugs and Badjaos) and most are muslims. They all came from the 5 baranggays most affected by the stand-off. Most of their houses were burned to the ground, so most of them had been staying in evacuation centers for more than 3 months.
As part of the pilot training,150 copies of "Nadia and the Blue Stars" were distributed to students of Talon-Talon High School.
Prior to giving them a copy of the book, Nadia was read to them and the Basic Psychosocial module that accompanied the book was conducted. During the session, one participant (Melany) kept crying as she was doing the activity. When she calmed down, she shared to the group that she was very angry at the MNLF and soldiers because of the havoc and destruction they caused. Because of them, their houses got burned down and she had to bear the discomfort of living in evacuation centers.
As the trainee facilitator, guided by a counselor, talked to her further and explained to her the similarities between her and Nadia, Melany started to calm down. In a drawing activity that followed, Melany started to color her family blue. She said that, "Maskin cosa pasa, hinde gad yo deha mio pamilya." (No matter what happens, I will never leave my family behind.)
She also shared to the group during the last session that she promised to be more like Nadia, hopeful and someone who would never give up. "Kailangan natin maging tulad ni Nadia kasi siya ang nagsysymbolize ng pag-asa. Hindi tayo pwede mawalan ng pag-asa," she said. (We need to be like Nadia who symbolizes hop. We cannot lose hope.)
Another striking comment was made by Al-rashid, 16 years old. After reading the book, he commented, "Wala talaga nananalo sa gera. Lahat talo. Muslim. Kristyano. Lahat biktima." (No one wins in war. Everyone loses. Muslims. Christians. Everyone's a victim.)
Tetet, 6 years old, told her facilitator that she wants to be like Nadia. She wants to be a gardener.
After giving the books to the children of Talon-Talon High School, the facilitators and the recipients made a promise. They promised each other that they will retell the story of Nadia to their friends and families.
The second wave of Project Paghilom created a tight bond between the evacuees and the facilitators. There are still wounds too painful and too deep to heal, but the survivors have started the process of healing.
It is the hope of Project Banig and the whole of Zamboanga that we completely heal from the wounds - physical, emotional, and psychological - brought about by the siege.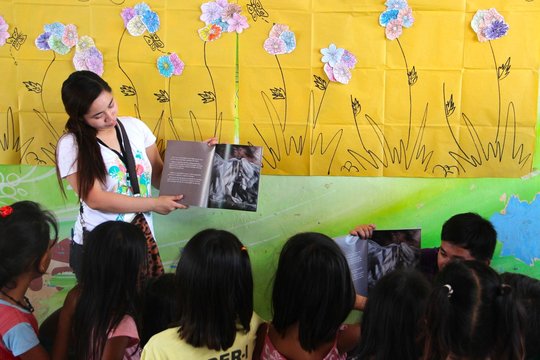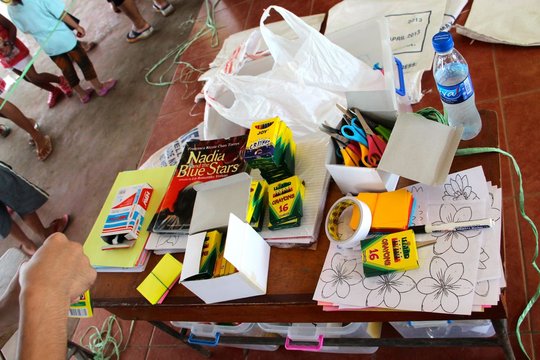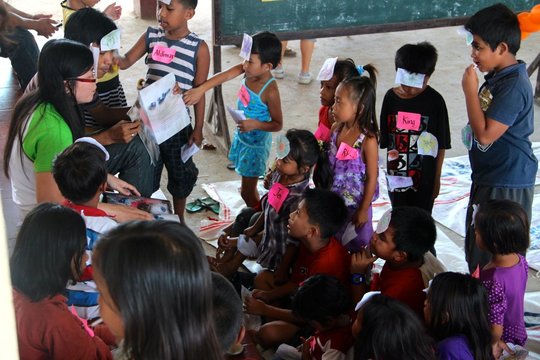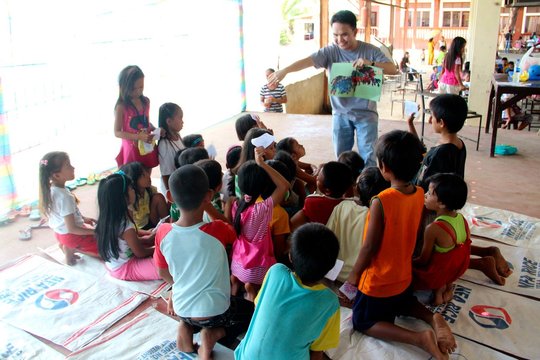 Links: