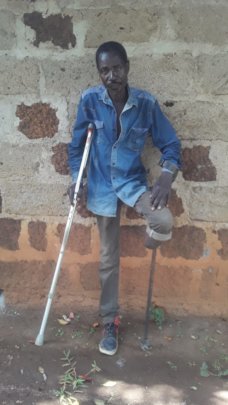 Problem statement
There is no official statistics of persons living with disability (PWD) in Siaya. However, there are a number of PWD in all quarters and the number is alarming. Like any other person in the county, they too suffer from unemployment and other social problems. Unlike other able-bodied counterparts, PWD are faced with a number of challenges. Some of these activities that locals can do but not PWD are security guarding, pulling hand carts and bodaboda taxi (motorcycle and bicycle taxi) require much of physical involvement that is mostly limited with the PWDs.
Effective participation in work and employment is indispensable to becoming a full adult and the physically challenged are not exceptional. Every individual has to participate in income generating activity in order to cater for their basic needs and that of their families and dependants. Yet the physically challenged continue to be disproportionally unemployed, under employed and underpaid throughout the country.
In conclusion, PWD in Siaya are economically and socially marginalized thus resulting into several problems among them. These include;
Poverty among people living with disability
Limited skills for socio-economic development
Discrimination of the people living with disabilities.
These are specifically attributed to several factors including;
Ignorance e of the society on special needs of PWDs
Lack of development projects targeting persons with disabilities
Insufficient and unfavorable education system for children living with disabilities
Unfavorable physical and social environment
We can do array of interventions with communities which include buiding a rehabilittaion setting for PWD with mobility appliances, Community Based Rehabilitation interventions, family counseling support activities, family income capacity enhancement, children with disabilities rights based projects among other interventions on community issues.
We can also establish a sheltered workshop that will give vocational training and employment of 60 persons living with disabilities.
Expected Outputs towards vocational Rehabilitation.
Shelter workshop structure established
Tailoring section established
Carpentry section established
Leather work section established
Metalwork section established
Workers trained and employed
Through the August GlobalGiving we successfully raised $4600, and through additional donations ReJEnga got $446.


For sustainable community rehabilittaion we need to read $10,000 target. The building is built, the local hospital will proving ReJenga with space that will be dedicated torehabilittaion, physical therapy and manitaining equipment.
We will continue in 2019 with:
End of year Giving

Matching through employee