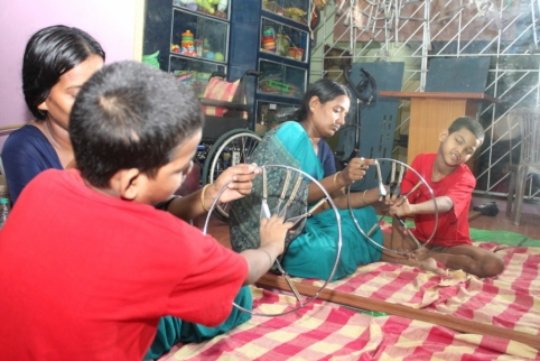 The medical model and the social model are often presented as dichotomous, but disability should be viewed neither as purely medical nor as purely social: persons with disabilities can often experience problems arising from their health condition. A balanced approach is needed, giving appropriate weight to the different aspects of disability.
This program continues to assist the rehabilitation program and pay the community rehab workers while they have the stay at home orders in India. Panskura serves the population Panskura block consisting 225 villages reaches a population of 283,303.
The project continues to support :
Specific Aims –
Rehabilitation including Early Intervention for person with disabilities focusing children in rural area where there is no rehabilitation service available.
Promote early detection of infants at high risk of disability in rural community.
Support to the family by strengthening their capacity and involvement of local community resources.
To promote opportunity, participation and ensuring the rights of the Persons with Disabilities (PWDs).
At this time ReJenga needs emergency funds to pay the social worker, full time physical therappist and behavioural therapist for the rest of the year and during the loack down in India. WHile ReJenga continues to establish continued employee retention at the rehab clinics, the children with disabilities and families need to have food while they are at stay home orders. At the same time ReJenga will be needing funds to have protective gear for employees, families and children as they return to rehabilitation. Every $ amount counts.
All the families that live in rural Panskura and surrounding areas are farmers, and at this time there is fear that hunger will kill the families before COVID 19. We will be working with other organizations to see that people get food around the area and the children with disabilities do not starve.
Thank you so much for your generous gift to help families and children with disabilities through GlobalGiving. We are grateful for your kind and thoughtful support! Continue to follow us on Facebook and www.rejenga.org
We are so grateful you chose to support our work. Thank you for being a part of our team of supporters that are making our project a reality.
We want to make sure you see the impact of your donation, so we'll be sending you updates three or four times per year to share stories of what we've been able to accomplish with your support, along with photos we think you'll love.
Please consider telling your friends and family about our project—www.Rejenga.org and continue to contribute. you can on social media, or just bring us up in conversation. Sharing with your community why you chose to support our organization will help us increase the work we can do in our community.
All the best,
Sukanya Pyne
Founder of ReJenga.org