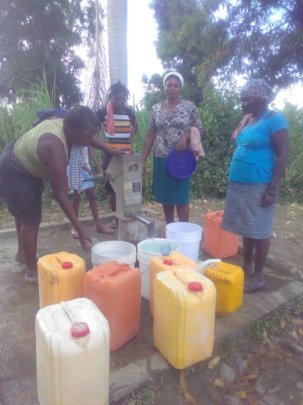 Dear Friends and Partners, we have no word to thank you for your continued support of DMI PROJECTS. Right now, more parents are able to enjoy precious time with their children.

Your support and donations are helping children and families in Haiti and around the world survive deadly disease, hunger and get the nutrients they need to regain their strength. You are given parents the ultimate gift: the assurance that their children, once deadly ill, will be okay after all. Right now, more parents are able to enjoy precious time with their children.
10 years ago on January 12, 2010, a 7.0 magnitude earthquake struck near Port-au-Prince, Haiti, killing an estimated 220,000 people, injuring 300,000 and displacing 1.5 million people from their homes. The quake destroyed infrastructure, caused a deep economic recession, and led to the country's first cholera outbreak, which grew into an epidemic.
Piriou says, "Haiti was the poorest country in the Northern Hemisphere before the earthquake hit, and its people already faced glaring unmet needs," "This catastrophe exposed long-standing weaknesses in the country's governance, infrastructure, and basic systems."
We've done our very best to show the impact you make for children and families in need. But it's not easy— every mother, father, and child we meet has their own story and experience with the lifesaving programs you support.

We've narrowed down our search to four photos that capture some of these stories and the impact we've made together. Please check them out in the photos areas below.

WHICH PHOTO IS YOUR FAVORITE?
1. A family in North Haiti pumping Reliable, Safe, and Clean water!
2. A single mother of 3 getting food and funds to go home to her hungry children!
3. An older man came to the Food Distribution Center after church to get a plate of hot meal before going home, he said, "There is nothing home."!
4. A group of children sit patiently for the Food Distribution to take place, the only meal of the day!
2020 is off to a busy start, but we hope you'll take a moment to reflect on the impact you've made and vote for the photo that means the most to you, Using this email address:
support@dministriesinternational.org
We'll announce the winner soon. Stay tuned!
Thanks for all you do,
Romeo O'Sullivan
Project Leader
CNN: Millions in Haiti face hunger in 2020
Reuters: Haiti Political Morass Fuels Growing Crisis of Hunger, Malnutrition
FOR DELIVERANCE MINISTRIES INTERNATIONAL