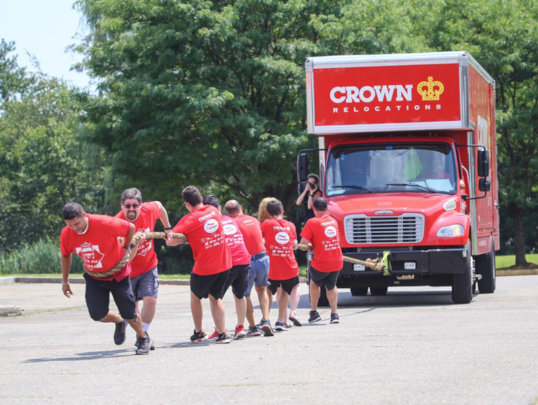 Truck Pulls have become Move For Hunger's signature fundraising event. They are exciting, fun, and a great way to raise awareness about hunger & food waste. What's not to love? Still, whenever I describe the Truck Pull to someone who's not familiar with the event, I always have to reassure them that it's not quite as difficult as it looks.

Our friends at Crown Relocations failed to tell us that the truck we used for the Second Annual New Jersey Truck Pull was loaded with 8,000 lbs. of cargo...in 90 degree heat! Needless to say, the participants got a real workout last weekend.

The event was once again hosted by our incredible partners at Crown Relocations. Each team had two attempts to see who could pull the truck 100 feet across the finish line in the shortest amount of time. The winners got to take home the coveted Truck Pull Championship trophies.

Bob Leotti's team blazed out of the gate with a blistering 0:38 run. With a full 18-second lead over the next closest team after round 1, the lead seemed insurmountable. The second Crown team, however, having learned from Bob's bunch, adjusted their approach and managed to complete their second run in just 0:36 to take home the win!

I led a team of Move For Hunger staff and interns, since the pull was here in New Jersey. Sadly, we couldn't get the truck to budge until some of the guys from Crown helped give us some momentum. If nothing else, this was yet another reminder that Crown Relocations is the extra muscle that Move For Hunger has counted on for the past 10 years.
When all was said and done, Crown Relocations had raised $20,900 to support our hunger relief and food rescue programs, which is nearly 2x the total from last year. Thank you to our sponsors, especially Victory Packaging, AVE, GDK Logistics, International Logistic Services, NOMAD Temporary Housing, Relocation Movers' Services, ReloTrans Auto Relocation, Rose Containerline, and Wheaton Worldwide Moving.

The highlight of the day, for me, wasn't the competition, the music, or the postgame barbeque. It came during the opening remarks, when Bob Leotti became visibly emotional as he was sharing some of the startling statistics about hunger in the United States. First, he reminded the audience that 40 million Americans are facing hunger each day. Then he talked about specific demographics, like how 1 in 4 veterans of the wars in Iraq and Afghanistan have experienced food insecurity. But it was when he mentioned that 1 in 6 children in the U.S. go to bed hungry each night, and pointed out the kids who were in attendance, one of whom was only a few weeks old, that Bob's voiced cracked. It was brief, but in that instant you could tell how important our cause was to him.

These numbers weren't news to Bob. Crown Relocations has supported Move For Hunger from the very beginning. These were statistics he's heard, read, or shared probably hundreds of times. It was clear, though, that Bob was thinking about the people beyond the talking points, and that's why that moment really resonated with me. Because even after a decade of fighting hunger, even though those numbers haven't declined as much as we would have liked, people like Bob and companies like Crown Relocations aren't discouraged...they're determined.

Move For Hunger will celebrate its 10th Anniversary on August 26, and although we've delivered more than 15 million lbs. of food over the last decade, there are still so many people who need our help. I hope I can count on you to host a food drive, hold a fundraiser, or make a donation to help us continue to pursue our vision of a world where no food goes to waste and everyone has enough to eat.

In addition to our 10th Anniversary, 2019 is also the Year of the Truck Pull! There's not much time to catch my breathe, because I will be heading to the Motor City next weekend for the 2nd annual Detroit Truck Pull, presented by Kroger. And, during Hunger Action Month in September, we'll also be holding Truck Pulls in Holmdel, NJ with Lowy's Moving Service, in West Branch, MI with Rob & Big's Moving Company, and Portland, OR with Chipman Relocation & Logistics. If you're in New Jersey, Michigan, or Oregon and want to register your team for one of these events, let me know! We'd love to see you out there!
Thank you again to everyone at Crown Relocations for helping us put together another great event and for the reminder that Move For Hunger's best work is yet to be done.

-Adam