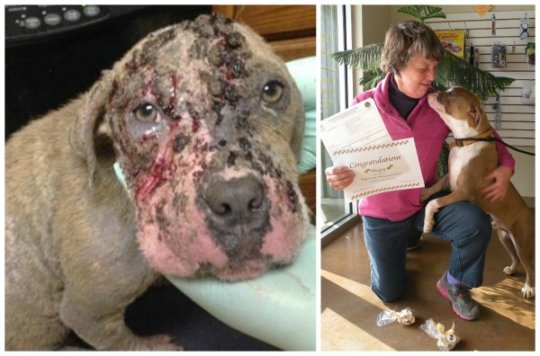 Ever wondered if your donations really make a difference? They really do! Our grants to animal shelters and rescue groups across North America allow them to save the lives of the pets in the most desperate need -- many of whom have medical conditions the groups would not be able to afford to treat otherwise. In these cases, access to veterinary care is literally a matter of life and death.
Here are just a few examples of dogs saved thanks to donations like yours, along with photos of their unbelievable transformations from injured, abused and neglected to loved and loving family members:
Journey
The manager of an Arizona shelter phoned Smiling Dog Rescue in tears. She had just received a young female pit bull mix from a sheriff who believed the dog had been intentionally dragged behind a car. The shelter did not have the resources to treat such a severe medical case and the dog's only option was euthanasia. The pain had to have been unbearable, with the dog's toes virtually gone and parts of her body completely skinned. Still, the shelter manager couldn't believe how gentle and kind the dog remained, and was determined to find her help.
With help from the Petfinder Foundation's grant, Smiling Dog Rescue rushed the dog to a surgeon, where she spent weeks undergoing numerous skin grafts and rehabilitation. Today Journey, named because of her long journey to recovery, is living the life she so deserves in her loving forever home as a pampered princess. Read Journey's story.
Mugsley
Mugsley was used as a bait dog. He was covered with oozing sores, had an open gash on his face, and could barely walk because of the infected wounds on his feet. He was so emotionally shut down, he would not bark, whine, wag his tail or growl. The Petfinder Foundation gave FurEver Animal Rescue in California that it used to give Mugsley the intense medical care he needed, and his sweet, loving personality gradually emerged. His trainer noted that Mugsley was so eager-to-please, he could earn a Canine Good Citizen certificate — and he did.
After attending numerous adoption events, Mugsley won the heart of a young girl. When she and her family returned to bring Mugsley home, FurEver volunteers thought he was going to dislocate his hips, he was wagging his tail so fast. Now he's a cherished member of the family. Read Mugsley's story.
Burr
Burr came into Grant County Animal Outreach in Washington State as a stray. He was so badly matted that you could not touch him anywhere without getting poked with stickers. The shelter's groomer reported that Burr had the most goathead stickers embedded in his skin that she had ever seen. He was immediately transported to the vet for antibiotics and another hour was spent taking more goatheads off of his whole body. The veterinarian, too, said he had never seen so many in his career.
Thanks to a grant from the Petfinder Foundation, ten days later, Burr was off his antibiotics and adopted. These days, he spends his time riding shotgun with a semi driver who is head over heels for him. Read Burr's story.
Ezmerelda
Columbus Dog Connection in Ohio was asked to take in a dog who'd been picked up by a rural shelter, but who needed more care than that shelter could provide. Ezmerelda, an Irish setter, was emaciated and had lost most of her fur due to malnutrition. She was in such bad shape, her foster mother spent the first few weeks afraid that Ezmerelda would not survive the night. Nevertheless, she was a sweet and happy dog.
After several months, Ezmerelda was gaining weight and starting to grow a new coat. She was adopted by a couple who had recently lost their Irish setter to cancer. These days, she enjoys sunbathing on their boat, chasing birds and sleeping on her new parents' pillows. Read Ezmerelda's story.
These four dogs are just a few of the thousands of dogs, cats, rabbits, horses and other pets whose lives have been saved thanks to donations like yours. This holiday season, please consider giving the gift of life to a homeless pet in need!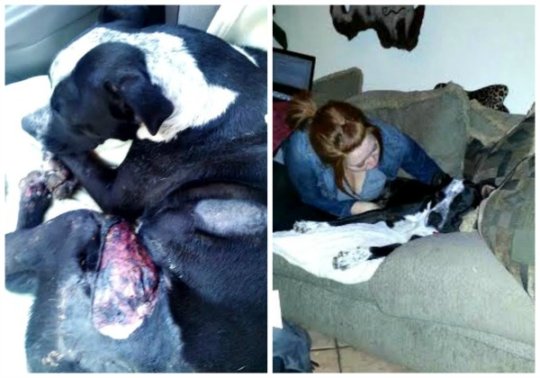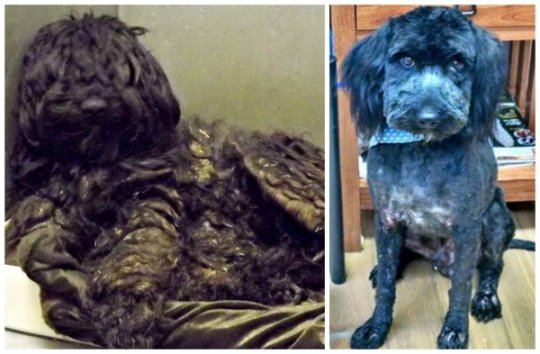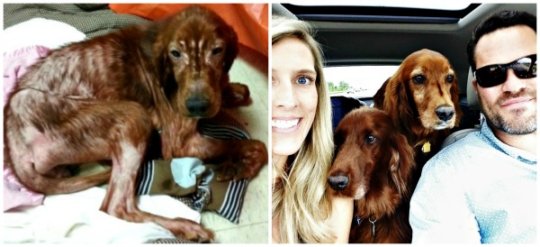 Links: