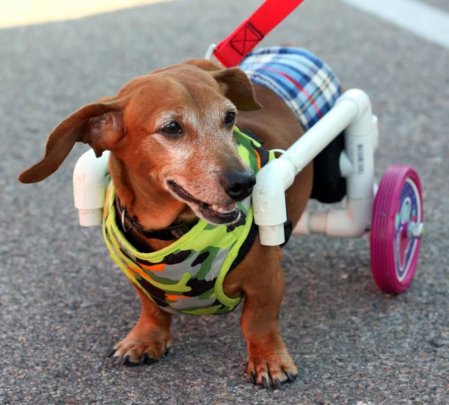 Thank you so much for supporting the Petfinder Foundation's Emergency Medical Grant fund. Every month, we award grants so that adoption groups can assist homeless pets in desperate need of veterinary care. Here are just a few pets whose lives have been changed recently by donations like yours.
Man Man
When the 9-year-old Dachshund arrived at the Kansas Humane Society in Wichita, he couldn't walk due to a ruptured disc in his back that left his hind legs paralyzed. Our Emergency Medical Grant helped the shelter pay for a wheelchair for Man Man, as well as laser and water therapy, where he swam and walked on an underwater treadmill. Both of those treatments helped him significantly. Man Man is now happy and healthy in his forever home. "Thank you to the Petfinder Foundation for the emergency medical grant providing much needed care for pets like Man Man," says KHS President/CEO Mark Eby.
Hunter
Dumped on the streets and then brought to a crowded shelter in the South, 2-year-old Hunter was at risk of euthanasia before he was taken in by Long Trail Canine Rescue in Wilder, VT, and placed in a foster home. But it quickly became apparent that he was in pain when he walked. A visit to an orthopedic vet revealed that Hunter needed surgery on both hips. Our grant is making that treatment possible. "Hunter is well on his way to a life of a normal dog, free of pain," says Long Trail VP Kim Frigault. "One more surgery to go and some recovery time with his adoptive family and Hunter's future is looking bright. Thank you, Petfinder Foundation!"
Felicia
Felicia was found by some children whose mother wouldn't let them bring her indoors, but she was clearly in poor health. Freedom Farm Animal Sanctuary in Hendersonville, TN, took her in and found that Felcia was very thin and had an upper respiratory infection, as well as a painful open wound on her stomach the size of a golf ball. A vet guessed that it was an old abscess that had ruptured. We gave the rescue a grant to cover Felicia's veterinary care, and she's now completely healed and ready for her forever home. "We would like to give a heartfelt thank you to the Petfinder Foundation," says FFAS's Kim Patton. "We are so fortunate to receive this grant."
Marcellas
The 10-month-old female pit bull mix who came to Stephen Memorial Animal Shelter in Fairfield, IA, as a stray, her right rear leg hanging limp. The vet thought it was a months-old injury that had not been treated, and recommended the leg be amputated. Says Executive Director Lindsey Sime, "Marcellas was given pain meds to relieve any discomfort while we tried to find a way to pay for her surgery. It didn't take long for the Petfinder Foundation to let us know that they would be able to help, and in mid-December, Marcellas had her surgery done. She had a very smooth recovery and was adopted on Jan. 7, 2016, by a wonderful family that renamed her Beauty."
Thank you for all your help enabling these and other deserving pets to live lives free from suffering!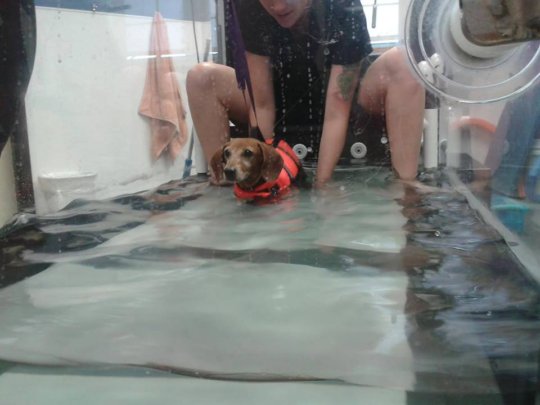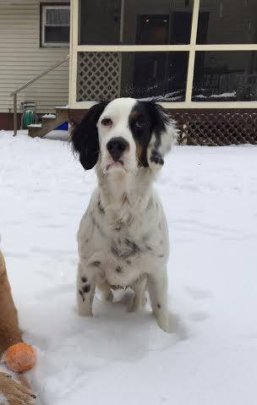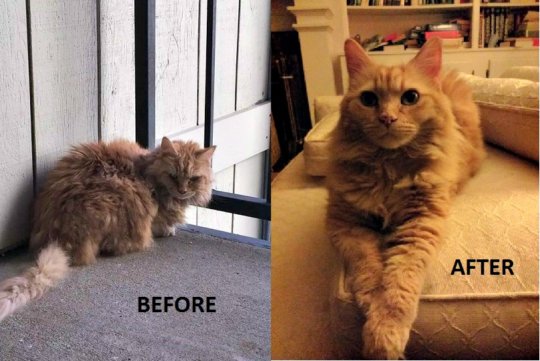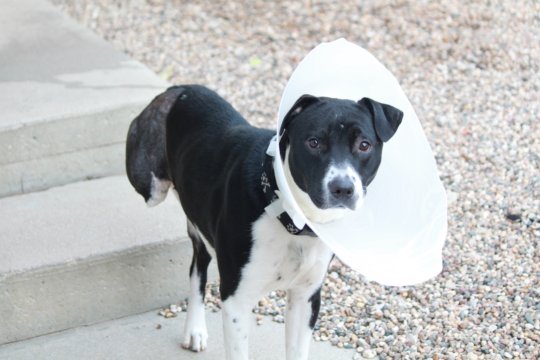 Links: