Relief in 2020 During the First Wave of COVID-19 Focused on Alleviating Hunger.
Hunger relief efforts were desperately needed during the COVID-19 lockdown in the spring of 2020 when the daily wage laborers, migrant workers, and families with no source of livelihood in remote villages and slums were left without any food or means of income. As a response to this humanitarian crisis, Barefoot College distributed essentials for survival that these affected poor families needed. Working in collaboration with the Rajasthan government, Barefoot College identified the very needy and distributed survival kits to them to ensure hunger-free communities.
With the help of generous donors like you, our relief work from April 2020 to September 2020 delivered 13,800 ready-to-eat food packets and 12,375 survival kits to more than 57,000 individuals directly, and benefiting indirectly over 800,000 people in over 550 villages and slums across 11 districts in Rajasthan.
More than 2,800 children received over 325,000 packets of Super 5 nutritional supplement to help strengthen their immune systems, especially during the pandemic, as part of our child nutrition program. Barefoot College's nutritional supplement Super 5 is made from 5 locally sourced ingredients: chickpea, groundnuts, sesame seeds, jaggery and wheat. Super 5 helps to reduce anaemia and fight malnourishment in children. Barefoot College's Super5 production unit is licensed by the Indian government's FSSAI.
Barefoot College also supported Village Grain Banks in over 20 villages in Rajasthan and Madhya Pradesh directly benefitting over 4,000 beneficiaries.
The relief efforts of Barefoot College created employment for more than 650 women.
Relief in 2021 During the Second Wave of COVID-19 Is Focused on Delivering Medical-Relief As Well.
Barefoot College is expanding its 10-bed medical wing to provide a 40-bed COVID Isolation Centre (planned and structured according to international guidelines) for COVID positive villagers. And in collaboration with a network of Civil Society Organizations (CSOs), we are setting up COVID Isolation Centers (12 currently in 11 districts) across rural areas in Rajasthan for people testing positive for COVID.
We have engaged a group of doctors to train staff for these isolation centres in the essential tasks for clinical management of COVID-19. To ensure proper in-patient care for severe or critical patients, appropriate government health agencies will be notified of any emergency by the CSOs. The government agency will then arrange for an ambulance to immediately shift the patient to the nearest government-run facility with available beds.
Village Health Awareness Campaign
Barefoot College is working with rural communities to encourage appropriate behaviors to help prevent the spread of viruses. Our awareness campaign focuses on simple preventive health measures including the use of a face mask, hand and respiratory hygiene, physical distancing, recognizing the signs and symptoms of COVID, the need for early reporting of cases and vaccination.This awareness campaign is also aimed at busting myths and counter misinformation about the virus and vaccinations.
Hunger-Free Villages Campaign
To safe-guard the economically vulnerable population, Barefoot College will continue its food relief efforts from 2020 providing survival kits to rural communities. These kits cost Rs. 3000 and provide basic provisions to help a family of 5 survive 15 days including food and essential hygiene products.
Our survival kits include:
20 kilograms wheat flour
2.5 kilograms dal
1 liter cooking oil
1 kilogram salt
250 grams chili powder
100 grams turmeric
2 kilogram onions
2 kilograms potatoes
1.25 kilograms Super 5
5 face masks
150 mililiters sanitizer
1 bar soap
1 packet of sanitary napkins
Your support has helped the Barefoot College Tilonia to provide COIVD relief to communities in desperate need in rural India.
Thank you for your continued generousity.
The Barefoot College Tilonia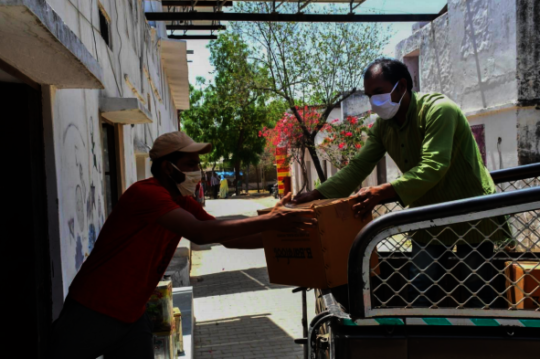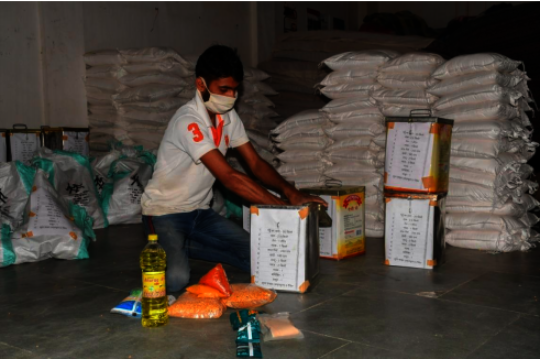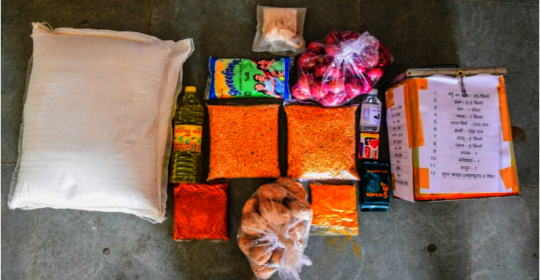 Links: