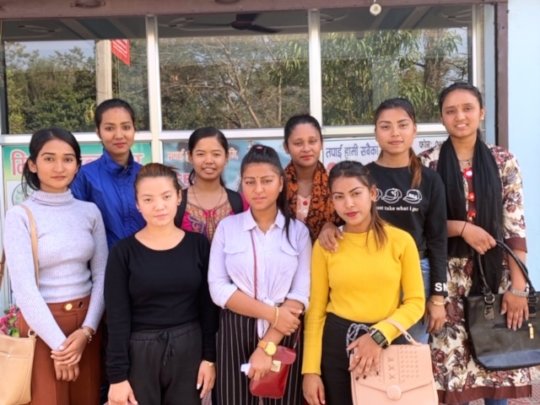 ADWAN Nepal has been functioning in Nepal for more than two decades and has significantly contributed to enhance girls' quality education and women's quality of life from different perspectives with special focus to ensuring and promoting the educational and economic rights.
ADWAN is mainly focusing in Education and Economic empowerment from its implementation phase. Education is a social process aimed at performing different vital functions in society. ADWAN believe, girls' education play a significant role in the development process from family to broaden area. When they become mother, they can contribute to improve the literacy, awareness and health of their children and other family members too. We also believe the educated girls can contribute to building the nation in the days to come. Learning of ADWAN; "girls' education is reducing early age marriage and women's pregnancy rates, child mortality rates and lowers maternal mortality rates. Realizing the significance of education, ADWAN has been investing from its earlierphase.
COVID-19 is having a negative impact on girls' Education, health and well-being and many are at risk of not returning to school once they reopen. Available research shows that prevalence of violence against girls and women has increased during the pandemic which directly hit their health, safety and overall well-being. Every day, girls face barriers to education caused by poverty, cultural norms and practices, poor infrastructure, violence, and fragility. ADWAN is seeking for collaboration from civil society organizations, the private sector, and donors to advance multi-sectorial approaches to overcome these challenges.
As girls stay at home because of school closures, their household work burdens might increase, resulting in girls spending more time helping out at home instead of studying. This might encourage parents, particularly those putting a lower value on girls' education, to keep their daughters at home even after schools reopen. Therefore, with the current COVID-19 pandemic, we might see more girls than boys helping at home, lagging behind with studying, and dropping out of school and college because of poverty. But all the girls who receiving scholarship from GG is continue their study after reopen the schools.
From the installments received from GG, we are in-line to select 24 girls of the target 50 deserving girls to send high school in 2020. That is why we hope your generous support will continue and we kindly request your help for the 26 remaining girls by donating again at https://www.globalgiving.org/projects/send-50-girls-to-high-school-in-nepal/. Also, please share this link with your family, friends and relatives because your small support make a big impact in the lives of many poor girls in rural Nepal. We at ADWAN express profound gratitude for the consistent and generous support from kind-hearted people like you. Together, in partnership, we will continue to be an agent of change for Dalit as well as other marginalized, poor women and children in Nepal. Special thanks from the bottom of our heart go to GlobalGiving team for creating such a wonderful platform and supporting needy people all over the world.