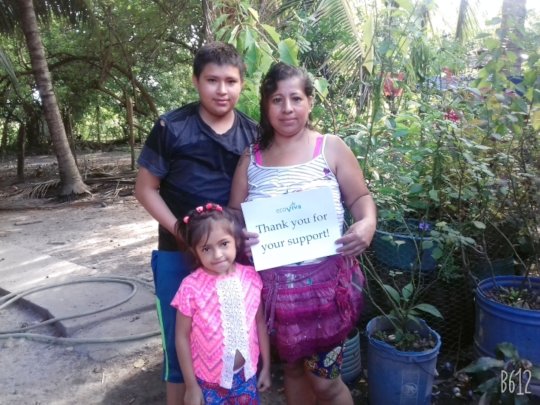 Traditional Farming Knowledge is Key for a Sustainable Future
For hundreds of years, indigenous communities have used agricultural practices that sustain their communities while protecting their environment. By respecting the needs and boundaries of the earth, indigenous communities engineered a process now known as agroecology - a science that combines social, economic, and environmental sciences with traditional farming knowledge. Farmers who employ agroecological methods improve their resilience through integration, crop diversification, and protection of resources like soil and water.
The current movement for agroecology arises during a time of uncertainty for many Central American farmers; the effects of climate change continue to increase, causing severe droughts and natural disasters. Our partners help communities adapt to erratic weather patterns and conserve resources by following specific principles.
How our partners practice agroecology:
Nurture and protect the soil by increasing organic matter naturally, maintaining ideal soil moisture, and discouraging erosion.
Eliminate artificial inputs of synthetic fertilizers and insecticides by recycling plant matter as soil cover and nutrient source, and using complementary planting for natural pest management.
Increase biodiversity through temporal and spatial variation, using crop rotation or intercropping techniques to improve pollination, soil health, water resource management, and crop resilience.
Utilize intergenerational knowledge shared by indigenous groups to produce adequate food for communities without damaging the soil or ecosystem.
Ensure food sovereignty for community members, creating viable systems where families retain control of their right to healthy and desirable food without dependence on corporations or external systems.
Build resilience for families to face unpredictable weather and natural disasters caused by climate change.
Fishing Cooperatives Protect Their Livelihoods Through Conservation
Blast fishing, a dangerous practice of using explosives to quickly stun or kill schools of fish, became popular in El Salvador after the Civil War due to the high availability of bombs. Blast fishing might seem like an efficient way to increase a fisher's daily catch, but it is an unsafe practice that destroys marine environments and can gravely injure fishers.
This practice, used in more than 40 countries, has resulted in extreme biodiversity loss and environmental degradation, reducing coral reefs, water quality, sea turtle populations, and fish populations. In El Salvador, communities like Cincahuite, a member of the Mangrove Association, depend on fishing for food and income and have suffered greatly from the use of explosives in delicate marine environments. Because these community members' livelihoods depend on healthy, thriving coastal ecosystems, La Coordinadora and the Mangrove Association have developed fishing cooperatives to provide alternatives to blast fishing. These cooperatives re-educate communities in safe fishing methods that reduce the threat of coral destruction and over-exploitation of fish species, such as hook and line fishing. Their efforts have reduced blast fishing by 90% in the past fifteen years. In addition, the cooperatives work with scientists to track fish populations and build artificial reefs to restore fish habitats. By practicing conservation and protecting vital resources, rural fishers of El Salvador are creating more sustainable livelihoods for themselves and their communities.
Central Americans Struggle for Water Rights Amidst a Changing Climate
On September 20th, our partners joined the world in a Global Climate Strike to acknowledge the global crisis and the root causes of climate change. The countries we work with in Central America are already experiencing the effects of climate change, and they are grossly aware that the capitalist system that prioritizes profit over the needs of the population is not sustainable, as it continues to reduce the quality of life for millions of Central Americans while destroying the environment they depend on. Communities continue to see degradation and depletion of their water sources due to waste and overuse by private interests while an unstable climate makes the conservation of this precious resource even more difficult.
Members of the Alliance against the Privatization of Water in El Salvador are mobilizing to demand that the human right to water be enshrined in law and protected from pollution and overexploitation. The alliance joins the worldwide struggle with the slogan "Without Water, There is No Future." Communities in the Bay of Jiquilisco have participated in marches, environmental forums, and training workshops to protect their right to water in solidarity with the Global Climate Strike and will continue to mobilize to defend water sovereignty.