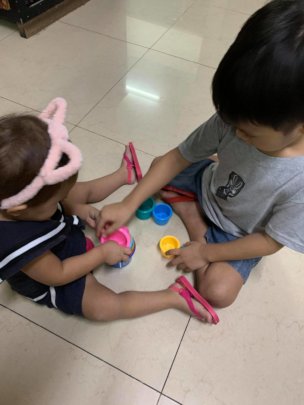 As COVID- 19 pandemic continues to spread, the future is so unpredictable. These are challenging times for all of us. Regardless of the pandemic several children are in need of help for them to survive.
Shane, 1 year and 5 month old and her brother Carlo, 4 years and 8 months old is product of broken family and living in the bridge. The pandemic worsens their situation when their mother lost her job and emotionally deal with the abandonment of her common-law husband. Carlo experienced physically abused by their biological mother. This led the authorities to rescue the children to prevent further abuse since playing under the bridge and sidewalks, allegedly begging for food hampers their growth and development. They are also vulnerable and susceptible to any illnesses.
Prior to the referral of the two siblings at Tahanan ng Pagmamahal they were temporary sheltered in a mixed category of wards and older youth for about a month. Unfortunately, Shane was infected with Coronavirus Disease (COVID-19) without the knowledge of the caregivers since she is asymptomatic. While the child is undergoing recovery, it was assessed that Shane and her brother are in need of special attention, love and care for them to enjoy their basic rights for shelter, clothing, medical needs.
Hence, on September 10, 2020 both of them were referred to Tahanan ng Pagmamahal Children's Home, Inc.
While in Tahanan the children were provided with love, care and all their basic needs including immunization, vitamins, proper nutrition to boost their immune system. Both of them became healthier, happy and enjoyed playing with other children and protected from any form of abuse.
There is no joy that can equal the happiness in helping children seeing them actively smiling in the midst of COVID-19 pandemic. Together we stand; we can make a difference in this wonderful world even in the most difficult times