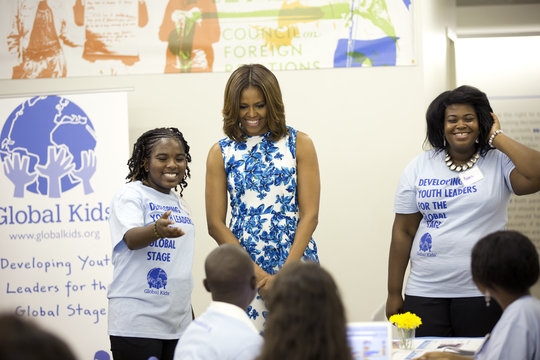 Global Kids had an excellent non-stop summer packed with bridge programs, institutes, and travel abroad opportunities for our students in New York City and Washington, D.C. To get a sense of the activities in which GK Leaders participated over the summer, take a look at these highlights!
The summer kicked off with a very special visit from First Lady Michelle Obama at Global Kids Headquarters in New York City. Two GK Leaders invited her when they met her at the National Summer Learning Day event held at the U.S. Department of Education in June, and she accepted their offer. During Mrs. Obama's visit, she met with twenty GK Leaders in small groups to learn about the projects our students have been working on. She was inquisitive, and very impressed with the leadership work our students were doing! To see the NY1 news coverage of her visit, click here!
For six weeks, twenty-seven high school students in Washington, D.C. participated in the DC Summer Institute where they intensively studied international affairs, career exploration, and foreign policy, with a week-long service-learning trip to Puerto Vieja, Costa Rica.
In New York City, the U.S. in the World International Law and Foreign Policy Institute brought together a diverse group of twenty-eight high school students for an intensive three-week program held at the Council on Foreign Relations. GK Leaders explored dynamics of foreign policy, the role of the U.S. and other major nations, and addressed some of the most pressing global challenges of today.
The first-ever Climate Action Summer Institute took place in August in collaboration with the Alliance for Climate Education. Fifteen high school students gathered for a week-long program aimed at exploring issues such as climate justice, public policy, climate leadership, and community organization. Additionally, two GK Leaders, Anthony and Mitchell, traveled to Argentina for a week to represent the U.S. in Sustainaware, a global youth coalition that raises awareness about the importance of sustainable development around the world. For more information about the impactful work Sustainaware is doing, visit their Facebook page!
One of our most important offerings during the summer months is the Summer Youth Employment Program, where Global Kids teams up with over twenty-five partner organizations in New York City to provide GK Leaders with professional work experience for six weeks. During their employment, GK Leaders worked 25 hours a week for minimum wage, and for many this was their first work experience. Worksites this year included The American Museum of National History, the Brooklyn Public Library, Village Care (a rehabilitation center), Global Kids Headquarters, a day care center, and other community development organizations.
With such an amazing summer behind us, Global Kids is thrilled to have you join us for another successful school year. If you happen to be in the New York City area in early November, consider participating in our 25th Anniversary Global Kids 5K Run/Walk! You may even gather a team of your friends to help support Global Kids in offering leadership development opportunities for underserved youth in New York City and Washington, D.C.
Thank you for your generosity, and here's to an unforgettable school year!
The GK Team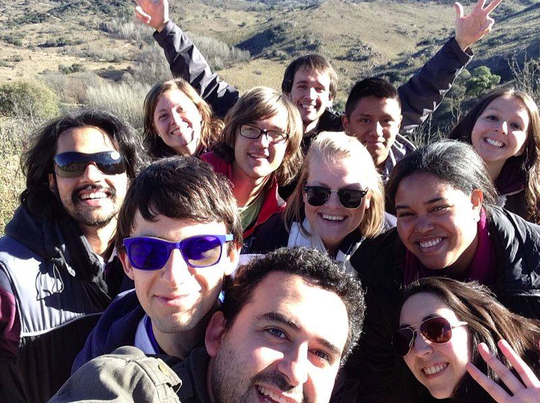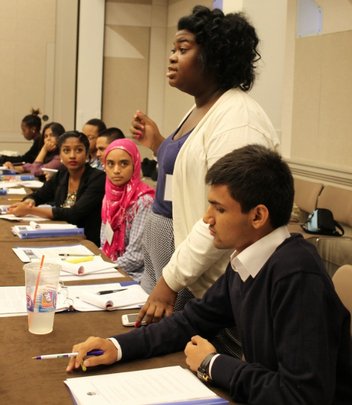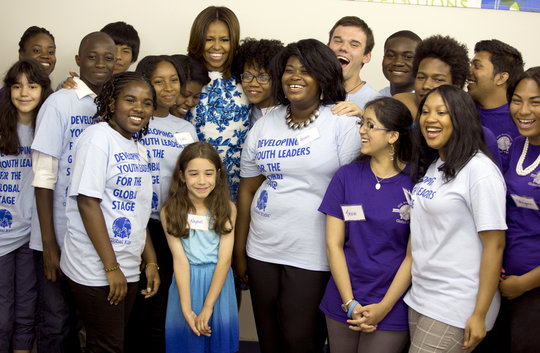 Links: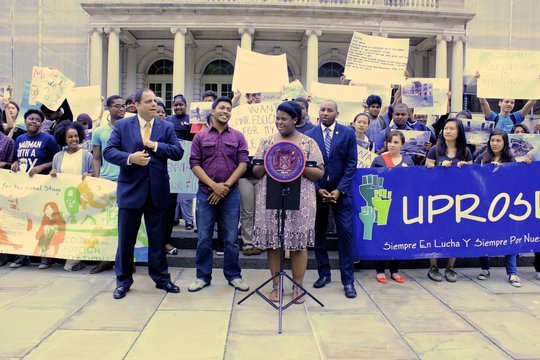 Global Kids' 25th Anniversary year has been going strong! Our students have been keeping busy wrapping up their school year, and we are thrilled to share highlights from the last few months with you!
In March, GK Leaders held the 25th Annual Youth Conference at Baruch College in Manhattan. Planned, coordinated and facilitated entirely by students, the Conference was a remarkable event and an inspiring tribute to the spirit of youth activism that Global Kids has fostered for the past two and a half decades. More than 600 youth and educators, including 21 students from GK Washington, D.C., attended the daylong event that boasted more than 30 interactive workshops led by GK students, guest speakers from partner organizations, and performances by our very own GK Undesirable Elements program participants. Topics for the day--all focused on the theme of Youth Activism--included climate justice, education, juvenile justice, LGBT rights, immigration rights, women's rights, and many more.
On May 29th, six GK Leaders participated in a panel Q&A with Samantha Power, U.S. Ambassador to the United Nations, at the High School for Global Citizenship (HSGC) in Brooklyn, NY. Ambassador Power spoke about the importance of youth involvement in foreign policy. HSGC students were able to ask her questions about her career and her position on current events, as well as ask for academic and professional advice. Ambassador Power was quite impressed with GK Leaders' knowledge on domestic and international affairs, and many students lef the panel inspired to learn more about political careers.
On June 6th , GK students from the four Wingate Campus high schools in Brooklyn held an Impact Day with Deloitte & Touche employees. Students learned a lot through the career panel and college exploration activities, and all participants celebrated working together to beautify the school grounds through gardening projects.
On June 11th, GK students from the Human Rights Activists Project held a rally and press conference calling for comprehensive climate change education in NYC public schools. GK was joined by New York City Council Members Costa Constantinides, Donovan Richards, and Carlos Menhaca, as well as representatives from the Alliance for Climate Education, the CUNY Law School Center for Urban Environmental Reform, and UPROSE. A petition to NYC Mayor Bill DeBlasio and NYC Schools Chancellor Carmen Fariña has been drafted, asking the Department of Education to mandate climate education for all K-12 students. To sign the petition and help our students achieve their goal, click here! Our youth were also able to show their dedication, passion and breadth of knowledge on television! GK Leaders Eduardo Salgado, Yassmine Hussein, and Annie Willis, who was directly affected by Superstorm Sandy, were interviewed by NY1 and did a fantastic job of explaining why climate education for NYC students is vital. Click here to see the clip!
Thanks to your generosity, GK youth have continued to experience unparalleled educational opportunities and have been empowered to take action on issues they feel passionate about. We have many amazing activities planned this summer, and we cannot wait to share them with you soon!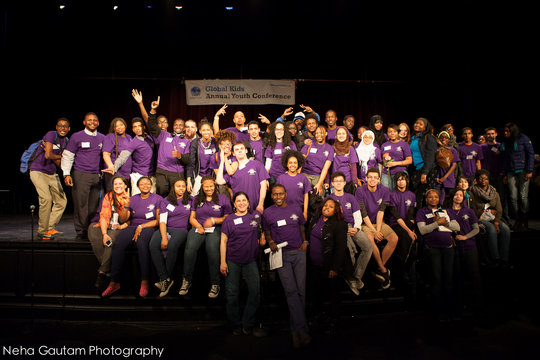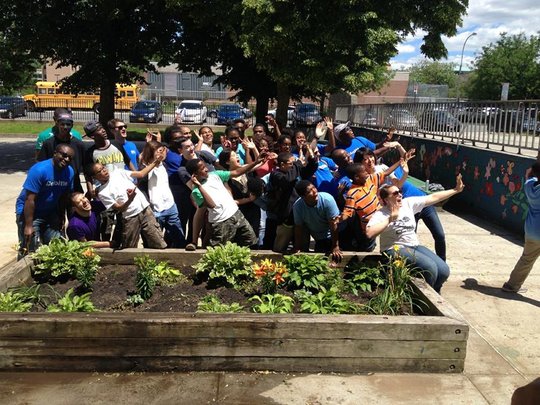 Links:
Thank you for supporting our College and Career Readiness Program and helping Global Kids prepare teens for college! We are happy to report that Global Kids (GK) has 170 high school students currently participating in the program.
Since the beginning of the 2013 school year, Global Kids has been:
Hosting monthly College Application Parties at which GK students learn about the admissions process, receive help with their applications, and get more information about financial aid.

Conducting workshops that challenge students to think critically about their options and strategies post high school graduation.

Holding college readiness planning sessions during which GK students search for potential matches, including dream matches and safety matches, and receive help to formulate their college essays.

Planning tours and visits to colleges in New Jersey, New York, Pennsylvania, and North Carolina, among other areas.

Offering our Careers in Focus sessions that help students work on resumes and cover letters, practice networking and interview skills, and research organizations and individuals in their chosen career field to contact for advice and visit during field trips.
Global Kids trainers have also nominated and helped students with applying to competitive scholarships like the Posse Foundation, Macaulay Honors College, Northeastern Torch Scholars Program, and Gates Millennium Scholarship. We are keeping track of college acceptances as they come in, and are thrilled at our students' successes.
With your support, Global Kids may continue to ensure that urban youth have the knowledge, skills, experiences, and values they need to achieve excellence in school and beyond. Thank you!
Links:
WARNING: Javascript is currently disabled or is not available in your browser. GlobalGiving makes extensive use of Javascript and will not function properly with Javascript disabled.
Please enable Javascript
and refresh this page.