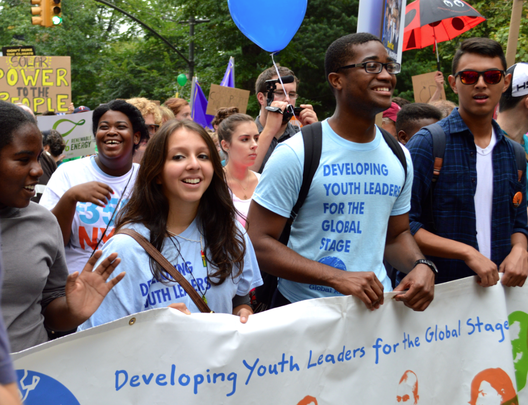 Dear GK Friend,
Thank you.
As we wind down the Global Kids 25th Anniversary Year and reflect back on our success, we know we could never have achieved so much without the generous support of friends like you.
When the first informal gatherings occured in 1989, no one could have predicted that Global Kids would become the foremost educational organization for global learning and youth development. Early on, there was skepticism that youth from underserved communities needed and craved opportunities to engage in international affairs and social activism.
But whether you have been a longtime supporter, or a new friend to Global Kids, you know how important it is to be globally competent. You know that our youth, even those who attend underperforming schools or face harsh economic challenges, have a right to be at the table where decisions about public policy or foreign affairs are made. You know that our youth deserve the unique, enriching experiences Global Kids provides.
Many nonprofits never make it to the five-year mark. We have been grateful for each milestone we reached, but our 25th anniversary was no accident. Over the years, our founder Carole Artigiani, talented staff, board of directors, partners, and supporters all nourished the organization and nutured our youth. We never wavered in our mission, and our supporters have never wavered in their generosity.
Thank you.
In the past 25 years, we have served over 200,000 youth through our school-based and afterschool programs. Our youth have designed and implemented 25 youth conferences, and have traveled to 25 countries for service learning and peer education. We have averaged a 90% high school graduation rate and a 90% higher education matriculation rate at schools where graduation rates hover around 50%.
In the past five years, we have grown from nine to 32 schools in NYC, expanded to Washington, DC, developed a groundbreaking climate justice activist program, and received numerous national awards for excellence.
This past year - our anniversary year - our youth met United States Ambassador to the United Nations Samatha Power, were honored by the New York City Council for their work on climate change, and had the wonderful opportunity to discuss their work with First Lady Michelle Obama when she visited Global Kids in July.
Thank you.
Your support has enabled us to accomplish so much. Twenty-five of our alumni have been profiled by The Huffington Post exposing the impact of Global Kids to an international audience. As we look forward to the next 25 years, we need your continuted generosity to take us forward.
Please consider making a year-end, tax-deductible gift to Global Kids. To honor our past, and to build our future.
All the best,
Evie