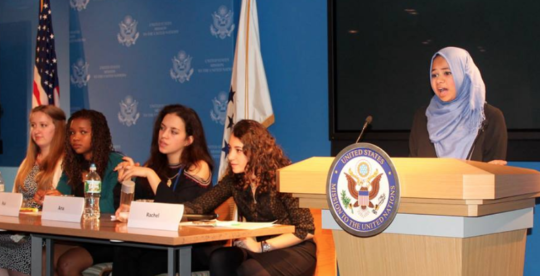 Dear Friend,
We are so excited for our students as the end of the school year draws near! Not only are we so proud of the many accomplishments of our GK Leaders, we are also celebrating our graduating seniors! Here are some highlights we would like to share with you from the past few months:
GK Leader Umamah was chosen to be an official delegate to the United Nations Commission on the Status of Women (CSW). On March 17, she spoke at a panel about the importance of educating girls and keeping them engaged through adolescence.
On April 8th, 80 GK Leaders hosted the GK Annual Youth Conference for over 600 students and educators at Baruch College. Planned and led entirely by our youth, the conference focused on issues related to immigration and migration and featured workshops, performances, speeches, and call-to-action activities. It was truly inspiring to witness GK Leaders stepping up and motivating their peers to be more involved in global affairs that affect us all. For photos from the event, click here!
Inspired by the GK Annual Youth Conference, two groups of GK Leaders created their own versions of the conference for their peers! The High School for Global Citizenship in Brooklyn, NY hosted a conference on May 13th at their school, and they encouraged their classmates to examine the impact of gentrification on local communities, with a focus on police misconduct in gentrifying neighborhoods. The GK-DC Citywide program held its first-ever Youth Conference in Washington, DC on May 23rd at the Pepco Edison Place Gallery, where they focused on youth activism and facilitated workshops for over 50 participants.
On Earth Day, GK Leaders in the Human Rights Activist Project experienced an incredible win! Resolution 0375, which mandates that climate education be taught at all New York City K-12 schools, was passed with overwhelming support in the New York City Council! After two years of working and campaigning with Councilmembers Costa Constantinides and Donovan Richards, GK Leaders are now taking the resolution to the New York State Department of Education. Click here to read an article in AM New York about the campaign.
This semester has been very busy for our students in exploring their college options! We took over 250 GK Leaders to 15 college campuses. Visits typically included an official campus tour, meetings with admissions staff and student organizations, a meal in the dining hall, and exploration of the surrounding area. Schools toured included American University, Boston University, Columbia University, Drexel University, Duke University, Georgetown University, Hofstra University, Howard University, North Carolina State University, Rutgers University, Stony Brook University, SUNY New Paltz, Temple University, University of North Carolina at Chapel Hill, and University of Pennsylvania.
As the year comes to a close, we are looking forward to congratulating our graduating seniors and supporting them in getting ready for their college adventures! For underclassmen, we are thrilled to be offering three international trips during the summer holiday to Japan, South Africa, and on Peace Boat to China, Japan and South Korea! Be sure to check for an update in September about GK Leaders' experiences abroad!
Thank you so much for supporting Global Kids Leaders achieve great things. Your donation directly helps our youth gain the knowledge, skills and experiences they need to succeed in school, achieve leadership in their communities, and make an impact, and we are truly thankful.
Sincerely,
Ana Sofia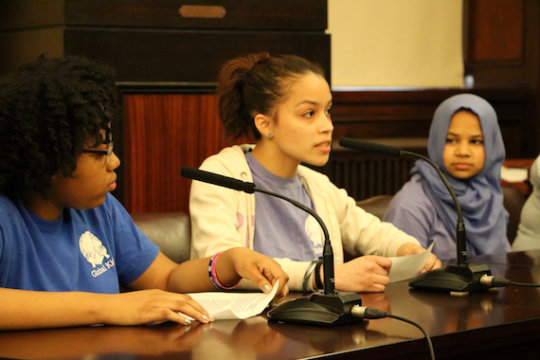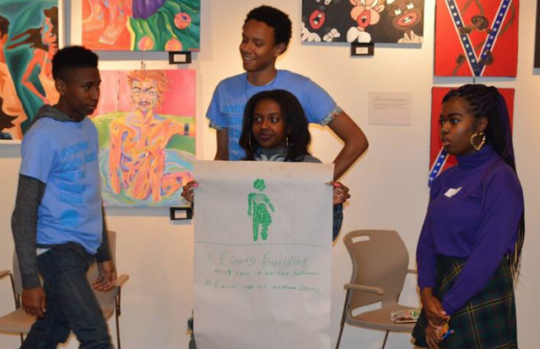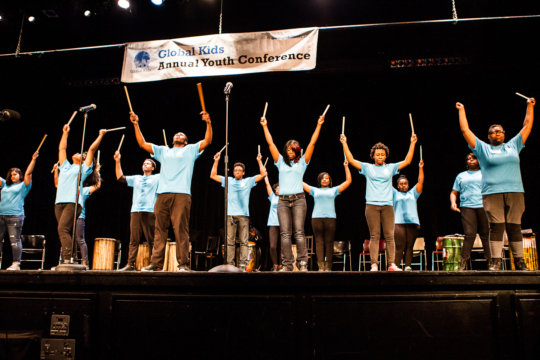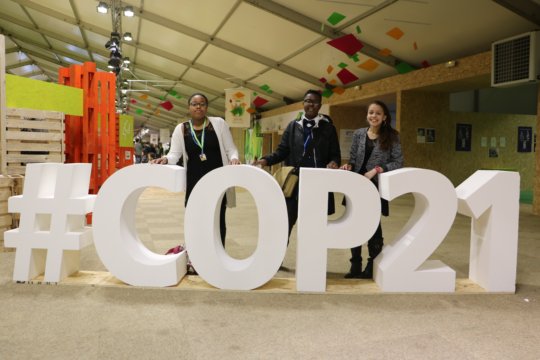 Dear Friend,
Global Kids Leaders hit the ground running when they got back from their winter holiday, and it's full steam ahead for the rest of the school year! Here is what's been going on since we last sent you some updates:
As mentioned previously, we were thrilled to announce that two of our GK Leaders from New York City went to Paris, France for the United Nation's Climate Change Conference (COP21) in late November. While there, they attended events featuring world leaders, participated in UNICEF's #YouthPower event, toured the Climate Generations Area, and visited a class at Lycée Gustave Eiffel Vocational High School, where they spoke to French students about their climate change work. Here are the blog posts both GK Leaders published on the GK Tumblr page, in which they share their insights, inspirations, and experiences of being abroad and speaking out for the issues they believe in.
In December, Global Kids held report-back events about the international trips students took to South Africa, Japan, and Haiti during Summer 2015. The students invited friends, family, peers, staff members, and Global Kids supporters for refreshments from the countries they visited, and held presentations about their travel experiences and reflections. The three groups remarked that traveling to a different country was an incredible way to gain knowledge about that country's culture, heritage, and social issues, and they were excited to teach peers in their communities about what they learned while abroad.
The students who went to Haiti in Summer 2015 are working diligently with their Haitian peers on their two documentary short-films about International Aid in Haiti and the Haitian/Dominican Conflict, which they are hoping to complete by the end of the school year. In the meantime, our partners in Haiti, Ciné Institute, created a video that gives a behind-the-scenes look at the creation of these documentaries. Check it out here!
As we start to hear back from our Senior students about college acceptances, the underclassmen have been learning about their higher education options through our College & Career Readiness Program, and some were even able to take special college trips! During Martin Luther King, Jr. Day weekend in January, 37 GK Leaders from New York City took an overnight college trip to Washington, DC. While there, they toured Georgetown University and Howard University, met up with their Global Kids peers in Washington, DC, and participated in a march for peace commemorating Dr. Martin Luther King, Jr. In February, 19 GK Leaders traveled upstate to tour SUNY Albany. They also had the incredible opportunity to visit the NY State Assembly, met with their local Assembly Members, and were even introduced to the entire Assembly while it was in session!
One of the most dynamic and energetic activities during the Spring semester for GK Leaders is always Conference Planning! To be held at Baruch College on April 8, 2016, the GK Annual Youth Conference will bring together over 600 youth and educators to discuss important social issues that are affecting the world today. GK Leaders chose the timely theme of Immigration and Migration, and both the New York City and Washington, DC cohorts have been working hard on creating, preparing, and practicing interactive workshops that they will be facilitating at the conference. Fifty-seven of the NYC students also went on a Conference Planning Retreat to Camp Ramapo in Rhinebeck, NY during spring break, where they continued to plan and refine the big event that is drawing near!
As always, all of this incredible work that our GK Leaders are doing could not be possible without the support of friends such as yourself. You truly make a difference in each of our students' lives, and, through your generous donations, provide them with opportunities that they would otherwise not have access to. Thank you for cheering on our youth and believing, like we do, that they have the power to make an impact in the world!
Sincerely,
Ana Sofia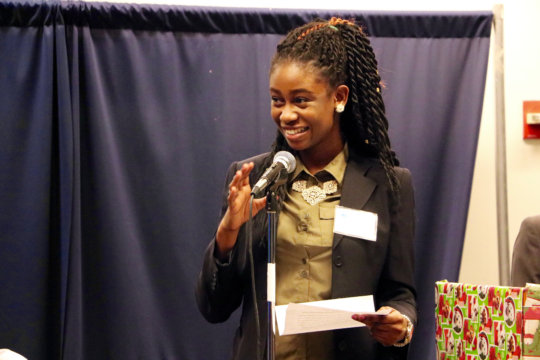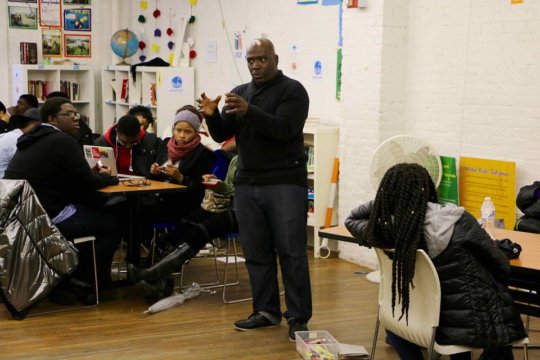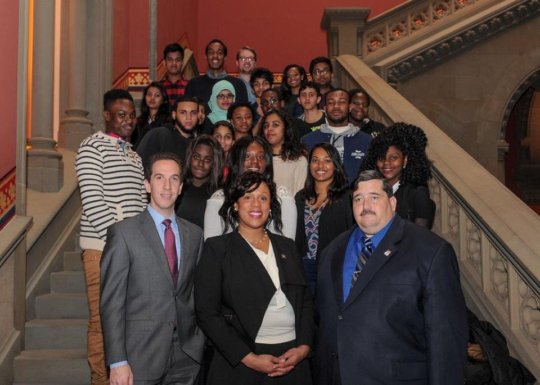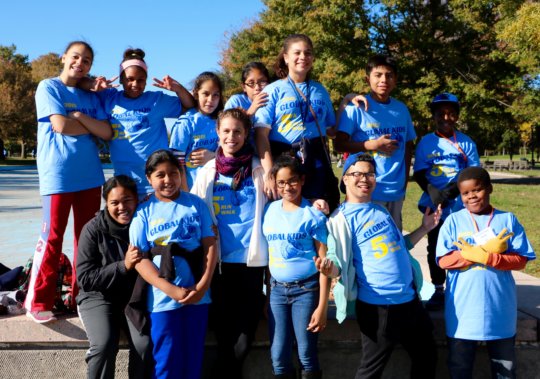 Dear Friend,
With the holidays fast approaching, Global Kids Leaders have been busy wrapping up the first half of the school year. Global Kids is also thrilled to report that our footprint in New York City and Washington, DC continues to grow, and we are working with 41 public schools and over 2,500 youth on a weekly basis! While each site is unique, we continue to offer programs that come from our regular menu, which include in-school residencies, Afterschool Leadership clubs, the Human Rights Activist Project, the Online Leadership Program, and College and Career Readiness. Below are some highlights from the past few months that we are happy to share with you as the year comes to a close.
Global Kids held its second GK5K Run/Walk Event in October, and it was a great success! Our students and supporters raised over $40,000 to help fund our College and Career Readiness Program. We look forward to making this an annual event, and hope you will be able to join next year! For photos of the event, please visit our Flickr page by clicking here.
This semester, we have added three new public high school sites in Washington, DC that include Anacostia High School, Ballou High School, and H.D. Woodson High School. We look forward to offering our afterschool youth development programming four days a week to over 225 underserved high school students, and support them in developing leadership, communication, cross-cultural, global competence, and other critical 21st Century skills.
A cohort of 30 Global Kids Leaders from Curtis High School in Staten Island are traveling to Philadelphia for an overnight college trip this week! As part of our College and Career Readiness Program, the students will tour the campuses of Drexel University, University of Pennsylvania, and Temple University, meet with admissions officers and student-led organizations, and do some sightseeing in the historic city. Other recent college tours include those to Adelphi University, Baruch College, and John Jay College.
The College and Career Readiness Program held its first College Application Party in October. Roughly 40 students from seven high schools were joined by volunteers from Time Warner Cable, and together they worked on completing the various components of their college applications, including personal statements, resumes, financial aid applications, and more.
Two Global Kids Leaders involved in the Human Rights Activist Project are representing Global Kids at the 5th Sustainaware Global Partners Meeting in Gaeta, Italy and at COP21, the United Nations Conference on Climate Change in Paris, France. During their ten-day trip to Europe, they will meet with local youth organizations and continue their work on raising awareness of climate justice and empowering their peers to get involved with environmental activism. The two students are working on blog posts for the Global Kids Tumblr page about their experiences, and we'll be sure to share those with you next time!
As always, these transformational experiences and opportunities that Global Kids is able to offer our students are only possible thanks to support from friends such as yourself, for which we are truly grateful. We are looking forward to the exciting things that are brewing for the new year, especially the Annual Youth Conference in April, and cannot wait to share all the details with you in our next report.
Happy Holidays and Happy New Year from all of us at Global Kids!
Best wishes,
Ana Sofia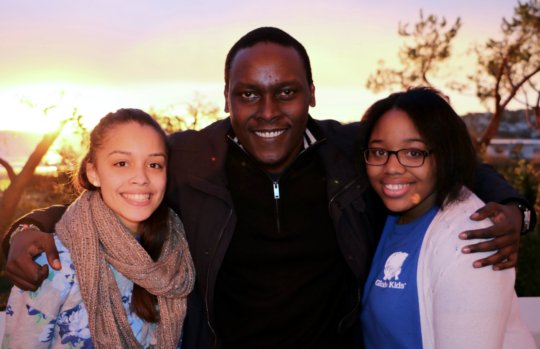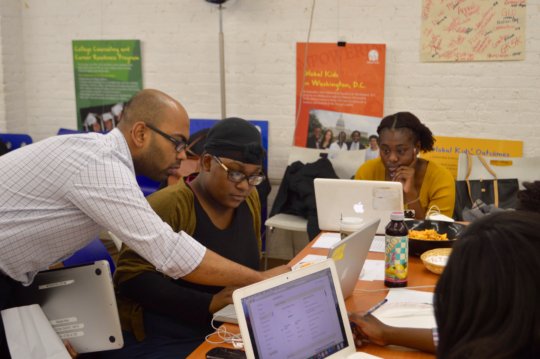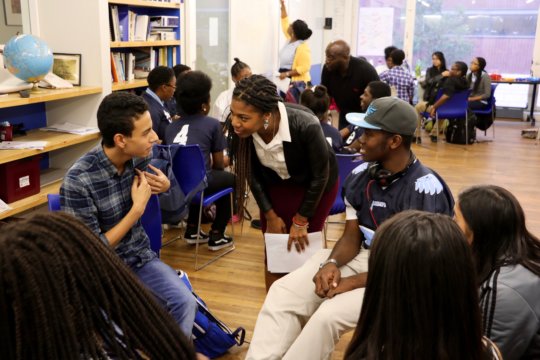 WARNING: Javascript is currently disabled or is not available in your browser. GlobalGiving makes extensive use of Javascript and will not function properly with Javascript disabled.
Please enable Javascript
and refresh this page.