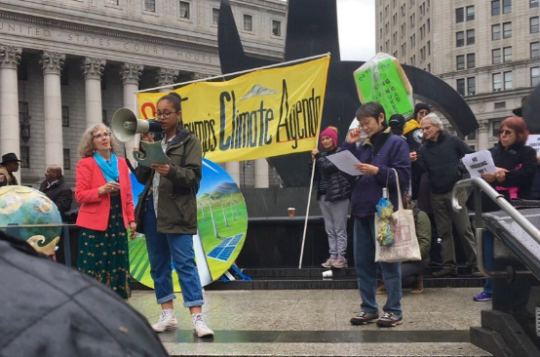 Dear Friend,
Happy Spring! Global Kids is pleased to report on several recent accomplishments. As the school year nears its end, Global Kids Leaders are demonstrating a renewed level of commitment to academic excellence, digital learning, civic engagement, leadership, and community advocacy.
Some of the spectacular events of this spring include:
New York City Events
Students from Global Kids' Human Rights Activist Project (HRAP) led an Environmental Activists Panel Discussion on the topic of environmental justice at Global Kids headquarters. Climate justice activists from UPROSE, WeAct and The Point spoke about how they became involved in the environmental justice movement. Many were inspired to join this movement because they grew up in communities that have been historically left out of negotiations when it comes to how pollution and climate change affect their neighborhoods.
This year's Annual Youth Conference, which was held on April 26th, was a great success! Global Kids Leaders elected the topic of Discrimination with the slogan End Discrimination in our Generation! and engaged over 600 youth and educators from New York City. Activities from the event, which GK students planned, organized, and implemented themselves, included workshops, performances, and guest speakers that shed light on the various and intersectional topics surrounding discrimination. Subtopics included ageism, sexism, homophobia, transphobia,
Almost 50 GK Leaders attended the People's Climate March in Washington, DC on April 29th, 2017. This event was a tremendous opportunity for our youth to network with fellow youth activists and elevate their voices in the nation's capital. In preparation for the long day trip from New York City to Washington, DC, Global Kids' HRAP team held their first everworkshop entitled Art & Activism to infuse art with environmental activism. The event hosted local artists from New York City who provided youth with tools and instruction to amplify their message through artwork, designing campaign signs and banners aligned with the March's platform. Read GK Leader Kate's @HuffPost piece on why she marched.
Global Kids Leaders from high schools across New York City participated in National College Signing Day on May 5th as part of Michelle Obama's "Reach Higher" campaign. Student created banners, wore their school colors, and celebrated their accomplishments as a group. This fall, they will be attending schools such as Lafayette College, Northeastern University, University of Albany, Centre College, and Adelphi University.
On March 6th, youth from Global Kids' Undesirable Elements theatre project performed a piece at the Heart Across Queens Community Voices Performance in Socrates Park. The performance piece wove together their cultural heritage, personal stories, world history, and current events to share compelling stories that tackle difficult issues such as globalization, immigration, and poverty. Conducted in collaboration with Ping Chong & Company, Undesirable Elements combines dance, music, spoken word and theater to create a moving and unforgettable experience.
Global Kids recently hosted two Career Day events: First, a Bank of America career panel at Bronx School for Writers and Artists, and second, AOL hosted a Monster Help Day at John Adams Community School in Queens. Additionally, students from our Digital Learning and Leadership program are looking forward to two upcoming career days before the end of the year!
Washington DC Events
On February 10th, Global Kids was presented with the First National Bank of Omaha Award for Outstanding Service to Public Education at the NEA Foundation's Salute to Education Gala. The outstanding service award pays tribute to those who have significantly increased understanding of public education or have otherwise dedicated themselves to serving educators and students.
Global Kids at the U.S. State Department: The Pickering & Rangel Fellows Association (PRFA) organized a career day at the State Department for our 12th grade interested in global affairs and international careers. The students met with foreign service officers representing Kenya, Nigeria, El Salvador, Guatemala, Haiti, and Mexico. They participated in two panels covering major global issues and career options within the State Department. Melissa Clegg-Tripp, the Public Diplomacy and Public Affairs Director in the Bureau of African Affairs, was the keynote speaker for the event
Upcoming Programming
Planning is underway for Global Kids' 2nd Annual Youth Conference in Washington, D.C. Global Kids students are determined to build on the success of last year's conference to join together youth and civic leaders from around the city to highlight and discuss issues relating to the human trafficking field. As with the New York City Conference, students take it upon themselves to plan, design, and manage the event, including workshops, performances and guest speakers.
Global Kids is excited to announce that we will be hosting our Youth Ambassadors Program for a third year in a row! This year, 7 students will be traveling to Japan to participate in a service-learning project with fellow Japanese students. During the trip, participants will engage in peer education, structured interaction with their Japanese peers, collaborative documenting, and service activities focused on rebuilding and providing support to local marginalized communities in the Tohoku region. Japanese and American students will explore issues that affect them directly, such as the history of US-Japan relations, globalization, the local impact of current global events, and foreign and social policy.
Global Kids Leaders from Washington, D.C. are gearing up for an exciting opportunity to travel abroad as part of the Marion Barry Youth Leadership Initiative. Plans are in place to travel to Kenya to engage in service learning and leadership development programming. Stay tuned for trip updates!
Follow us on twitter @globalkids to stay updated on our end of year showcases and summer programming! We look forward to sharing with you.